2010 Suzuki Kizashi Ride and Drive
See Also: Suzuki Specs, Comparisons and Prices- Susuki Buyers Guide
By Thom Cannell
Detroit Bureau
The Auto Channel
Do you picture Suzuki as the manufacturer of motorcycles, plus small, sturdy, and inexpensive cars? While true today, for 2010 Suzuki moves upscale with its all-new Kizashi mid-sized sedan. After producing over 40 million reliable and pleasingly vanilla vehicles the company has the audacity to say it can challenge the best mid-priced sedans. Oh, make that European sports sedans including Alfa Romeo, Audi, and Volkswagen which are lofty benchmarks. Their agenda includes challenging key attributes of Audi A4, VW Passat, Subaru Legacy, Nissan Altima, and Mazda6, each a successful and renowned vehicle.
We tested Suzuki's claims for Kizashi, Japanese for "something great is coming," around Portland, Oregon and on the Portland International Raceway's 1.967 mile (3.17 km) mile track. Our takeaway is that Kizashi delivers the kind of driving excitement and refinement that come as standard equipment on most European vehicles while hanging onto Asian reliability and modest price.
This is a significant step for Suzuki, who tested three Kizashi concept variants at international auto shows. The production vehicle retains much of the bold nose, swooping muscular lines and solid rear haunches that defined the concepts and drew praise from international automotive journalists. Its interior establishes a new benchmark for what a $20,000 mid-sized sedan can deliver in style and comfort. Along with room for four, even five standard sized adults with their posteriors wrapped in firmly supportive seats, Kizashi coddles passengers with a quiet interior featuring dimensionally stitched door panels, a dash that is iPod-sleek, and advanced active and passive safety.
Suzuki developed Kizashi with great rigor and passion using both modern computer aided engineering and design coupled with old fashioned road tests. Suzuki's chief engineer for Kizashi, Hidetoshi Kumashiro, says they destroyed approximately 300 bodies in testing and development. Instead of relying on 3-D goggles and a supercomputer's virtual environment he demanded that the vehicle, designed to challenge European vehicle dynamics, be tested in Europe. Brakes were developed in Alpine Mountain passes, and steering and handling created on the cobblestone back lanes of England. High speed dynamics were validated on the famed Nürburgring, test track in Germany where final tweaks came from test drivers, not computers.
It is that attention to detail that elevates Kizashi into the realm it aspired to reach. Kizashi uses MacPherson struts in front and 5-link rear suspension to create a vehicle that goes where it is pointed without complaint or drama; it feels light and poised, connected to every road surface in any condition. Its engine is an all-new 2.4-liter

that makes a solid 180 horsepower (5 more with manual transmission,) enough to comfortably join freeway traffic or pass on secondary roads. Suzuki says a V6 will join the lineup soon. Suzuki equips the car with a base 6-speed manual transmission, a rarity in mid-sized sedans, or an optional CVT (constant velocity transmission) automatic. Automatics all have paddle shifters on the steering wheel to allow the driver to move passengers seamlessly or simulate a 6-speed manual at the touch of a lever.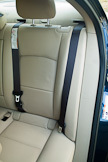 Suzuki equips its $18,999 base S model, volume SE or sporting GTS version, and luxury SLS with safety and comfort features unusual for their price. In this segment safety is more important than style, power, or sportiness and responsive handling. Kizashi embraces its responsibilities, meeting upcoming 2014 requirements for front, rear, offset crashes, and side pole tests where accidents might involve objects struck sideways. Eight airbags are standard including rear side mid-body airbags fit outboard of the seats. That means they are always available and don't have to be deactivated if you're fitting child seats in the back.
All have dual-zone climate controls, ESP stability control, push-button keyless start, projector beam headlamps, power windows, doors and mirrors, ambient and footwell lighting, and at least a 9-speaker stereo. Controls built into the steering wheel for audio and cruise control seem more Euro than Asian.
Interiors are sleek and sophisticated, with graphically angled soft-touch door panels and real stitching. The center stack could grace any VW or Audi, even a Cadillac.
A front wheel drive SE costs $2500 more than an S and offers 17" tires on alloy wheels, seats with 10-way controls including lumbar, the CVT transmission with paddle shifters, and leather trim. I'd go for the GTS model that, at $24,849, upgrades to a Rockford Fosgate 10-speaker audio system that really rocks out Bon Jovi or Beethoven, streams bluetooth audio from my iPod and makes legal handsfree phone calls with voice commands. There's larger performance tires (P235/45R18 if you care,) fog lamps and a power moon roof to complete your satisfaction.
You could add heated leather and power operated passenger seats, rain sensing wipers and automatic headlamps, plus the always-useful sonar proximity sensors to keep your bumpers safe and that would be the top-of-line SLS which gets dangerously close to $27,000. All Wheel Drive (AWD) is available on most models as an option.
Features alone can sell a good car and they Suzuki could rest on features, modest price, and a decent driving experience. But Kizashi provides a very good driving experience. Sprinting between corners lined with backwoods conifers, having the moon roof tilted or fully open created very little wind noise. That means you can have a quiet chat in the freshest of air and that the car is so slippery it will deliver good mileage.
Soft surfaces were everywhere around my passenger and I except, oddly, on the glove box door or console latches. That console has two layers and the bottom latch discloses the larger bottom bin, the top latch the smaller top bin; it is wonderfully ergonomic. Kizashi's A pillar is massive enough to provide requisite rollover support, sleek enough to offer little leftwards vision obstruction.
For performance oriented intenders, Kizashi is built with extensive amounts of high strength steel, particularly in the critical B pillar and door ring areas. Load paths in the upper frame and lower frame members, sub-floor cross members and braces also use HSS. Aerodynamic treatment include separate engine, body, and bumper covers. Enthusiast will know the importance of KYB dampers (shock absorbers,) Bosch ABS, and Akebono brakes, aluminum steering knuckles and available alloy wheels in 16," 17," and 18" sizes. Every driver can benefit from the standard ESP system calibrated for aggressive driving styles. A rigid body and these technologies are what gives Kizashi precise steering feel and a confident chassis.
Extreme testing on the race track added more gravitas to Suzuki's claims. One test pitted an AWD Kizashi against a Subaru Legacy and Audi A4 Quattro in a wet slalom test. The object was to weave back and forth at 40 mph on cruise control. Only the Kizashi passed (when I was driving) with the Subaru feeling ponderous and the Audi having abundant power, tight steering and ultimately clipping the exit marker cone when I couldn't react. Note that all cruise controls shut off when traction control or stability controls activate, which happened to all but the Kizashi.
Another test simulated neighborhood or commuting low and high speed avoidance of pedestrians, potholes, or debris. Again the Kizashi did the job with zero drama, besting a Passat CC, Nissan Altima, and Mazda6. We then just went fast around the track to experience dynamics forbidden on the street. Again the Suzuki felt poised, accurate, and solid as well as quiet. Perhaps that is the final message, modest price with sportiness and solidity, quietness and comfort, with plenty of safety for you and your family.