2007 Dodge Super Sprinter Review
SEE ALSO: RV Buyers Guide
By Dan Prescott
Publisher, RV Motoring.com
Super-Sized Sprinter is Redesigned to Deliver Best-in-Class Features
A Dodge Sprinter stands tall among its competitors with many specifications that are best-in-class, plus some features that are exclusive to this versatile vehicle. While American consumers are quite familiar with full-size vans, the German-built Sprinter itself remains a bit of a novelty. Not exactly exotic, but certainly out of the ordinary. But, consumers shopping for full-size passenger or cargo vans from Ford and GMC/Chevy would be doing themselves a disservice to overlook the distinctive Sprinter.
The Sprinter story is both interesting and unique in the auto industry.  The big, commercial Sprinter van has been a huge sales success around the world. As a Mercedes-Benz vehicle, production started in 1995 and more than 1.2 million Sprinters have been sold in at least 100 countries – used mostly as delivery vehicles, shuttle vans and in other commercial applications. Sales were late coming to the U.S., where versions of the 2003 Sprinter were sold by DaimlerChrysler's Dodge, Mercedes and Freightliner brands.
For 2007, the Dodge Sprinter gets a complete makeover, gaining additional length, width, height and power. It retains its European style and ambiance, which are among its many strengths. The new Sprinter is sold only as a Dodge model, shipped as components from Duesseldorf and Ludwigsfelde, Germany, with final assembly in Ladson, S.C.
Perfect for RV Conversion
Primary customers for the new Sprinter remain the same: large fleets and small business owners. But there is an important third group: RV conversion companies. B-Class RVs have been made from previous versions of the Sprinter by Airstream, Sportsmobile, Pleasure-Way, Gulf Stream, Road Trek, Great West Vans and Leisure Travel Vans. The Winnebago View and Itasca Navion are C-Class motorhomes based on the Sprinter chassis cab.
RV manufacturers are a creative lot, and they were quickly attracted to the Sprinter commercial van's generous interior space, tall roof options and fuel-efficient diesel powertrain. When the Sprinter quietly slipped into RV duty as B- and C-Class mini-motorhomes, it attracted an enthusiastic group of fans who lauded the conversion vans'  roominess, impressive fuel economy and pleasant driveability. The redesigned Sprinter offers even more advantages, choices, capabilities and safety features.
We had the chance to test drive the new 2007 Dodge Sprinters, in various sizes and with a variety of equipment. We drove back roads, freeway and city streets, and even had the chance to push the vehicle to the limits on a closed course and watered down skidpad. With an engineer's encouragement, we circled the wet pavement aggressively, in a reckless attempt to get the rear tires to break loose and spin the Sprinter around. Well, my driving was not so imprudent, thanks to standard ADAPTIVE ESP (Electronic Stability Program), which automatically applies brakes individually and reduces torque as necessary to reduce the risk of skidding and loss of control, taking into account the vehicle's payload mass and center of gravity. Other driving exercises included full acceleration and full braking, plus emergency lane change maneuvers and even a slalom course. Visually, the Sprinter appears top-heavy, but there is no such feeling when driving. The tall van's remarkable handling and responsiveness is impressive. In addition to ESP and ABS, other electronic helpers include traction control, load adaptive control (LAC), roll-over mitigation (ROM), roll movement intervention (RMI), under-steering control (USC), electronic brake-force distribution (EBD) and hydraulic brakes assist (BAS).
On the open road, we noticed a lot of admiring glances from other motorists, especially in a black passenger van Sprinter with 90% tinted windows. It had somewhat of an executive limo look about it and clearly attracted a bit of attention.
Sold as either a passenger van, cargo van or chassis cab, the new Sprinter comes in a dizzying variety of configurations. Three vehicles lengths (233, 273 and 289 inches) are now offered on two new wheelbases – 144, 170 inches or 170 extended with a 15-inch longer rear overhang. Three interior roof height are available: Standard (65 inches), High (76 inches) and new Mega (84 inches), a full 11 inches more than last year's model, and taller than any other production van. Three Gross Vehicle Weight Rating (GVWR) configurations include a new higher maximum (11,030 lbs.). A host of best-in-class advantages includes interior space/cargo capacity (up to 600 cubic feet), payload (5,770 lbs.), lowest side step-in height (19.9 inches), widest sliding side door width (51 inches), widest rear-door opening (270 degrees), and up to 7 feet of interior vertical room. Maximum towing capacity increases to 7,500 lbs. for the 2007 Sprinter 3500 model.
A sliding door on the right side is standard, and a sliding cargo door can also be ordered for the driver's side. The double rear doors open 270 degrees, so they can fold back against the body sides. The rear opening is then 62 inches wide and 72 inches tall, the largest of any full-size vans.
Two New V6 Engines: Diesel and Gas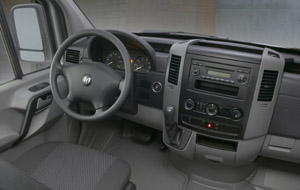 Last year's five-cylinder turbodiesel engine is replaced by a turbodiesel 3.0-liter V6, still rated at 154 hp, but increasing its torque rating from 243 to 280 lb.-ft. at 1,200 to 2,400 rpm. The smooth-running engine has a low-emissions rating and comes equipped with a standard particulate filter. We noticed no visible exhaust from the tailpipe of a diesel Sprinter in front of us, even accelerating on uphill grades.
For those who prefer a gas-powered engine, a new option is a 3.5-liter V6 engine, rated at 254 hp at 5,900 rpm, and 250 lb.-ft. of torque at 2,500 rpm. While we didn't get a chance to check fuel economy differences between gas and diesel, Chrysler engineers estimate that the gas engine will deliver mpg figures in the low- to mid-teens, while the diesel should average 18-22 mpg. We drove both engines, and were particularly impressed with the diesel's strong response and smooth, reasonably quiet operation.
As a passenger van, the Sprinter can carry up to 10 occupants. Safety features include front dual air bags and headrests, plus three-point seat belts for all seating positions, even second, third and fourth rows. Front seat belt pretensioners are standard, and side curtain air bags are optional.
Prices for Sprinter Passenger Van, Cargo Van, Chassis Cab
In total, there are 25 different body length-wheelbase-roof height-GVWR-powertrain variations. A diesel-powered chassis cab model is available with either the 144-inch or 170-inch wheelbase, and will sure to find many customers in the RV conversion business. Dodge's MSRP for the base chassis cab is $30,950 (including destination charge); $31,290 for the Cargo Van; and $33,490 for the Passenger Van. Another popular conversion model will be the long-wheelbase Mega Roof Cargo Van, priced at $39,135.
Each model includes a long list of standard features, including power windows and locks, tilt- and height-adjustable steering wheel, CD radio, 16-inch wheels, keyless entry with engine immobilizer security system, automatic climate control with electric auxiliary heater, and five-speed automatic transmission with AutoStick (for manual gear control). An array of handy storage compartments are scattered throughout the cockpit, including standard air conditioned glovebox for cooling drinks and snacks. Among the many options are bi-xenon headlamps, high-pressure headlight washers, power and heated exterior mirrors, roof-mounted air conditioning units, wood flooring, rear parking sensors, sunroof, heated front seats, anti-theft alarm system and an upgraded audio system with integrated phone connectivity.
Despite the Sprinter's ample dimensions, it does not feel bulky while driving. Power-assisted rack-and-pinion steering is weighted nicely and provides just the right amount of feedback from the road. The turning radius is surprisingly tight, as one would expect from a European-designed vehicle. Parking is no more difficult than docking a full-size pickup or SUV. To aid maneuvering in close quarters, a front and rear parking sensor system is optional, featuring a row of left-side mirror-mounted LEDs indicating distance to an object.
Dodge Sprinter 2500 models have a GVWR of 8,550 lbs., available with either a gas or diesel engine. The 3500 models are all diesel, with a GVWR of either 9,990 or 11,030 lbs. Because Sprinters are unibody contruction, maximum towing ratings are generally lower than competing body-on-frame, full-size vans from Ford or GM. For those looking to haul trailers weighing more than 7,500 lbs., the Sprinter may not be the best choice. But those looking for maximum interior space, excellent driving manners and respectable fuel economy from a turbodiesel engine, it's hard to beat the Sprinter. For a roomy B-Class or smart-sized C-Class motorhome, the Sprinter runs at the front of the pack.