2007 Jaguar XKR Review
SEE ALSO: Jaguar Buyers Guide
2007 JAGUAR XKR REVIEW AND ROAD TRIP AROUND MICHIGAN'S LOWER PENINSULA
A Loaper Loop of Michigan
From a Shunpiker's Journal
By Steve Purdy
TheAutoChannel.com
Detroit Bureau
"If you seek a beautiful peninsula, look around you." That's Michigan's official state motto. Of course, geographers among you will know that we have two beautiful peninsulas – the Upper Peninsula, usually called the UP, and the lower which has no similar nickname. A person from the UP is known as a Yooper, so we're justified, I think, in calling us Lower Peninsula natives Loapers. Don't you agree?
So we're going to make a big loop around the Lower Peninsula, keeping to the lake shores, and we'll call it a Loaper Loop. We'll start in Detroit where we'll pick up our special ride and head north following the shoreline all the way around the mitten as far as time allows. We'll get to explore and experience some new Michigania and see how we like the new for '07 Jaguar XKR Coupe.
DAY ONE – DETROIT TO ALPENA
The Jag was waiting for me in the parking lot of the nondescript commercial building that houses the contractor who handles the Jaguar press fleet. Against its gray, dull surroundings the sleek, Frost Blue, sports coupe literally glowed with enthusiasm for the journey ahead. (Or was that glow reflecting off me?) I loaded my gear into the 10.6-cubic-foot hatch and onto the passenger seat, then slid into the ivory and slate leather interior spending some time acclimating to this beautiful new environment.

The blonde wood accents on the dash and console struck me because the silky grain interspersed with random dark burl reflected the impression of silkiness I have always had of Jaguars. The fob stays in my pocket as I press the start button on the console. Nothing. Again. Nothing. Put my foot firmly on the brake. Varoom. The Jag's V8 engine started with aplomb. This is going to be a great solitary road trip. I travel plenty but it's been a long time since I've had such a therapeutic road trip all by myself. My first goal is to get away from the city and eastward to the edge of the water as quickly as possible. Then I'll feel like this meditative journey will have begun.
Looking in the inside rearview mirror I see a lot of distortion in the rear window, perhaps because of the steep slope and the defrosting wires. Strange. Other than having to mash the brake unnecessarily to start I find no other initial annoyances. This Jag feels great. I don't feel packed in or roughed up like I might have in an old XKE. I have plenty of room inside, although the rear seat is obviously not meant for people to occupy.
Is this XKR the spiritual successor to the iconic XKE? We'll see.
Metropolitan Parkway took me expeditiously to I-94, which in turn took me north to M-29 at New Baltimore on the north shore of Lake St. Clair.

I stopped for a few preliminary photos while the Jag was still clean at a boat launch where ice fishermen were headed out for some late season angling in spite of the rising temps and rapidly thinning ice. The light reflecting off the lake ice did justice to the silvery blue paint. The first of many accolades for the car came from a young man in orange camouflage loading his gear into the trailer attached to his four-wheeler before driving it out onto the ice. "Is that the new Jag?" he queried. "I think I saw that at the auto show."
"Sure is and you probably did," I assured him. We talked about the car for a few minutes then we were both off for our respective recreations. Mine took me past Harsens Island and one of the largest stands of wet-land elephant grass I've ever seen before turning north to follow the St.Clair River all the way to Port Huron at the southern end of Lake Huron. That 30-mile stretch of state highway passes through a few small towns with parks along their river frontage, stately old robber-baron homes, modern marinas and a huge, smoky complex of coal-fired electric generating plants situated on both sides of the river.
I took advantage of this stretch to acclimate myself to the controls including the novel paddle shifters on each side of the steering wheel. With the shifter in "D" we just gently squeeze the paddle on the left to access manual mode and downshift one gear. If we just cruise along that way it will eventually upshift by itself. But we can select "S" for sport and do all the shifting ourselves. It's even fun to use the paddle shifters when not driving spiritedly.
The Jag and I never got over about 60-mph along that stretch arriving at the old downtown section of Port Huron where classic old brick and frame downtown business buildings reflect Midwestern architectural styles. We slogged endlessly through the commercial strip north of Port Huron - characterized by way too many, ill-timed traffic lights - before we finally broke loose into the orderly rural environs of the lower thumb. The Jag feels good, even in these tedious driving conditions. Controls, so far, have been fairly intuitive. Power (while I haven't yet pushed her hard) is substantial and, judging from the envious stares I'm getting, her sexiness quotient is top-of-the-charts.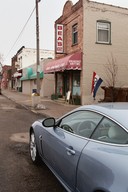 Finally out into the open stretches I turned left at Lexington to have a late breakfast at a little café in the tiny farm town of Croswell, recommended by my friend Bob, a journalist colleague whose family comes from there. A right turn just past the huge Pioneer Sugar plant brought us to Bea's, located in a small old downtown building. The Jag looked a tad incongruous parked between two pickups as I strode into Bea's where there is seating for about two - maybe three - dozen patrons at a time at small tables with plastic table cloths. Only one other fellow was there having his late breakfast. A trim, pony-tailed young man waited on me promptly and was readily engaged in conversation as he brought coffee and a big plate of eggs, toast, hash browns and the classic three pig meats, all for just five and a half bucks. Turns out he really wants to be a journalist someday. So, of course, I encouraged him and pontificated and on how to become one. Then I suggested he go out and look the Jag over while I finished my breakfast. Of course, he loved the Jag.
How could anyone not like that classic sports car shape and style executed with such grace and elegance. Mighty sleek with a coefficient of drag of just 0.31 we can literally slip through the heavy, wet spring air.

The vertical fender trim piece, with turn indicator incorporated within, breaks up the front flank taking away from the visual sleekness. I took a few pictures of the car with Croswell's famous Black River suspension foot bridge in the background. The unseasonably warm temps had brought rain so the poor Jag was already getting dirty. A detour through nearby Sandusky allowed me to get a better feel for the economic base of the area, that is, sugar beets. Four Pioneer Sugar processing plants now owned by a cooperative of farmers, employees and contractors, assure that every year sugar beets will dominate the flat, fertile farmland of the thumb. Small herds of deer were everywhere grazing on the leftovers from the fall harvest, but none seemed to have any desire to run into the road – fortunately.
The rain continued light and steady. Each little town along coastal highway M-25 has a marina and services for the recreational boaters that swarm the coast around here in the summer. My next stop was Grindstone City, at the tip of the thumb, where stone was mined and made into huge grinding stones that processed grain in the old days. Strewn around the beaches are ghostly hunks of these round stones, so they tell me, but the snow and ice were still covering the beaches so I saw none. The parking lot at the city park, while it looked solid but a bit damp, turned out to be slippery, soft and mighty muddy. This beautiful Jag is getting really dirty now.

I've dawdled enough along the way stopping often to shoot this photogenic car with Lake Huron in the background. I marveled at each stop at the shapeliness of this Jag - the huge 20-inch shiny wheels, long hood, short tail, cat-like stance and curvaceous flanks. Inside, looking out over the hood I'm pleased by the bulge in the center insinuating power within, the slope of the fender ridges and the functional vents on each side of the hood with "Supercharged" embossed thereon.
Heading for Bay City, at the mouth of the Saginaw River where the thumb joins the rest of the mitten, I needed to pass some trucks. That was certainly easy with the manual-mode automatic transmission and lots of horsepower. I began to drive a bit more spiritedly. The winding coastal road was lined with cottages and homes but there was virtually no traffic other than those few trucks.

Now would be a good time to talk about this powertrain. Under that bulge in the hood is a 4.2-liter V8 with an Eaton Roots-type supercharger and twin air-to-liquid intercoolers. With 4-valves/cylinder it puts out 420 horsepower and 413 lb-ft of torque - driving the rear wheels, of course - mated to the ZF 6-speed automatic transmission with manual mode. You can imagine what fun it could be to drive briskly. Electronic multiport Denso 12-hole fuel injectors deliver the fuel and dual exhausts with log-type manifolds facilitate the exodus of spent fuel.
I just position myself behind the double gravel hauler and at the opportune moment squeeze the paddle shifter on the left of the steering wheel two or three times to downshift, mash the go-pedal gently and zoom around that 60-foot-long obstacle in no time flat. With these quick downshifts we get the bonus of a little throttle blip, just like we would do ourselves with a hot stick. A zero-to-60 mph time of 4.9 seconds is claimed by the honest folks at Jaguar. I'd like to know what the 40-to-70 mph time might be. It seems like just an instant.
Bay City was a pain. The main drawbridge across the Saginaw River was under reconstruction and the route across town using the old bridge meant lots of lights and too few traffic lanes, but more great old Midwestern architecture. The Jag's optional navigation system was a great help in seeing the alternate route just in time. By the time I got through Bay City it was time to hop onto northbound I-75 and make up a little time before exiting on US 23 at Standish. By the way, that 28-mile stretch along with the earlier 6 miles on I-94 were the only freeway miles I traveled the entire trip.
It's about a hundred miles up the Sunrise Memorial Highway – US 23 - to my destination for the night.

Alpena, the largest town in northeast Michigan, often vies for bragging rights with neighboring Pelston as the coldest spot in the nation. Their motto should be, "Global warming is a good thing." You know, I've lived in Michigan all my life. I've had road jobs that have taken me to nearly every town and area of the state, except Alpena. So I'm especially pleased to be here. My host, Deb Pardike of the Convention and Visitors Bureau, arranged a room at the Holiday Inn which is constructed in the Holidome format with a large indoor play area for the adults and the kids surrounded by the hotel's rooms. The play area with pool, video games, patio tables, pool tables, and lots of other stuff was virtually deserted during this short off-season stay.
My comfortable room and dinner were provided by Dick Martens, manager of the Holiday Inn, Holidome on the western edge of town. Across the road and less than a mile back toward town on US 23 a spacious wild area has been developed out of an extensive wet land behind a small dam in the Thunder Bay River - a wildlife sanctuary called Island Park. Between the play area at the Holidome and the park I could have spent a couple of days entertaining myself.
The charming Ms. Pardike is an enthusiastic sales person for Alpena. She's also a writer and former broadcast journalist who loves to talk about the local culture, particularly the lighthouses and maritime attractions. Nearby is a haunted lighthouse that has been the subject of much of her attention. She proudly described the recent designation of Thunder Bay as a National Marine Sanctuary meant to preserve and promote the more than 200 sunken ships in the bay. "Not only is that an unusual concentration of dead ships, she asserts, "it also represents an unusual variety in terms of both age and type of vessels." Divers of all skill levels can explore shipwrecks in the bay. For non divers the Great Lakes Maritime Heritage Center (free admission) features more than 9000 square feet of displays.
Dinner was at the Holiday Inn's own restaurant, CW Barbeque. Of course, I always try to enjoy the local foods as much as possible on a road trip and the daily special was freshly caught whitefish. It was probably swimming in the cold waters of Lake Huron earlier in the day. The huge, foot-long filet was lightly breaded and pan fried nice and crispy, tender, white and delicious. That big fish could not have given its life for a more worthy cause than my dinner. Deb, my dinner companion, entertained me with colorful, in-depth stories of the Alpena and Presque Isle areas.
Alpena is another of those areas that deserves a much longer visit when time allows.
DAY TWO – ALPENA TO CHARLEVOIX
I was hoping for a dramatic sunrise to shoot the car here on the Sunrise Coast, but no such luck - only a persistent overcast. The soft light coming off the ice-covered marina made a nice shot anyway. Just a streak of pink stretched across the sky just above the horizon hinting at a sunrise. A pretty, middle-aged woman walking her dog along the marina park saw the license plate on the Jag and thought I might be from New Jersey. I assured her I was a Michigander and I encouraged her interest in the sleek and sexy car. She acknowledged that she certainly isn't a car person but she's intrigued by this one.
On the road again I have fewer miles to cover but lots to see and do. Not far out of Alpena, still on US 23, I see on the map a grey road sweeping off toward the shoreline and passing through the settlement of Presque Isle - about 15 miles of winding two-lane, well-paved and lightly populated. The speed limit is 35-mph through there but I sure don't know why. At the risk of self incrimination I'll admit that I may have been at slightly extra-legal speeds through some of these miles. I got a feel for the compliant suspension and nice tight steering as the Jag and I wound through the evergreen forest with just a few peeks at the water on either side of the road. Amazingly few homes are scattered there between the big lake and Grand Lake.


A late breakfast was in order at Mackinaw City, right at the tip of the mitten and the foot of the Mackinac Bridge which links our two beautiful peninsulas. (The original settlers were French and spelled Mackinac with a "c" at the end. We Americans spell it with a "w." ) The longest suspension bridge in the world at its christening back when I was a lad, the Mighty Mac celebrated its 50th anniversary a few weeks ago. It is still a spectacular site, particularly when there is a haze in the air, which is most of the time.
Being off season (early March) this tourist city is nearly a ghost town.

The only breakfast place I found open was a good one, fortunately. Audi's daily special cheese omelet with crispy hash browns, rye toast and nice thick bacon was just the ticket. I sat by the front window and my friendly, grandmotherly waitress was quite enamored with the pretty blue sports car out front. I took her out to see the blonde wood trim inside. She loved the car.
I washed the Jag again and picked a few spots to photograph it with the big bridge in the background. One of the best spots was the still snow-covered parking lot of the lighthouse. With those big fat 20-inch tires – 245/40s in front and 275/35s in the rear - I nearly got stuck in two inches of wet slush.
Mackinaw to Harbor Springs is one of the most beautiful drives in Michigan. It's takes a little map reading and some shunpiking to keep close to the big lake for the first 10 miles or so but from there on Lake Shore Drive becomes Michigan Highway 119 as it twists and turns and dives and yumps over 20-miles along a sandy cliff about 80 feet above the water. Every Michigan road rally worth mentioning has traversed this winding, scenic stretch. Even a modestly brisk drive feels like a spirited jaunt. The Jag feels great on this gently twisting road. Beautiful, expensive homes intermittently line this "Tree Tunnel Road" - no shoulder to speak of most of the way, just pines and spruce and birch right at the pavement's edge.
On this section of road I got the best feel for the XKR's steering and complex suspension. In front we have an independent double wishbone design with coil springs, telescopic dampers, anti-dive geometry and an anti-roll bar. In the rear the drive shafts act as upper links along with lower wishbones, coil springs and an anti-roll bar. Power-assisted, speed-sensitive, variable rack-and-pinion steering with 2.8 turns lock-to-lock and a 36-foot turning radius makes for quick responses and great handling as we swing through tight, off-camber, often rough surface turns. Dynamic Stability Control with Trac DSC Traction Control are standard.
Pushing hard in the deserted areas I felt a little slippage only on some really tight curves where loose sand was encroaching.

Brakes are 14-inch ventilated discs front and rear with calipers painted shinny black with the sexy red "R" logo showing through the wheels.
Two little settlements pop up along highway M-119 - Cross Village and Good Hart. The former is home to a lovely stone Presbyterian church across the street from one of the most fascinating restaurants you'll ever encounter – Legs Inn. Decorated with an endlessly entertaining array of driftwood sculptures, odd art and unexpected displays, Leggs has been there since the 19-teens.
If you're lucky enough to get a table by the back window and the trees are not all the way leafed out you'll have a view of Lake Michigan. In nice weather outdoor seating is a treat unless the mosquitoes or black flies are out. And the food is great – Swedish mostly. If ever you're hanging out in the North Country, Legs is well worth a visit. Harbor Springs, on the north shore of Little Traverse Bay, is where the rich folks have hung out for most of the past fifty years. The bluff we've been driving along slopes down to a lovely harbor. Harbor Springs' two commercial streets are lined with galleries, restaurants, real estate offices and boutiques. Our Jaguar is right at home here and gets few looks. Sail boats and small yachts are still covered by blue shrink wrap and the really big boats are stored somewhere else. Only a few tourists and locals wander around downtown. In a few months this place will be teaming with folks.
M-119 dumps out to busy US-31 at Petoskey, the next up-scale resort town along Michigan's "Gold Coast". Much larger than Harbor Springs it is just as wealthy, artsy and pricey. Just south of town is the Bay Harbor development with probably the most scenic golf course in the state, a beautiful hotel and hundreds of acres of homes, condos and retail overlooking Lake Michigan and their own little harbor. The only problem is that the little harbor is so polluted with the residue of the former cement production plant on the site that swimming is not allowed. In June Bay Harbor hosts one of the nicest Concours d'Elegance collector car and classic boat shows around.
US 31 follows the lake shore with lots of opportunities to pull off and enjoy the nature of the area. I pulled off at a roadside park to take a few more pictures of the Jag and take a little break. The temperature was just into the 60s – unusually warm and welcome for this time of March. After a walk out to view the ice mounds I turned around and saw the Ice Blue Jag through some trees. It is really a very good looking car.
After meeting up with my pal Bill, a Porsche collector and all-around car guy, at his place near Charlevoix, he took me to dinner at the best place in town, The Weathervane, overlooking the channel with a drawbridge linking Lake Charlevoix with Lake Michigan, probably only a half mile apart at this point. The Weathervane is an adaptive reuse of an old grist mill and still has the massive wood beams exposed on the lower level.

The building's redesign was by the famous and quirky architect, Earl Young, whose distinctive work, characterized by no straight lines, can be seen all over Charlevoix. His work makes me think of an artful Scandinavian cartoon. In order to make a good comparison I ordered the Lake Michigan whitefish, harvested hours before by Native American fishermen, this time out of Lake Michigan instead of Lake Huron. I ordered it blackened. Delicious again. Though this big-lake white fish is related to salmon and trout you wouldn't know it.
If you'll indulge me for just a paragraph, kind reader, I'll relate an odd coincidence that happened there.
Since Bill eats at the Weathervane often our pretty young waitress, Allison, knew who to call when I left my credit card there. We had taken her out to see the car and she loved it. Well, when I got back to the restaurant Allison was waiting on two fellows and she was telling them about this cool blue Jaguar. They told her that they had seen one just like it south of Alpena the day before, in fact the Jag had passed them. Then they saw the Jag again later at the Holiday Inn where they had stayed the night. They were thinking it is pretty rare to see a car like that in Northern Michigan. So, Allison introduced me to these guys and we had a nice chat. Fortunately, they had not felt dissed when I passed them.
DAY THREE – CHARLEVOIX TO MUSKEGON
Bill meets nearly every morning with a klatch of his pals, many of whom are car nuts, for breakfast at the Flap Jack Restaurant in Charlevoix. I joined them for a shot of caffeine and some bantering. After breakfast we washed the dirty Jag and drove half way back to Petoskey to meet up with one of the most knowledgeable car guys of the area. We wanted his opinion on the Jag. Dave Wager is a car builder, hot rodder and restoration guy with lots of sports car history.
Dave was a race car driver as well and instructor for the prestigious Bob Bondurant school of high-performance driving. He has been all over the world on sports car and racing projects. He's especially fond of old Jags and I wanted his opinion on whether this new XKR is a spiritual successor to the classic XKE. "No, it's not," he insists. Though the XKR has the sensuous Coke bottle shape when viewed from above, and it has plenty of power and more than enough class, it just cannot match the XKE's ambiance, he insisted.

And that's not necessarily a bad thing. The XKR is just much too modern –and, of course it has to be modern to be a sales success today. We went for a drive around an exciting route he takes with cars he's working on. It's about 10 miles of hills and curves and varied pavement conditions. The silkiness both Dave and I associate with the classic, normally aspirated XKE, both the six and the small-bore V12, is just not a part of the new XKR. The supercharged, intercooled V8 has the thrum and rhythm of all that power. He was surprised, as was I, that more grunt is not available below 3,000 rpm. Suspension, steering and overall handling he thought are excellent and I agree with that as well.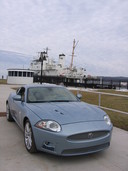 I have the rest of the day to skitter along the coast as far as light allows. From Cross Village to Frankfort (just south of Traverse City) is commonly known as Michigan's Gold Coast because, as you might guess, a lot of people with a lot of gold have taken a liking to the area and flocked thereto. Traverse City is big enough to have all the big-box stores one could want to make life convenient but with lots of coastline and scenic open space for beautiful home sites. TC is home to a fine culinary arts program and one of the nation's premier nautical arts schools.
Lighthouses dot the shoreline and I visited as many as I could. Driving all the way to the tip of the Leelanau Peninsula I encountered not only a particularly cool lighthouse but a strange stone structure obviously built long ago by someone with a sense of humor.
The quiet little town of Northport is the last settlement before the lighthouse. Their little marina was full of loons, particularly shy birds with a hauntingly hollow call. I'd never seen loons so plentiful or so bold. Unfortunately I didn't have my 400-mm lens. Bummer. Most of the shoreline along the Lake Michigan side of the Leelanau Peninsula is preserved as the Sleeping Bear National Lakeshore. Inland, most of the open land is covered with orchards and vineyards. The mild weather and sandy soils are ideal for fruit growing. The majority of the nation's tart cherries are grown here and wineries have flourished. Come see this area in May when everything is in bloom. You'll be amazed.
Just north of Arcadia, between Frankfort and Manistee, is a most scenic turnout that bursts into view after quite a few miles of less scenic road.

It reminds me of some of the views along Pacific Coast Highway on the California coast (but without the big rocks) as we look down the shoreline from about a hundred feet up a dune. Be sure to bring a picnic lunch to this spot sometime. Manistee is a good example of one of those old maritime towns that has survived a major change in economic activity. The shipping that supported the city has virtually gone away leaving sport fishing, tourism and marginal commerce to support the population. Just south of Manistee the road sweeps inland without a shoreline road option all the way to M-10 east of Ludington.
Ludington's claim to fame is as the port from which the famous Michigan to Wisconsin ferry boats depart and dock.

There are two ships, one fast, one slow. That will be a future road trip story. At Ludington we catch county road B15 for our final coastal run. We pass Pentwater and its quiet marina then come upon the Silver Lake Dunes where locals have been providing dune buggy rides since I was a kid and probably long before.
Some great old barns along the road attest to the agricultural history of the area and a huge power plant high above the road dominates for a few miles. The daylight is waning and I'm not far north of Muskegon. I followed the Jag's navigation system trying to stay as close to the shore as I can. Somehow I end up westbound on a dead end road leading to a secluded county park on the shore. This is about the roughest road I've encountered and with each big bump I heard a disconcerting glass-on-metal bang coming from the passenger-side front window. I had heard it before but it was more apparent on this rough road.
This will be my final stop so I'll spend some time digesting this trip. My pretty blonde is waiting for me at home with a smooch and a cup of hot chocolate – and home is still two hours inland.
A cold wind is blowing in off the lake. I'm awed by the massive mounds of snow and ice pushed into long banks about 50 feet off shore. Mixed with blowing sand and melting steadily now, the snow mounds have the color and texture of perfectly browned campfire marshmallows – just another discovery of Loaper scenery. The Jag is in the sandy parking area with soft dirty snow pushed up under the fat front tires, and it's all dirty again.
LET'S REVIEW
I've spent three full days and a thousand miles in this wonderful high-performance sports car. While the EPA estimates fuel mileage of 17 to 27 mpg I've averaged nearly 22 using premium (91-octane) fuel on this trip. I have a good sense of the car as a high-quality, competent and sexy sporting machine. I've explored a good share of Michigan's dramatic coastline in this seldom appreciated season – exactly between winter and spring. I've had most of the roads all to myself, or nearly so, and schmoozed with old friends and enjoyed new scenery I had not encountered on previous trips. Most memorable are the thousands of shades of blue between the big lake waters, the packed ice and peeks at the sky I experienced while photographing this pretty blue sports car.
The Jag has a few little niggles that need attention. The seat belt clasp tends to slip through the guide at the top of the seat about half the time requiring me to twist uncomfortably to get it back. When hitting a substantial bump – common in Michigan during spring thaw – there is that disconcerting sound of glass hitting metal coming from the passenger side window. The keyless start button doesn't always start on the first push. Perhaps I'm not mashing on the brake in time, I don't know. But there is really no need to design it so we even need to mash on the brake since it won't start without the transmission being in park anyway.
I give the Jaguar high marks. Only those few niggles already mentioned are worthy of note. Notwithstanding the critical assessment of our Charlevoix colleague I can accept the XKR as the spiritual successor to the XKE. Sure it's an entirely different car because of its necessary modernity, but aesthetically it's as unusual, competent and nearly as sexy as its progenitor. It is not as silky as the original, but it sure is sensual.
© Steve Purdy, Shunpiker Productions, All Rights Reserved