1998 Reprise: Chrysler and Mercedes-Benz Merge - See Merger Press Conference Video
Editors Note: With all of the news/noise coming from DCX headquarters in Germany, I though it would be interesting to go back in time to May 1998 to watch the merger press conference.... kinda like old wedding pictures when the marriage is shaky... let me know what you think. msnide@theautochannel.com
Below is from original story initially published on The Auto Channel May 7, 1998.
The Auto Channel Internet Television Exclusives:
DaimlerChrysler's Historic First Press Conference
Originally Viewers could watch the video using Windows Media Player
CLICK2 PLAY THE VIDEO
Autoline Detroit Special on DaimlerChrysler Merger
Watch the video using Windows Media Player
Selct your bandwidth
28.8
or
56k
May 7, 1998; Chrysler Corporation and Daimler-Benz have merged to form DaimlerChrysler, the fifth largest automobile maker in the world. The consolidation of these two major automakers is being called the deal of the century and has become emblematic of the growing trend toward globalization in the automotive industry.
This page pulls together a number of stories about the merger from a variety of sources and perspectives, and also features full video coverage of the historic press conference that Daimler-Benz and Chrysler held in London to announce the merger.
The CEOs of the Hour

Juergen Schrempp
CEO Daimler-Benz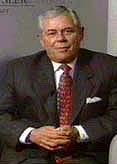 Robert Eaton
CEO Chrysler

Chrysler Mercedes-Benz Merger News