New Car Review: 2005 Nissan Pathfinder Armada
Here we are in Year 2 of this Nissan Full sized beast.
And it's still big.
Propelled by a 5.6-liter V8 that makes 305 horsepower and rides on a fully boxed steel frame with a towing capacity of over 9,000 pounds and the most ground clearance in its class, the Armada successfully bumps shoulders with the Expedition or Tahoe.
The whole gang is welcome as the Armada seats eight passengers and easy-to-use, fold-flat second and third-row seats. Like storage? There's lots of space up front and an almost overdone number of overhead storage bins. With both the second- and third-row seats folded flat, there's 97.1 cubic feet of cargo space. (see below for capacities) All of our passengers loved the awesome leg room and visibility afforded by the large side windows.
A DVD-based navigation system is optional, as is a rear-seat DVD entertainment system. The optional rear power liftgate is worth its weight in gold during the rainy season - or anytime you have your hands full of shopping bags.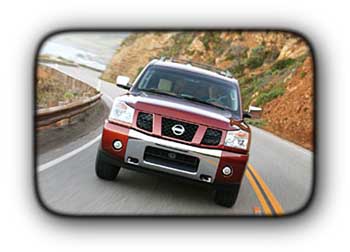 The big ol' V8 performs its thankless tasks without complaint, effortlessly passing big rigs barreling down Interstate 5 at just this side of the speed of the not-so light. The steering and handling are quite car-like, even though the turning radius and fuel consumption are not. The Armada impresses us with its smooth transmission, excellent use of interior space, and driving ease. Both you and your gang will enjoy this ride.
- Mark Fulmer
Armada Capacities





Interior passenger volume (cu. ft.) 188.4 
Cargo capacity (cu. ft.) 
     All seats in user positions 20.0 
     Second row upright, third seat folded flat 56.7 
     Second row folded flat, third seat folded flat 97.1 
Fuel tank (gals.)28.0 
Maximum towing capacity (lbs.) 6,500 9100 (4x2)/9000 (4x4) with [TW],
standard on LE






Off-road Capabilities 
Minimum ground clearance (inches) 9.86-10.69 
Angle of approach (degrees) 27.2-31.1 
Angle of departure (degrees) 26.6-27.7 
Ramp over angle 21.6-25.0