The Great (Mid) American Success Story (Vid-En)
By Marc J. Rauch
Exec. Vice President/Co-Publisher
I had a long look at a wonderful heart warming success story last weekend during Corvette's 50th Anniversary Party in Effingham, Illinois. A story that exemplifies what hard work,

dedication, ingenuity, and a free-market economy can produce. But it's not the story you may think, it's not the story of how Chevrolet battled the rising success of European sports cars in the 1950s with the introduction of what would become a global icon, the Corvette.
No, the story, this great American story, is about how a simple mid-westerner, with a fascination for Corvettes and a $500 bank loan, parlayed those two seemingly divergent assets into a mail order business empire. This isn't to say that the 10th wasn't a blast, for it surely was.
The weather was spectacular, the thousands of Corvettes on display were incredible, and the people were as friendly and good-natured as you might hope or expect to find in rural America. There were seminars, fashion shows, helicopter rides, best-car contests, scrapbooking classes, and a day-spa for the ladies. It was as well orchestrated and clean as Disneyland, and on Saturday night, Mike and Laurie Yager invited every one, and I mean all the attendees as well as the entire town of Effingham, to a wonderful free "Beatles" concert, featuring 1964-The Tribute.
I originally met Mike a few years ago in Las Vegas during the giant SEMA/AAPEX Aftermarket trade show, when he was a guest on our live broadcasts at the Sands Convention Center. He always stood out in sharp contrast to some of the overly tanned, greased-hair characters that prowl the exposition aisles. Now,after visiting his home and seeing him in action at Corvette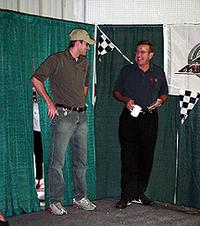 Funfest, it's clear that his affable nature is no put-on. Of course, to those who know Mike and Laurie friendliness and generosity is a hallmark of the Yager family, and it seems that the extended Yager family includes all of their employees at MID AMERICA DIRECT, their suppliers, their customers, and even members of the media. Although Mike is technically the company's president, his business card identifies him as "Chief Cheerleader." In an era of highly visible corporate mismanagement, rampant CEO incompetence, and financial hocus-pocus, America could and should look to Mike and companies like MID AMERICA to see just what is right about our country and our capitalist way of life.
Mike is a short-sleeved, hands-on guy. He's intensely involved in every aspect of his business, which now includes serving Porsche and Volkswagen owners' needs in addition to Corvette owners (MID AMERICA also hosts Funfests for VW and Porsche). Mike actually knows what he's talking about and he's actually interested in the subject matter! He hugs his employees and tells them he loves them. During the weekend long celebration Mike was everywhere, tireless in his determination to insure that a good time was being had by all.
MID AMERICA is the world's leading supplier of Corvette parts and accessories. The company's primary campus-style complex covers about 50 acres and includes manufacturing, shipping, order taking & processing, and a small museum. MID AMERICA is also the region's number one employer with nearly 150 employees. Since the company is privately held, there is only speculation as to its annual revenue and worth. Unnamed sources quoted me revenue figures from $50 million to $500 million, but from my perspective the numbers are irrelevant. The importance is that they're actually making things, selling 'em, adding new people and new capabilities as they grow, and pleasing customers…what a concept!
On Sunday morning, September 21st, Mike, Laurie, their two sons, and their key senior managers presided over the official grand opening of their first off-campus plant. This facility is devoted to manufacturing a number of Corvette items such as foam seats and upholstery, molded carpet sets, floor mats, door panels, headliners, convertible tops, and shifter consoles. Eventually, Mike expects to fabricate similar Porsche items at this plant for distribution via MID AMERICA's "Tweeks" catalog. During the ceremony introduction, Mike described how a typical new Porsche aftermarket interior package now costs around $3,500; and that his goal is to be able to sell a high-quality

aftermarket Porsche interior for between $900 and $1,200. The Tweeks Porsche catalog business had fallen into hard-times and shoddy customer service before being acquired by Mike. All signs seem to indicate that Tweeks is well on the road to recovery: good news for Porsche owners and enthusiasts.
A couple of other unnamed sources hinted that MID AMERICA wasn't stopping with just the Corvette, Porsche, and VW markets, that they were exploring the viability of helping to serve the owners of other marques or niche areas. That's certainly more good news for the aftermarket and enthusiast industries. Maybe we'll get to see a Fast & Furious Funfest in Effingham? I wanna be there for that!