2004 Pontiac Grand Prix GT2 Review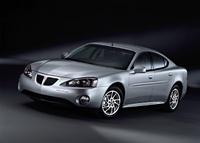 THE AUTO PAGE
By JOHN HEILIG
SPECIFICATIONS
MODEL: 2004 Pontiac Grand Prix GT2
ENGINE: Series III 3.8-liter V6
HORSEPOWER/TORQUE: hp @  rpm/ lb-ft @   rpm
TRANSMISSION: 4-speed automatic
WHEELBASE: 110.5 in.
LENGTH x WIDTH x HEIGHT: 197.5 x 72.7 x 554.7 in.
STICKER PRICE: $27,600
There's no denying that driving a new car every week for this "job" has its upsides. Oddly, it also has its downsides.
The week we drove the 2004 Pontiac Grand Prix was an exciting one in the Heilig household. In the morning, we received a phone call telling us that our middle daughter was in labor and we'd better get there quickly. "There" is the Washington DC area. Needless to say, we were slightly late and Milo Anthony Schwartz was born healthy and strong before we made it.
But the Pontiac Grand Prix served as an excellent transport for getting us there as quickly as the law allowed and in great comfort. The Grand Prix is not a large sedan, but it is a comfortable one. And with the ability to fold the rear seat backs down, we had enough room to carry down everything we had for the new baby.
We also had the pleasure of enjoying XM Satellite Radio on the way down. Satellite radio offers travelers the opportunity to listen to the same station over a long trip, in our case nearly four hours. There's no fiddling with the dial to try to improve reception, and there's no losing the station when you get far away from the signal, because you're never too far away from the signal - in most cases. So we were able to listen to Broadway show tunes on the way down (and classical music on the way up), something you can't even find in today's radio spectrum of loud, annoying music.
We also had another GM innovation, OnStar. We knew the way to our daughter's
house, and we knew the way to the hospital, having made the trip once before for Owen. But we needed OnStar for a slight vehicle problem we had.
With shuttling cars back and forth to accommodate infant seats, my son-in-law took the Grand Prix to the hospital on one trip; we took his car. When we left, though, we discovered we couldn't get the key into the ignition. It simply wouldn't go in, no matter what we tried.
So we called OnStar, and despite the fact that the people there were very friendly and helpful, nobody had heard of this problem before.
My son-in-law came out of the hospital, released the emergency brake, and put the key in. Evidently, on 2004 cars, there's an interlock that prohibits you from putting the key into the ignition while the emergency brake is on. It was news to us and news to the technicians at OnStar.
Despite this minor difficulty, the Pontiac Grand Prix was a great car for our trips, both short and long. The 3.8-liter V6 engine powering the Grand Prix has a long and successful history for GM. It powers everything GM offers, almost, and is a solid engine. We had plenty of power for quick acceleration, and still averaged nearly 25 mpg for mainly highway driving.
It was connected to a four-speed automatic transmission that always seemed to know the right gear.
Since we take a few back roads down to Washington, we also had a chance to observe the handling characteristics of the GP. Needless to say, it offered a great ride, both on the highway and on two-lanes between the major Interstates.
There were a few features I wasn't thrilled with, but these were minor problems. I'm not a big fan of orange interior lighting, and the Pontiac's instrument panel is ablaze with orange. The dials have a "graph paper" background to them that could be distracting, but the lines are faint enough to make them attractive.
Pontiac is also infamous for having a lot of buttons and switches for the driver and passenger to play with. And this one was no exception. I prefer simpler cars, but I also miss all the switches the following week when I have a simpler car.
Our tester came with a bottom line of $27,600. Base price for the Pontiac Grand Prix is $23,660. A leather trim package adds $795, a premium audio package adds another $695, the sunroof adds $795, OnStar $695, and XM Satellite radio $325, plus $9.95 a month subscription. Destination and delivery adds the final $635.
There are features I'd delete if I was to buy a Pontiac Grand Prix, but there are also features I wouldn't want to be without, such as the XM and OnStar. Especially this trip.
© 2003 The Auto Page Syndicate