Cadillac Escalade ESV "The Big Dog In Town"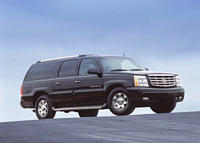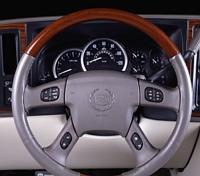 The Largest Full-size Luxury SUV
The 2003 Cadillac Escalade ESV is the largest full-size luxury SUV available - and the largest Cadillac ever produced. Some 22 inches longer than Escalade, with more than 20 extra inches of interior length, it provides customers with additional premium seating and segment-leading cargo-carrying capability. Cadillac's exclusive 345-hp 6.0L V8 engine, also makes Escalade, Escalade EXT and Escalade ESV the world's most powerful series of utilities. This high-output powertrain cranks out 380 foot-pounds of torque at 4000 rpm - or more than enough power to handle steep grades or a well-equipped two-horse trailer. And GM's full-time All-Wheel-Drive and StabiliTrak systems give owners extra confidence regardless of weather and road conditions.
Bold Exterior Design, Commanding Road Presence
What's more, the Escalade ESV shares the same bold exterior design and commanding road presence as Escalade and Escalade EXT, with new-for-2003 luxury enhancements and all of the advanced-technology premium features that have made Escalade the leader - and an icon - in the full-size luxury utility segment.
Technological Breakthroughs
In addition to the confidence underfoot afforded from AWD and StabiliTrak with Road Sensing Suspension (RSS), the Escalade ESV offers such technological advancements as Ultrasonic Rear Parking Assist (URPA), OnStar and XM Satellite Radio service. Plus, it offers a rear-seat entertainment system with a Panasonic DVD Rear Seat Entertainment player, a new Bulgari-designed analog clock, as well as a host of other luxury amenities. The addition of the Escalade ESV to Cadillac's Escalade lineup will help GM continue to build momentum in the luxury utility market.
More Seating and Cargo Space
"The Escalade ESV is a great addition to Cadillac's family of luxury utilities," said Cadillac general manager Mark LaNeve. "Customer feedback tells us there is market potential for a full-size luxury SUV that provides additional seating and cargo space. Combined with the Escalade and the Escalade EXT, the Escalade ESV are the world's most powerful series of utilities."
One of Five All-New Cadillacs in 18-months
The Escalade ESV - one of five all-new vehicles from Cadillac going to production within an 18-month period - was created for successful status-driven, forward-thinking individuals. It is built for those who appreciate bold styling and ingenious technology - people who demand nothing less than the biggest and the best there is. Thanks to its unsurpassed cargo and passenger capacity, the powerful new Escalade ESV is a luxury SUV that truly can do just about anything.
The 2003 Cadillac Escalade ESV is the largest and most powerful luxury SUV available. It's 22-inches longer overall than Escalade, which stretches the interior by more than 20 inches, translating into more premium seating and additional cargo-carrying capability. And because it's an Escalade, the new ESV adopts the line's unmistakably Cadillac styling and Escalade's exclusive 345-hp Vortec 6000 high output 6.0L V8 engine.
"The Escalade ESV moves Cadillac into an all-new area of the luxury SUV market," said Susan Docherty, Escalade marketing director. "Its unique blend of size, performance, comfort and sophistication set a high standard for this market."


Sophisticated style and safety rooted in breakthrough design
aggressive front end, signature styling cues
The Escalade lineup builds on Cadillac's heritage of design leadership, and the 2003 ESV shares the same bold exterior shape and commanding road presence of the Escalade and Escalade EXT.

Like all Escalades, the aggressive front-end is the vehicle's most distinctive exterior feature, distinguished by a large Cadillac wreath and crest and Cadillac's signature egg-crate grille. High intensity discharge (HID) headlamps with chrome bezels deliver a jewel-like appearance, and are integrated with rectangular parking lamps and turn signals. The vehicle's front fascia incorporates recessed tow hooks and rectangular fog lamps. Visibility is assured day and night, thanks to HID headlamps, Daytime Running Lamps and an automatic Twilight Sentinel system. At the rear, the functional step bumper neatly shrouds a standard Class VII trailer hitch.
Harmonious, Integrated Interior
Inside, a newly designed instrument panel and cluster place more crucial operating data in front of the driver and use new graphics to highlight Cadillac's luxury character, using Italian luxury brand Bvlgari. Bvlgari also designed the face of the analog clock, located in the console extension. An ebony background offsets the white facing of the graphics, as well as all control knobs, for a harmonious, integrated look. The cluster gauges feature a simpler design, with chrome halos now highlighting only the tachometer and speedometer.
Driver Information Center Monitors 34 Functions
A new Driver Information Center monitors and reports on up to 34 system functions - more than any vehicle in its class. The vehicle's instrument panel and cluster - designed to accommodate these new features - provides more crucial operating data than any competitor. An available nine-button steering wheel control allows owners to personalize several functions and safely access new infotainment systems.
A new leather-wrapped, wood-accented steering wheel features redundant nine control buttons, including four for duplicate audio controls, two for trip and fuel calculation, two for programming vehicle functions and one to initiate Voice Recognition for the standard OnStar system.
Seamlessly Integrated Center Console
A new center console flows up into the IP and has a new seamlessly integrated, single-piece design for improved fit and finish. A new covered storage compartment with a "push-push" lid has been added to the left of the clock. The rear of the console has a new LCD temperature display and larger control head for the independent, rear-seat ACC control.
The main console has two large cupholders, two auxiliary power points and an ashtray, all neatly hidden below damped, spring-loaded lids, as well as separate, covered storage for maps, credit cards or a cell phone. The rear of the console facing the second-row seats has a auxiliary power point, rear-seat audio controls, separate right- and left-side controls for second-row heated seat cushions, another set of cupholders and courtesy lights for rear passengers. An overhead mini console provides reading lamps and controls for the rear air conditioning and Homelink, which allows vehicle owners to program up to three different signals for items such as a garage door opener, house lights or an electric gate. It also houses controls for the sunroof. Nearly every convenience feature imaginable - from larger, heated, memory, fold-away rearview mirrors with signal indicators to "Puddle Lamps" that illuminate the area around the vehicle when the door is opened, keyless entry is used, or when an interior light is activated - is included on the Escalade ESV.
Bose Premium Audio System
Escalade ESV features a redesigned and reconfigured Bose audio system with nine speakers for superb imaging, stage and spectral response. GM and Bose engineers worked closely to optimize speaker locations and tune speakers to realistically and accurately reproduce audio and sound throughout the vehicles. The system generates 250 watts RMS of power, and features an in-dash, single-point loading six-disc CD changer. For superb-quality radio reception, a new Diversity Antenna System is employed. It uses an FM antenna located on the driver's rear-quarter window and an AM/FM antenna on the passenger's-side rear-quarter glass feeding a diversity module located in the rear quarter panel, which then feeds the radio with an optimized signal.
Exceptional Seating Comfort
With its class-leading size, the Escalade ESV excels in seating comfort and cargo-carrying capability with room for eight. Its new, more tailored-looking seats are exceptionally soft and supportive, and feature soft, aromatic Nuance leather seating surfaces. The standard front bucket seats are equipped with 10-way power cushion adjusters for the driver and passenger. They also include power adjustable side bolsters and power lumbar, power seatback recliners, independent heated seatbacks and cushions (three settings), a seatback storage pocket, fold-down inboard armrests, manual articulating four-position head restraints, two-position driver's seat memory, and a programmable exit feature. The second-row also offers standard reclining bucket seats, which feature heated cushions. A second row bench seat with heated cushions is optional. To make room for cargo, the second row bucket seats can be flipped and folded. The third row bench seat can be folded or removed for maximum cargo flexibility, yet still offers spacious seating even for adults. In addition, the second and third row seatbacks can be folded to provide a flat load surface. In this configuration the Escalade ESV actually has enough load floor space to carry 4x8 sheets of building materials with the rear liftgate fully closed and secure.
Outstanding Climate Control
A new dual-zone heating, ventilation and air conditioning system, available with both manual and automatic climate control (ACC), provide outstanding comfort. Dual-zone controls allow the driver and front passenger to adjust the temperature to their own comfort levels - up to a 30-degree Fahrenheit difference between the two front zones. The optional dual-zone ACC automatically controls air delivery, fan speed, temperature and recirculating/outside air to provide faster warmups and cooldowns.
Focus on Safety
Engineers built a high level of safety and security into Escalade ESV, beginning with an exceptionally strong and stiff body structure, thanks to a three-piece modular, full-length boxed frame featuring hydroformed rails and a stamped steel midsection.
Passenger Sensing System
The vehicle features safety devices such as GM's Passenger Sensing System (PSS). This intelligent system detects if there's a small adult or baby seat in the front passenger seat and will automatically turn the front passenger side air bag off. In addition, the Escalade ESV has dual stage air bags, which control the rate of air bag deployment based on the seat location relative to the instrument panel. All Escalades include front air bags for both driver and passenger, along with driver and front-passenger side-impact air bags. In addition, side-impact door beams and energy-absorbing foam blocks on the interior help protect occupants against head injuries.
Other safety features include large windshields for maximum visibility, big 50-square-inch electrically controlled and heated outside rearview mirrors, automatic programmable door locks, and the PASS Lock II theft-deterrent system.
The confidence of class-leading power and all-wheel-drive
more horsepower, more torque than any SUV
The best-in-class Vortec 6000 gives the AWD Escalade more horsepower and torque per liter than any SUV, at 345 hp at 5200 rpm and 380 lb-ft of torque at 4000 rpm. The high-compression engine delivers strong acceleration with impressive low-end power and a strong, flat torque curve for excellent pull throughout the rev range. It links to the Hydra-Matic 4L60-E HD (heavy-duty) electronically controlled four-speed automatic transmission with overdrive.
The key to the 6.0L's increased output is a set of special cast-aluminum cylinder heads that reduce weight, aid in engine cooling, produce a 10:1 compression ratio and provide better airflow in and out of the combustion chambers via bigger intake and exhaust ports. A larger, 75mm throttle-body and a revised camshaft profile allow the engine to take full advantage of the increased airflow. The Vortec 6000 also incorporates an advanced Electronic Throttle Control (ETC) system, which precisely tailors throttle progression to improve driveability, fuel economy and emissions. A specially tuned, less-restrictive exhaust with a redesigned catalytic converter system not only increases performance, but also eliminates the need for an Air Injection Reaction system and helps Escalade ESV meet ultra low emissions vehicle (ULEV) certification requirements in California and other states with similar laws.

Heavy-duty Hydra-Matic Transmission
To handle the additional power of the Escalade's V8, the ESV employs a new Hydra-Matic 4L60-E electronically controlled four-speed automatic transmission with overdrive. This heavy-duty version of GM's smooth-shifting workhorse features a wide variety of internal enhancements to improve both torque capacity and durability. Other innovations include Passive Shift Stabilization, which detects overly frequent transmission shifts and delays the upshifts to a higher rpm range while helping to reduce transmission wear, as well as GM's exclusive Tow/Haul mode, which delays upshifts for more effective hauling and towing. The Escalade ESV features a standard Trailer Towing Package, and has a towing capacity of 7400 lbs. - the equivalent to a fully loaded two-horse trailer.
Full-time All-Wheel-Drive System
High-performance engineers maintain the only amount of useful power is what can be delivered to the pavement. That's why the Escalade ESV features a standard full-time, all-wheel-drive (AWD) system. It automatically and continuously transfers power to the wheels in a smooth, imperceptible manner to maintain an optimum front-to-rear torque split and the best balance of handling characteristics under all operating conditions. Working seamlessly in conjunction with GM's advanced traction and stability control systems, the Escalade ESV uses the latest technology to optimize control and ride characteristics under any road or load conditions.
Finely Balanced Wheels and Tires
The new Borg-Warner 1-speed open differential transfer case permits greater and more flexible front-rear torque transfer than the previous viscous-coupled transfer case. Its increased front torque bias (40 percent front/60 percent rear bias ratio) also improves yaw stability by reducing the potential for understeer. Larger 17 x 7.5-inch standard chrome wheels and P265/70R-17 Goodyear Touring tires have been specially chosen to provide a good balance for ride, handling and traction needs, all while taking full advantage of the AWD system.
The vision of driving with advanced technologies
World-class Technology, Highly Equipped
True to Cadillac's breakthrough engineering heritage, Escalade ESV combines some of the world's leading automotive technologies. Perhaps the most notable is GM's StabiliTrak System, which improves stability and traction on all road surfaces at all speeds. GM's next-generation StabiliTrak stability enhancement system - previously only available on luxury vehicles and sports cars - is standard on Escalade ESV. StabiliTrak's sophisticated sensors tap into the suspension, steering, antilock braking and traction control systems, constantly measuring steering angle, wheel speeds, brake pressure, lateral and longitudinal acceleration and yaw rate (the vehicle rotation rate, such as when cornering).
Responds to Driver's Intent
StabiliTrak helps move the vehicle where the driver points it, responding to understeer or oversteer in mere tenths of a second. It compares the driver's intended path with the vehicle's actual path, and selectively adjusts engine torque and any of the four brakes to help bring the vehicle back under control.
Road-Sensing Suspension
With StabiliTrak also comes GM's computer-controlled Road-Sensing Suspension (RSS), a fully automatic system that improves body stability, ride comfort, trailering performance, wheel control and overall handling under all load conditions. RSS uses electrically controlled shock absorbers, four electronic wheel-position sensors, a steering-angle sensor, brake signals and a computer control module. The shocks are large-bore 46mm monotube dampers, with an integral two-state electric solenoid valve. Using sensor and vehicle inputs, the module adjusts the damping function on all four shock absorbers independently in real time, monitoring each input 1,000 times per second. Through a complex software algorithm, it computes the individual shock demand for each wheel to optimize vehicle handling and ride performance at that instant in time. Steering, braking and acceleration inputs, which can help anticipate impending roll, lift and dive, further enhance the system. When driving on surfaces that generate frequent wheel inputs, such as washboard roads, the system selects the best damping to keep wheel-to-road contact.
Ultrasonic Rear Parking Assist
For added safety, the Escalade ESV also features Cadillac's Ultrasonic Rear Parking Assist (URPA), which uses audio and visual cues to convey information on the distance of objects behind the vehicle, assisting the driver in rear parking maneuvers. The system uses four sensors on the rear fascia, which sequentially send out ultrasonic waves when the vehicle is driven in reverse. The sensors pick up the echo of a signal when it bounces off an object, then activates a visual display located in the right-side rear-quarter D-pillar that is also visible through the driver's inside rearview mirror and works in concert with an audio chime system to alert the driver to any potential hazards. As the vehicle and object move closer together, the system adjusts the visual and audio cues to indicate the closer proximity. The system not only incorporates a snow/ice/mud algorithm in its software, which alerts the driver to clean the rear sensors when required for proper functioning, but also can be disabled when towing a trailer, thus preventing it from beeping unnecessarily.
OnStar and XM Satellite Radio
Telematics/Infotainment Technologies
Escalade ESV drivers can also enjoy the benefits of two cutting-edge telematics technologies - OnStar and XM Satellite Radio. OnStar's Directions and Connections service is standard for one year and includes automatic emergency assistance when airbags deploy, plus remote unlocking and diagnostics services. XM Satellite Radio is also standard on the Escalade ESV. XM radio features 100 coast-to-coast digital channels, including 71 music channels (more than 30 of them commercial-free) from hip-hop to opera, classical to country, bluegrass to blues and 29 channels of sports, talk, children's and entertainment programming. XM also brings to the car, for the first time on radio, a diverse selection of 24-hour news sources previously available only in the home. And XM's next-generation sound quality technology provides superior sound remarkably close to compact disc.
Smarter Electrical Systems
An advanced new multiplexed electrical architecture makes running all of Escalade ESV's features and functions simple and effective. The new architecture greatly reduces the number of wires, splices and connectors, minimizes weight, improves packaging efficiency, reliability, durability and enables features such as the Driver Information Center, Infotainment, Automatic Climate Control and Passenger Sensing System.
Escalade ESV: setting a new standard
The high level of luxury and advanced features in the new Escalade ESV are things you'd expect only from Cadillac - and its size, power and functionality are things no other manufacturer offers. Together with the Escalade and Escalade EXT, the Escalade ESV helps Cadillac set a new standard for the luxury SUV market, where a unique combination of standout styling and ingenious technology - puts all Escalades in a class all their own. And with unsurpassed cargo and passenger capacity, the 2003 Cadillac Escalade ESV is the one luxury SUV that can do just about anything.
Escalade ESV Preliminary Specifications
OVERVIEW
Model:
Cadillac Escalade ESV
Bodystyle / driveline:
luxury 1/2-ton, seven- or eight-passenger four-door sport-utility, front-engine, all-wheel-drive
Construction:
body-on-frame, all-welded, fully boxed, ladder type, channel design, with hydroformed front and rear sections
EPA vehicle class:
full-size sport-utility
Manufacturing location:
Silao, Mexico
Key competitors:
Mercedes-Benz G-Class, Land Rover Range Rover, Lexus LX 470, Lincoln Navigator

ENGINE

Type:
Vortec 6000 6.0L high-output (LQ9)
Displacement (cu in / cc):
364 / 5967
Bore & stroke (in / mm):
4 x 3.62 / 101.6 x 92
Block material:
cast iron
Cylinder head material:
cast aluminum
Valvetrain:
OHV
Ignition system:
coil-near-plug, platinum-tipped spark plugs, low-resistance spark plug wires
Induction system:
sequential central-port fuel injection
Compression ratio:
10.0:1
Horsepower (hp / kw @ rpm):
345 / 257 @ 5200 rpm
Torque (lb-ft / Nm @ rpm):
380 / 515 @ 4000 rpm

Recommended fuel:

premium unleaded recommended but not required
Maximum engine speed (rpm):
6000
Emissions controls:
3-way low-density catalytic converter, positive crankcase ventilation, evaporative collection system
Estimated fuel economy
(mpg city/hwy/combined):
12 / 16
V8 alternator (amp):
145
TRANSMISSION
Type:
Hydra-Matic 4L60-E, heavy-duty electronic 4-speed automatic
Gear ratios:

1st

3.06

2nd

1.63

3rd

1.00

4th

0.70

Reverse

2.29

Axle ratio

3.73
Transfer case:
one-speed open differential
CHASSIS/SUSPENSION
Front:
independent with torsion bars, Road Sensing Suspension RSS, 32mm stabilizer bar, monotube shocks
Rear:
5-link with coil springs, with automatic air-leveling system, Road Sensing Suspension RSS, 30mm stabilizer bar, monotube shocks
Traction control:
four-channel StabiliTrak stability enhancement system (including ABS-based all-speed traction control)
Steering type:
power recirculating ball
Steering gear ratio:
14:1
Steering wheel turns,
lock-to-lock:
3
Turning circle, curb to curb
(ft / m):
43.08 / 13.43
BRAKES
Type:
hydraulic power, four-wheel disc with four-wheel ABS, dual-piston calipers with Dynamic Rear Proportioning
Rotor diameter x thickness
(in / mm):
front: 12.01 x 1.14 / 305 x 29;
rear: 13 x 1.18 / 330 x 30
Total swept area
(sq in / sq cm):
front: 213.6/1378;
rear: 223.7/1443
WHEELS/TIRES
Wheel size and type:
17 x 7.5 / 431.8 x 190.5, chrome

Tires:

all-season Goodyear Touring steel-belted radials P265/70/R17

DIMENSIONS

Exterior
Wheelbase (in / mm):
130 / 3302
Length, overall (in / mm):
219.3 / 5570
Width, overall (in / mm):
78.9 / 2004
Height, overall (in / mm):
75.7 / 1923
Track (in / mm):
front: 65 / 1651; rear: 66 / 1676
Ground clearance (in / mm):
10.7 / 271.7
Step-in height (in / mm):
22 / 559

to assist step (in / mm):

14 / 356
Curb weight (lbs / kg):
5839/ 2649
Weight distribution
(% front/rear):
53 / 47

Cargo Box

Cargo liftover height (in / mm):
30 / 762
Width at floor (in / mm):
49.2 / 1249.7

Interior

Front
Middle
Rear
Seating capacity (7-8):
2
2 or 3
3
Head room (in / mm):
40.7 / 1034
39 / 991
38.6 / 980
Leg room (in / mm):
41.3 / 1049
39.1 / 993
36.1 / 917
Shoulder room (in / mm):
65.2 / 1656
65.1 / 1654
64.8 / 1646
Hip room (in / mm):
61.4 / 1560
61.6 / 1565
49.2 / 1250
CAPACITIES
EPA interior volume:
131.6 / 3726
90 / 2549
45.7 / 1297
(cu ft / liters):

(with seatback in 'up' position)

Cargo volume (cu ft / liters):
(with rear seat removed)
63.6 / 1801
Maximum (with 2nd-row
seatback in 'down' position):
108 / 3064
Trailer towing maximum
(lbs / kg):
7400 / 3357
Fuel tank (gals / liters):
31 / 117.3
Engine oil (qts / liters):
6 / 5.7
Cooling system (qt / liters):
16.8 / 15.9
GVWR, standard (lbs / kg):
7200 / 3266
Payload, base (lbs / kg):
1480 / 67.1

Battery (cca):

600
Tire inflation pressures,
cold (psi):
30
PERFORMANCE
Standing 1/4 mile (sec / mph):
17.16 / 84.5
Top speed (mph / kph):
106 / 170.6 (speed limited)
0-60 mph (0-96 kph)

acceleration (sec):

8.44
60-0 mph (96-0 kph)

braking distance (ft / m):

162 / 49.3