Review: 2003 Toyota Matrix
SEE ALSO: Toyota Buyer's Guide
DRIVING DOWN THE ROAD WITH CAREY RUSS

     It sometimes seems that every new car is in a class of its own, at
least in the eyes of its manufacturer. Consider the Toyota Matrix,
for example. Toyota calls it the world's first ``crossover utility
vehicle,'' or CUV. An interesting concept, as ``crossover'' already
denotes a mix of car and sport-utility characteristics. Toyota has
one of the world's broadest selections of SUVs, and the smallest,
the RAV4, is a standard crossover-type vehicle with car-like unit-
construction, front- or all-wheel drive, and high, SUV styling. But
the Matrix is smaller, and it is considerably different in intent.
    
     While the utility in an SUV, or even now-standard crossover
vehicle, is obvious, the ``sport'' part of the equation is usually more
in where you can go than in the getting there. If you like skiing,
climbing, camping, fishing...an SUV will get you there. But if
driving is your sport, an SUV is best thought of as a tow vehicle.
Even crossovers, because of their relatively high stance, are unlikely
to be handling machines. The Matrix starts with sport, and adds
utility.

    Ignore categories and take a close look at the Matrix. Built on
the newest Corolla platform, it could be thought of as the newest
Corolla wagon. But it's not. And, despite its height, the Matrix is no
micro-SUV. It's a combination of four-door hatchback and sport
sedan, with extra height for comfort and cargo space. 

	

The three models - standard, XR, and XRS - mix sport with utility in a manner not possible with a sport-utility, or most crossovers. The standard and XR use the 130-horsepower engine from the newest Corolla, and have an optional full-time four-wheel drive system designed for traction in inclement conditions. Utility, in their case, is mixed with a moderate touch of sport - but far more than in any SUV. The XRS uses the 180-horsepower Celica GTS engine, with a serious emphasis on sport, plus utility. I've just spent a week with a standard model Matrix, which is expected to be the most popular. Its mix of sporty, fun-to-drive handling, great 30+ mpg gas mileage, and useful, versatile space is hard to beat. The XR and XRS will add features (and serious performance in the case of the XRS), but in any trim, the Toyota Matrix has as much utility as a small SUV and far more sport. No compromise necessary. APPEARANCE: The Matrix is an interesting blend of hatchback and micro-SUV style, with the hatchback predominating. It has the small two-box shape and normal ground clearance of a hatchback, but is taller, more like a crossover SUV, and has a faux skid-plate design to the bottoms of the front and rear bumper fascias. The styling, called ``edge-web'' by Toyota, overlays rounded contours with sharply creased edges and character lines. The look would be pure performance hatchback except that the shoulder line and roof are higher than the norm for that category. Still, the sloping roof, winglike side window profile, and wedgy shoulder line say ``fast car.'' The lower side character line can be interpreted as fender flares (sports car) or cladding (sport-utility).
COMFORT: That tall roofline has benefits inside, with plenty of headroom, even in the rear seat. And the seating position is sport- utility tall, with legs comfortably bent and a reasonably high eyepoint for visibility. The front bucket and rear split bench seats are covered with grippy cloth. The interior design says ``sport,'' with upscale ``Optitron'' backlit instruments and titanium-look plastic trim on the center stack and around the left air conditioning vent and window lifts. The gearshift lever comes out of a lower extension to the center stack, as on some Toyota sport-utilities. Versatile rearrangement of the interior is one reason for SUV popularity, and the Matrix can do this as well. The rear cargo area and back of the rear seat are made of tough plastic material with inset cargo tracks, and there are multiple tie-down points for cargo nets. The rear seat folds 60/40, and the front passenger seat back, which has a hard plastic covering, can be folded forward as well to transport long items. There is secure space below the cargo floor for small items. The standard Matrix is reasonably well-equipped, with all of the cargo versatility items, air conditioning, and a rear- window defogger all included. XR and XRS models have additional comfort and trim items standard; many are also available for the standard grade. SAFETY: All Matrix models have a strong steel chassis structure, dual front airbags, three-point safety belts for all seating positions, and daytime running lights. Side airbags and antilock brakes are available.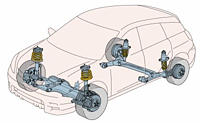 ROADABILITY: Front-wheel drive versions of the Matrix share their MacPherson strut front, twist-beam rear suspension with the newest Corolla. Suspension geometry is slightly different from the Corolla in order to take advantage of the Matrix's larger wheels and tires, and both the front and rear track are wider. The unibody structure is very rigid, which makes handling more precise and lessens noise and vibration levels. In standard trim, the Matrix is at its best around town and on scenic back roads. It's sporty as opposed to sports, but the XRS takes care of the more serious sports enthusiasts with a slightly stiffer suspension.
PERFORMANCE: The 1.8-liter twincam, 16-valve 1ZZ-FE four- cylinder engine used in the standard and XR grade Matrix produces 130 horsepower at 6,000 rpm and 125 lb-ft of torque at 4200 rpm, enough for energetic, entertaining performance. The intake manifold design and variable valve timing on the intake cam give it a wide torque band for easy driving. If top-end power is your concern, go directly to the XRS, with its screaming 180-hp Celica GTS engine. The 1ZZ-FE has plenty of low- and mid-range power, and, although power drops off at high speeds, the Matrix so equipped is at its best in the real world of cut-and-thrust city driving and also on tight, twisty ``sports car'' roads. The standard five-speed manual transmission adds to the fun. CONCLUSIONS: The Toyota Matrix mixes a fun-to-drive nature with interior space and versatility. Sporty cars can be utilitarian! SPECIFICATIONS 2003 Toyota Matrix Base Price $ 14,670 Price As Tested $ 16,685 Engine Type dual overhead cam 16 valve inline 4- cylinder with variable valve timing Engine Size 1.8 liters / 109 cu. in. Horsepower 130 @ 6,000 rpm Torque (lb-ft) 125 @ 4,200 rpm Transmission 5-speed manual (4-speed automatic available) Wheelbase / Length 102.4 in. / 171.3 in. Curb Weight 2,679 lbs. Pounds Per Horsepower 20.6 Fuel Capacity 13.2 gal. Fuel Requirement 887 octane unleaded regular gasoline Tires P205/55 HR16 Goodyear Eagle RS- A Brakes, front/rear vented disc / drum, antilock optional Suspension, front/rear independent MacPherson strut / twist beam axle Drivetrain front engine, front-wheel drive PERFORMANCE EPA Fuel Economy - miles per gallon city / highway / observed 29 / 36 / 30 0 to 60 mph est 9.0 sec Coefficient of Drag (cd) 0.321 OPTIONS AND CHARGES Anti-lock brake system $ 300 Driver and front passenger side airbags $ 250 Power windows and door locks with remote entry $ 980 Delivery charge $ 485