Review: 2002 Suzuki Aerio GS Sedan
SEE ALSO: Suzuki Buyer's Guide
Driving Down The Road With Carey Russ
While small, rugged SUVs are its best-known four-wheeled offerings, Suzuki also makes sedans. And, as its SUVs have grown over the years, from the tiny Samurai through the larger Sidekick, Vitara, and Grand Vitara to the latest seven-passenger XL-7, so have the sedans.
The first Suzuki sedan sold here was the subcompact Swift, which was replaced by the larger (but not too large) Esteem sedan and wagon. The Esteem has recently been joined by the all-new Aerio. Larger than the Esteem, but still solidly in the compact size class, the Aerio is posed to be the most mainstream sedan yet from Suzuki.
Although the Aerio's underpinnings are standard fare for the compact class, its styling and power are not. There are three trim levels offered, in two body styles. The Aerio S and GS are tall, angular sedans with a contemporary Japanese look. ``SX'' in Suzuki's terminology stands for ``sport crossover,'' and the Aerio SX is a cross between a sporty sedan and a sport-utility in concept, taller than a wagon but with a highly modified version of the wagon or SUV two-box shape. All use a 2.0-liter, 141-horsepower engine, one of the largest and most powerful standard engines in the compact import class. Standard equipment levels are very high; prices are not.
I've spent the last week with an Aerio GS sedan. Its tall stance gives it a roomy interior and large trunk, yet it is small enough outside to easily fit into crowded urban parking spaces. My test car had an automatic transmission. Automatics and small cars can be a bad combination, with seriously decreased performance and unpleasant shifting patterns. Not in the Aerio. Its engine has no shortage of torque, so it still had good performance in city and highway traffic. The automatic is as smooth as one from an expensive luxury car. The Aerio is a refined car that will help increase Suzuki's presence in the American marketplace.
APPEARANCE: With a five-foot high roofline, the Aerio sedan has the ``tall car'' look popular in Europe and Japan. But because other cars with that style sold here are smaller, that makes for an interesting optical illusion. Viewed alone, with no other cars nearby, the Aerio looks tiny. Parked next to more commonly- proportioned competitors, its true size becomes apparent. The sedan and SX share front bodywork, with the sedan's formal sedan roofline and short, high rear deck replacing the SX's micro-minivan / four-door hatchback look. In both, the basic shape is simple, with rounded edges and corners offset by crisp character lines and bright triangular headlights. A flat front bumper fascia, incorporating a large rectangular intake bisected by a horizontal crossbar, adds a contemporary sport look, which is reinforced by the GS sedan's standard alloy wheels and rear spoiler. Interestingly, all models have small windows in front of each front door window. Unlike ``wind wings'' of the past, these don't open, but they do allow extra vision in a very important direction.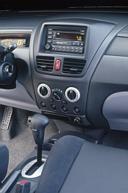 COMFORT: That tall roofline makes perfect sense from the inside. There is plenty of headroom, front and rear. The sedan's rear seat has more head and leg room than is found in some midsized cars. Although the width makes it best for two people, a low central tunnel does help any rear center passenger. The interior design blends well with the exterior, with interesting geometric shapes and good visibility. Thanks to the high roof, the seating position is comfortably upright and the high eyepoint gives a good view of the road. Forward vision is also improved by a low instrument panel, allowed in part by a digital instrument display. Is it 80s-retro or is it futuristic? Doesn't matter, as the digital speedometer and bar-graph tach are easily visible, even through polarized sunglasses. The symmetric dashboard places the audio and climate controls in a central pod. Standard equipment levels are high - the Aerio S has air conditioning, an AM/FM/CD stereo, power windows and mirrors, a tilt-adjustable steering wheel, and split folding rear seat. The GS adds power locks with remote keyless entry, adjustable driver's seat cushion height, cruise control, a storage tray under the front passenger seat, and more useful features. The small rear deck may imply a small trunk, but don't be fooled. The Aerio sedan has one of the largest trunks in the compact class.
SAFETY: The Aerio's chassis has a reinforced passenger compartment and front and rear crumple zones. Front seatbelt pretensioners activate if the air bags are deployed.
ROADABILITY: The Aerio's chassis and suspension are not unusual at all. It's a front-wheel drive car with a unibody structure and fully-independent suspension by MacPherson struts. What makes the Aerio stand out is its suspension tuning. Correct matching of spring and shock absorber rates gives a very good ride quality, and not just ``for it's (inexpensive) class.'' Fore-and-aft body motion and roll in corners are minimal. While more ``sporty'' than ``sports'' in its present form, the Aerio has definite sports sedan potential.
PERFORMANCE: A 2.0-liter engine with 141 horsepower at 5700 rpm and 135 lb-ft of torque at 3000 rpm gives the Aerio good acceleration, while also using little gasoline and requiring minimal maintenance. A zero-maintenance cam chain, instead of the more common belt, eliminates one of the more common (and potentially expensive) long-term maintenance hassles associated with modern overhead camshaft engines. With the standard five-speed manual, the Aerio is undoubtedly quicker and sportier, but my test car had the four-speed automatic. It's an exceptionally smooth and pleasant automatic transmission, regardless of car class or price, and adds refinement to the car.
CONCLUSIONS: The new Suzuki Aerio sedan is an interesting entry in the compact class.
SPECIFICATIONS 2002 Suzuki Aerio GS Sedan
Base Price $ 15,499 Price As Tested $ 16,074 Engine Type dual overhead cam, 16-valve inline 4-cylinder Engine Size 2.0 liters / 122 cu. in. Horsepower 141 @ 5700 rpm Torque (lb-ft) 135 @ 3000 rpm Transmission 4-speed automatic Wheelbase / Length 97.6 in. / 171.3 in. Curb Weight 2604 lbs. Pounds Per Horsepower 18.5 Fuel Capacity 13.2 gal. Fuel Requirement 87-octane unleaded regular gasoline Tires P195/55 VR15 Yokohama Geolander GO46 Brakes, front/rear vented disc / drum, antilock optional Suspension, front/rear independent MacPherson strut front and rear Drivetrain front-engine, front-wheel drive
PERFORMANCE EPA Fuel Economy - miles per gallon city / highway / observed 26 / 31 / 27 0 to 60 mph est. 9.2 sec
OPTIONS AND CHARGES Floor mats $ 75 Destination and handling $ 500