Review: Lexus SC430
SEE ALSO: Lexus Buyer's Guide
By Annabelle Frankl
Whilst the SC430 may look slightly unconventional, this hardtop convertible is a popular new addition to the luxury sport coupe field. Some friends thought it ugly in exterior design, especially from the rear, but I have to say I rather like its styling, bringing as it does a fresh and interesting new look, with great detailing, and style points intended to improve performance by reducing drag and wind noise. Gleaming silver millennium metallic paintjob, 18" aluminium alloy wheels, low profile (run flat) tires and dual chrome exhaust…I think the SC 430 means business.
And that's even before the roof comes off. Well, folds down. At the touch of a button, and within 25 seconds, you've got yourself a convertible. Wonderfully smooth and quiet, everything locks securely into place and you're ready to hit the road and feel the wind in your hair. Actually, that's the only downside – rather a large backdraft through the car, whether the windows are up or down, means that long hair most definitely needs to be tied back, or else accidents most surely will happen. It also renders the cabin rather chilly whilst in motion, even on a hot LA day. However, the heating system and effective seat heaters cut through the frost.
Powered by a 4.3 liter, four cam, 32-valve V8, which produces 300 hp, the 430 is also equipped with Acoustic Control Induction System (ACIS), which adjusts intake tract length in order to maximize torque, and has Variable Valve Timing (with intelligence, no less) that increases torque at lower speeds, horsepower at higher ones, thus improving engine performance and fuel economy. Which translates to darn good, and smooth, acceleration and continuous power up through the gears of the 5-speed electronically controlled automatic transmission (again, of the intelligent variety).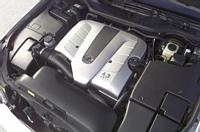 The SC430 handles extremely nicely. Tight around the corners, firm ride on double-wishbone suspension, excellent power, minimal skuttle shake. There was a definite difference in chassis performance from coupe to convertible mode, but it was barely noticeable, the stiff, steel-reinforced structure doing its utmost to resist bending. The speed-sensitive power rack and pinion steering was wonderfully precise and maneuverable, and the wood and leather steering wheel was very smooth and comfortable, featuring the usual audio and cruise controls.
4-wheel ABS, with brake assist, makes for suitably efficient stopping power, given the kind of speeds one feels like driving once firmly planted behind the wheel, and Lexus' electronic brakeforce distribution uses a computer controlled system to modulate the amount of fluid pressure to the brakes, providing better control during braking. Further safety features include dual front airbags, front seat mounted side-impact airbags, energy managing crumple zones, which deform progressively, thus absorbing impact energy, dual side door beams and run flat tires, which allow you to drive for up to 100 miles, at up to 55 mph, with zero air pressure.
Now, whilst some might not find the SC430's exterior styling to their liking, they'd be hard pressed to find much wrong with its interior details. Simply beautiful, with no crappy touches at all! Amazing – no plastic trim, no fake wood in sight – just Nappa leather, real wood trim and brushed chrome accents. The driver center is well laid out, and clear to read and operate, with dual-zone 'Intuitive Climate Control', that automatically adjusts according to sun position, speed and roof up or down driving conditions, DVD navigation system and a Mark Levinson boom box, totaling 9-speakers and 240-watts of premium sound and 6-CD auto changer. Yes, you too can be the obnoxious convertible driver with the blaring stereo if you so desire. Convenience features also include memory seats, homelink universal transceiver, electrochromic inside and outside mirrors, and heated outside mirrors.

The cabin is extremely comfortable for its two passengers. I truly doubt that its possible to carry any more than that. Maybe three, but contortionists only need apply. And you'd better be prepared to travel light, because with the roof down you've literally only got room for 1 set of gold clubs (so perhaps your companion should be your caddy?) and a toothbrush. I'm not sure how one is supposed to do a weekend getaway in this car. Well, flip flops and a bikini, OK. Anything requiring a few more layers, good luck.
A cool, stylish new addition to the luxury sport coupe market, the Lexus SC430 will set you back $61,400. That's $10,000 more than a Boxster, $4,000 more than a Mercedes CLK430, but $13,000 less than a Jaguar XK8 and $23,000 less than a Merc SL500 Roadster. Middle-of-the-road on the price ladder, but edging towards the front on the style and drivability ladder.