Dodge Ram SRT-10 Viper Power Creates Fastest Ram Pickup Ever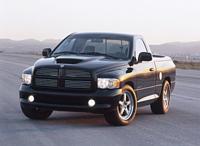 DETROIT, Jan. 8 -- In a world of bland trucks, Dodge Rams are known for redefining the full-size pickup market with ground breaking designs. Today, Dodge unveils a ground shaking design with the boldest, baddest and fastest full-size pickup, the new Viper-powered Dodge Ram SRT-10 show truck. A production version of this show truck will appear at a later date.
Just as the all-new 2002 Dodge Ram-and the previous generation Ram introduced in 1994--added a much needed dose of style to the full-size pickup truck market, the Ram SRT-10 brings a massive dose of Viper power with a class-demolishing 500 horsepower and 500 lb.-ft. of torque.
Filling the engine-bay of the Ram SRT-10 is the largest engine in a factory pickup truck--the 8.3-liter V-10 that powers America's ultimate sports car, the all-new 2003 Dodge Viper. The V-10's horsepower rating easily surpasses any other pickup--not to mention virtually every production sports car on the road.
``In the sport truck segment, we might be accused of stacking the deck against the competition,'' said Wolfgang Bernhard, Chief Operating Officer, Chrysler Group. ``But why not when you have ten aces up your sleeve? We set out to create the boldest, baddest and fastest pickup truck ever, and that is exactly what we have done.''
Extreme Performance = PVO
The Dodge Ram SRT-10 is one of three new 'extreme performance' models from the Dodge brand. Along with the all-new Dodge SRT-4 and Viper, which will also carry the SRT-10 name, all three were developed by a newly created entity called Performance Vehicle Operations (PVO). This new group brings together the expertise from Chrysler Group's specialty vehicle, Mopar parts business and motorsports operations, using the same engineers who created the original Dodge Viper and Chrysler Prowler, as well as the NASCAR-winning Dodge Intrepids and Le Mans-winning Vipers.
Leveraging the profitable high-end conversion experience of Mercedes-AMG, PVO has been charged with creating extreme performance vehicles not only for Dodge, but also Jeep® and Chrysler brand product lines. Going forward, PVO will offer low-volume specialty versions of vehicles, as well as unique brand offerings.
``Up until now, no U.S. automaker has truly integrated its motorsports and high-performance vehicle operations,'' said Jim Schroer, Executive Vice President of Global Sales and Marketing. ``Take the great high-performance engineering expertise -- throw in a bit of counsel from our COO, Wolfgang Bernhard, who has great experience with AMG -- and we have a winning combination for those who truly want ultimate performance vehicles.''
Performance plus Attitude
The Dodge Ram SRT-10 provides an unbeatable combination -- the class-leading attributes of the 2002 Dodge Ram pickup and the powertrain of the ultimate performance car, the 2003 Dodge Viper SRT-10.
``I think that the last thing anyone might expect from Dodge is their very own Viper-powered truck,'' said John Fernandez, Director of Performance Vehicle Operations. ``But this concept is just too good to leave to the aftermarket. The Viper V-10 provides an incredible amount of horsepower and torque and is unlike anything else in a production pickup. Ram is a bold statement to begin with, so what better vehicle to help establish the performance image of the Dodge SRT line?''
Providing an estimated 500 horsepower and 500 lb.-ft. of torque just like its Viper soul mate, the Dodge Ram SRT-10's power is channeled through a Viper six-speed manual transmission that connects to a modified differential and new driveshaft. The Ram SRT-10 will accelerate to sixty mph in an estimated 5.0 seconds and deliver an estimated top speed of 150 mph. More impressively, Ram SRT-10 runs the 0-100-0 mph dash in an estimated 18 seconds.
Keeping all this power in check is a modified Ram rack and pinion steering and independent front suspension from the 2002 Dodge Ram, which set new handling standards for full-size pickups. Blessed with the stiffest frame in Ram history, the Ram SRT-10 makes the most of its exclusive 24-inch wheels and 305/35 R24 high-performance tires, pulling an estimated 0.92 g's on the skid pad and hitting almost 70 mph on the slalom. A recalibrated, quick-ratio power steering unit enhances steering feel.
The Ram SRT-10's handling is enhanced by the addition of performance-tuned springs and shocks, a rear sway bar and an inch-lower ride height. Bringing the Ram SRT-10 to a halt are four-wheel disc Viper brakes, equipped with standard ABS. Fascia-mounted, faired-in brake ducts aid cooling.
Walk Softly but Carry Some Big Cubes ...
The exterior appearance of the Dodge Ram SRT-10 imparts an almost sinister demeanor with a design that blends the bold, ``big-rig'' look of the 2002 Dodge Ram with performance styling cues that hint at the extra muscle behind its signature cross-hair grille. It's understated ``muscle truck'' exterior sends a quiet yet unmistakable message that the Ram SRT-10 owns the fast lane.
Available in black or red only, the crisp lines of the Dodge Ram SRT-10 provide a look of machined elegance with a lower -- and an even bolder -- stance than the standard Ram. The new front fascia, hood with integrated air intake, billet grille, one-inch lower ride height and ground-effect moldings provide plenty of ``hunkered down'' attitude even before the ignition key is turned. From the side, Ram SRT-10 is distinguished by an aluminum fuel filler, SRT-10 badging and red Viper brake calipers visible behind the 24-inch wheels. A bed-mounted hard tonneau, spoiler and custom rear fascia with cutouts for dual exhausts provide the view for the majority of the motoring public.
``The front end of the SRT-10 combines the new Ram styling cues we created for the 2002 Dodge Ram and adds an extra boost of visual power,'' said Rick Aneiros, Vice President, Jeep/Truck Color and Trim design. ``Yet there is a slightly understated air about the SRT-10, especially considering its performance potential. But as powerful as the overall theme of the Ram SRT-10 is, we were determined not to make this another boy racer truck.
``Its true identity is found in the details,'' added Aneiros. ``A glimpse of the red Viper brake calipers behind massive 24-inch wheels, the mesh grille covering the air intakes, or even the lowered stance. All of these convey power without shouting it. This truck doesn't have to yell to be heard.''
Inside, red-piped leather and carbon fiber-look accents complement the performance attitude established by the SRT-10's outward appearance. Silver-faced gauges with Viper font and graphics have an appropriately recalibrated speedometer and tachometer to accommodate the SRT-10's visceral performance. The best-in-class interior space is maintained from the standard Ram.
``We wanted to capture the feel of a sports car without sacrificing the safety, utility and luxury afforded by the standard 2002 Dodge Ram,'' said Mark Trostle, Design Manager, Truck Exterior and Interior Studios. ``The carbon fiber-look leather steering wheel and shift boot, satin chrome center console and interior door handles and the unique door trim panels differentiate the SRT-10 from the standard Ram and create an environment that enhances the sport/performance feel of this truck.''