The Callahan Report: Dale Jarrett is no longer the 'Gentleman of NASCAR'
By Terry Callahan
Motorsports Editor, The Auto Channel
July 23, 2001
Dale Jarrett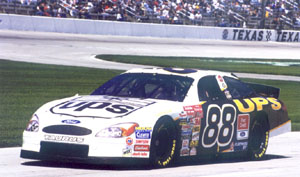 LOUDON, NH:
Beyond a shadow of doubt, Dale Jarrett is a championship caliber race driver. He drives to win at every venue on the NASCAR Winston Cup circuit. Of the 40-something competitors in the series, Jarrett is certainly one of most talented active drivers. The desire to win boils in his veins. Jarrett proved it again Sunday as he bumped Ricky Rudd, his own racing teammate, in order to win the New England 300 at New Hampshire International Speedway.
Jarrett is often referred to as one of the kindest, gentlest men in the sport. When is that misperception going to go way? Five years ago, that may have been a true statement. Something has changed in Jarrett's attitude and in his driving style. When the change came, so did the multiple victories.
Jarrett is anything but kind or gentle on and off the racetrack on race weekends. If you review Jarrett's actions over the past three or four seasons, he should be shedding that "good boy" image. This is a good thing when it comes to racing success. Great race drivers are supposed to be tough. They are supposed to have winning on their minds above all things. Whether he would admit it or not, if Jarrett's own mother was between him and the checkered flag he would knock her out of the way too.
As respected as Ricky Rudd is, to Jarrett he was just another obstacle between winning and losing. Jarrett saw a way to win Sunday so he put a bumper on his teammate and then drove away to victory. It was exactly the right thing to do. Rudd would do the same if he had the opportunity. All the great drivers do it. Does anyone think the late Dale Earnhardt would have spared any driver a bump if that were what it took to get to the winner's circle?
All drivers say the right things when they are in victory lane. It is easy to be kind when you win. They thank all their sponsors and praise their competitors for a clean race. They dedicate wins to the dearly departed…just as Jarrett did Sunday when he mentioned Kenny Irwin and Adam Petty, two drivers killed at New Hampshire last year.
But, try sticking a microphone in a great driver's face after a crash takes him out of a race. It is anything but "his fault". In his early days, Jarrett was calm in these instances. When he made the transformation to a great driver, his disgust with losing began to shine through. This was very noticeable when Kenny Irwin and Jarrett were teammates three years ago at the Daytona 500. Irwin got close to Jarrett entering turn three, taking the air off the rear of Jarrett's car. Jarrett went spinning into the wall and flipped. Jarrett later claimed that Irwin had hit him.
A review of the tape showed that Jarrett was untouched. Irwin went on to finish third in his Daytona 500 run but was later released from the Robert Yates Racing Team. It is hard for the great ones to admit fault. That is fine. We like our racing heroes to be human.
Jarrett showed he could brood with the best of them last year when he and Jeff Gordon had on-track contact. The "gentleman" let loose with some colorful commentary towards Gordon after the race. He later apologized to his fans for the language he used. Everyone knew it was a "save face" apology.
Jarrett's new attitude is proving successful. He is now a threat at every race. He won the Winston Cup Championship in 1999 through desire, attitude, and hard work. He won for the fourth time this season Sunday in New Hampshire and is leading the point standings.
All this is not to say that Dale Jarrett is a bad man. In fact, he is quite charitable. Jarrett's work with the Komen foundation (Breast Cancer Research) is superb. His dedication to family and friends is obvious. However, family, friends, and charity are not with him on the racetrack…and they shouldn't be.
Jarrett puts on his game face and does the job he is paid to do. The job he wants to do. The job he is very good at…. winning.
Dale Jarrett, it is time to leave the squeaky clean image behind. It is time to be what you are…a great driver with determination. Leave the "good boy" persona to some other drivers. You are a racer. Sometimes, it is good to be bad.
Editors Note: To view hundreds of hot racing photos and art, visit The Racing Photo Museum and the Visions of Speed Art Gallery.