The Callahan Report: Harvick 'the workhorse' gets second win
Terry Callahan
Motorsports Editor, The Auto Channel
July 15, 2001
Kevin Harvick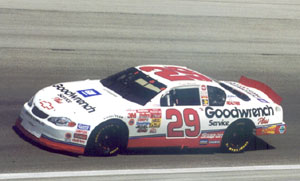 JOLIET, IL:
Kevin Harvick is young and talented workhorse. Harvick, who came into the NASCAR Winston Cup series a year ahead of schedule, is proving to the world that he is for real. The 25 year old rookie dominated the competition at NASCAR's newest track at Chicagoland Speedway. Harvick continued his storybook season as he led the most laps on his way to winning the inaugural Tropicana 400.
Harvick is quickly crawling out of the shadows. Under the most difficult of circumstances, he was assigned to drive the Richard Childress Racing Chevrolet Monte Carlo after Dale Earnhardt was killed in the opening race of the 2001 season at Daytona. Harvick was supposed to be on a slow pace to the Winston Cup series, but after the death of Earnhardt, he was called in to finish the season in the seat normally filled by the seven-time champion.
It didn't take long for Harvick to drive to his first victory. In only his third start, Harvick won his first race in the big leagues. His win in Atlanta earlier this season almost seemed like divine intervention. With the sadness of Earnhardt's death still on every racing fan's mind, Harvick's win was fitting, but many wondered if such success could be repeated.
Stop wondering. Kevin Harvick is a real race car driver.
More than 85,000 people in the sold out grandstands watched as Harvick proved his point. They celebrated with screams and applause as the kid wasted his tires on the new Chicagoland asphalt. Harvick filled the air with smoke and noise as he dotted the front straightaway with doughnuts.
"This means a lot," Harvick said after finishing a reverse victory lap. "When you're stuck on your first win, everybody says `He's a flash in the pan.' Well, here's our second win now."
It is hard to imagine the dedication that Harvick is putting into his 2001 racing career. He is also running the full season in the NASCAR Busch Grand National series. Harvick is leading the point standings in the Busch series. He is in the top ten in the NASCAR Winston Cup series. His tiring schedule is giving him valuable seat time and experience, but it leaves little time for anything except driving a race car. No doubt, the youngster has one thing on his mind…winning. As his personal social life suffers, his dedication and work ethic are making him popular with fans of all ages.
NASCAR veteran Robert Pressley tried to rattle the young driver but failed. Pressley, who wound up with a career best second place finish, followed close behind Harvick as the field took the green flag for the final time with less than ten laps remaining. Pressley looked low and high in an attempt to pass Harvick. It was not meant to be. Harvick's car was too strong. Instead, Pressley ended up defending his position from eventual third place finisher Ricky Rudd.
"Me and Kevin's never raced together," Pressley said later. "I wanted to just shake him up a little bit and maybe make him run a little wide in turn one. I thought if I could get my nose under him, I might be able to get by him. I just wanted to rattle his cage."
Harvick was not rattled. He was inspired. He drove to his second career win in just 17 starts.
Mike Skinner, Harvick's teammate, was taken to a local hospital for treatment after being knocked unconscious in a hard hitting crash on the new circuit. Skinner blew a tire exiting a turn. He is expected to be released and will have further x-rays on his ankle later in the week. Skinner was able to walk from the crash to an ambulance under his own power.
Buckshot Jones was also treated for knee injuries after a crash. He was released from the infield care center and is expected to drive next weekend. In all, there were nine caution periods during the inaugural running of the Tropicana 400. Multiple crashes are not uncommon on new tracks. The racing groove is narrow.
Tony Stewart, known for making smoke on and off the track, brought out the final caution period of the day. He bobbled and lifted off the gas on the 258th lap of 267. When he lifted off the gas, Sterling Marlin hit him from behind. Stewart spun and hit the wall with the rear of his car. The incident set up Pressley's failed-run at Harvick.
Jeff Gordon is still the points leader. He came into the race with a 48 point lead over Dale Jarrett. Gordon looked like he was going to maintain that lead until he dropped a cylinder within the final 20 laps of racing. Gordon dropped from 4th to 17th due to the engine failure.
Dale Jarrett is tied with Gordon for the points lead. Ricky Rudd is only 18 points behind them.
Editors Note: To view hundreds of hot racing photos and art, visit The Racing Photo Museum and the Visions of Speed Art Gallery.