The Callahan Report: Racing and Father's Day; Remembering the Bond
June 16, 2001
NEW ORLEANS: I was five years old when my father introduced me to motorsports. Dad thought it was a normal family outing to the Indianapolis Motor Speedway. It was his way of spending some quality time with his wife and kids. Little did he know that he was fueling his son with a passion that would last a lifetime.
I still remember the awesome feeling I had on that day in May when my little feet carried me up the stairs into the grandstands at Indy. Even before reaching the top of the stairs, I could hear the roar of the cars. The thrill of the sound made me anxious to view the source of the noise. Full of energy that comes with youth, I ran up the concrete stairs. My dad was excited too, even though he had been going to Indianapolis for more than 20 years. He was moving quickly behind me. When I got my first glimpse of those race cars, I was hooked. My father had passed his love of speed to me in an instant.
There was not much conversation during that day at the track. The noise made it impossible to talk. My father simply looked at me and smiled. He knew I had found something special. It was something that he and I could share. We have shared it for the past 35 years.
The two-hour drive home was when the talking began. I was sitting on my mother's lap in the front seat. I was wearing the thin plastic helmet with goggles that my dad bought me at the souvenir stand before we left the track. My father fixed up a handkerchief for me to put over my face, which was the attire for drivers in those days. He began telling me all the stories from the years he had been going to races. He told stories of Eddie Sachs, Jim Hurtibuise, Parnelli Jones, and many others. Just as they were his heroes, they became my heroes.
More importantly, my father told me stories about the fans in racing. He gave me the total picture. He made me understand that we were a part of the sport. He was . . . and still is . . . a great teacher.
Darrell Waltrip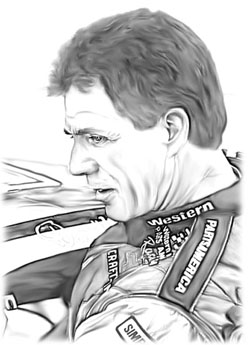 My father and I visited many tracks together over the years. One of the tracks close to our home was Salem, Indiana. My father and I went there for the big events. I remember seeing an ASA race there. I saw a guy named Darrell Waltrip for the first time at that high-banked track. He left the competition in the dust. My father and I looked at each other and shook our heads in amazement.
I guess the reason this sticks in my mind so clearly is because I found out later that Waltrip and my father are a lot alike. They get mad when they don't succeed. They are funny and upbeat when times are good. They have a caring heart. I am my father's son as I have inherited some of those traits too.
So many years have passed since that first trip to Indianapolis. My father's legs don't work as well as they used to. He has a walk similar to A.J. Foyt's after his crash at Elkhart Lake, Wisconsin. The pain keeps him from traveling to the tracks, but he still watches the races on television. If I could give anything back to my father, it would be the freedom to walk without pain. Unfortunately, I don't have that power. Instead, I honor him by trying to do my best in everything. I try to honor him by being a father like him to my children.
My dad taught me in Sunday school and in my everyday life as I was growing up. He continues to teach me to this day. He taught me to be honest and good to people. He taught me that race fans are a good crowd to hang out with.
I have seen throughout the years that my father is not the only dad with this philosophy. Racing is a family sport. Fathers walk hand in hand with their sons and daughters passing down a passion. Without even knowing it, fathers are giving their children tools to succeed in life.
Racing can cram a lifetime of emotion into a three or four hour race…the elation of victory, the stress of disappointment, and even the emptiness felt when tragedy strikes. Racing provides quality family time together.
And to all the fathers reading this article, please take my fathers lead and run with it. Grab your kids and head to the track. Children, take your fathers to a race. Enjoy the time you have together.
Finally…thanks dad…for being a great teacher, a great father, and for guiding me to a sport where we could have a lifelong bond. Happy Father's day.
Editors Note: To view hundreds of hot racing photos and art, visit The Racing Photo Museum and the Visions of Speed Art Gallery.