The Callahan Report: Rusty Wallace pays tribute to Earnhardt with California Victory
By Terry Callahan
Motorsports Editor, The Auto Channel
April 29, 2001
Rusty Wallace

FONTANA, CA:
Of all the drivers competing in the NASCAR Winston Cup series, Rusty Wallace was the closest to the late Dale Earnhardt. Wallace was finally able to pay his final tribute to his fallen friend Sunday. As the 1989 Winston Cup Champion flashed across the finish line as the winner at California Speedway, his thoughts went immediately to Earnhardt. Wallace drove to his pit and waited for one of his crewmembers to deliver him a flag bearing the Earnhardt colors and familiar number 3. Wallace celebrated his first win of the season in spirit with his friend and competitor.
"He was such a good friend of mine. I always wanted to do something special for Dale when he lost his life," Wallace said of Earnhardt who died at the Daytona 500 earlier this year. "We had the flag all put together at Rockingham (the week after Daytona).
"My plan was to ride around with the flag and have Richard Childress (Earnhardt's car owner) help me with it at Rockingham because I really thought I was going to win the race."
Wallace finished I seventh place at Rockingham. Although Wallace's tribute came later in the season than he expected, it was a good timing considering what both men have done for the sport of NASCAR Winston Cup racing. Earnhardt would have been fifty years old today. Wallace and Earnhardt always had intense on track battles raising the popularity of the sports to new heights. Wallace beat Earnhardt by less than 20 points for his first and only Winston Cup Championship in '89.
Dale Earnhardt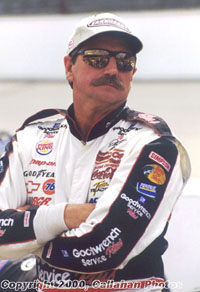 The tribute to Earnhardt lasted for two miles in front of 120,000 screaming racing fanatics. Wallace was cheered by his fans. . .and Earnhardt fans. . .something that would have been unheard of if the two racers had been competing together.
"The doggone thing was so big and so heavy that I couldn't run but about 25 miles an hour," Wallace said. "It was ready to blow out of my hand, so that was the reason for such a slow lap."
Wallace's victory at California was the 54th of his career. Jeff Gordon, a favorite leading into the race Sunday, followed him across the finish line. The victory tied Wallace with Gordon for career wins. Wallace also tied Lee Petty, father of another racing legend (Richard Petty) in the career win column. Wallace and Gordon are seventh on the all time win list.
Wallace showed why he has been so successful on America's most popular racing circuit. He showed patience and perseverance throughout the first half of the race. Wallace moved into the lead on lap 151, less than a hundred laps from the end of the race. Wallace held the lead for all but four of the remaining laps. Gordon, running a high line and dominating the race most of the afternoon, was unable to stay close to Wallace.
Wallace built his lead to more than four seconds before a late race crash involving Mark Martin and Ward Burton brought out the yellow flag and bunched the field. Burton was slightly injured in the crash. He had a cut on his chin and was "dizzy". Burton was airlifted to a local hospital for observation.
The green flag waved with 18 laps to go in the race. Gordon, who had won two of the last four races at California Speedway, could not make a significant challenge for the win.
"Once I got to two car-lengths, it seemed like my car just stopped," Gordon, a three time Winston Cup Champion said. "That's as close as I could get to him. The only way I was going to get him was if he made a big, big mistake, and a guy like Rusty doesn't do that. He deserved to win. He had the fastest car at the end."
Gordon earned Wallace's respect long ago. He acknowledged his presence in the waning laps of the race. Wallace knew if he was going to celebrate with a tribute to Earnhardt, he would have to go through Gordon to do it.
"When you see Jeff behind you, you're always worried, especially when he's working the high lane, the low lane, all over," said Wallace. "I didn't know if he had something else for us at the end."
Dale Earnhardt Jr. was also pleased with the outcome of the day. The second year Winston Cup driver had his best finish since his second place showing at Daytona. Earnhardt Jr. followed Gordon to the checkered flag in third place. He enjoyed success and the special tribute paid to his late father by Wallace.
"I didn't think about it being my dad's 50th birthday until I heard something on the P.A.," Earnhardt Jr. said. "It felt really good, especially after we had a good showing and finally got to running the way we like to. That moved us up to 10th place in the season points."
Others in the top ten included Tony Stewart (4th), Jeremy Mayfield, Ricky Rudd, Jimmy Spencer, Jerry Nadeau and Sterling Marlin.
Series point leader Dale Jarrett had a dismal showing Sunday. He finished the race in 24th place, allowing Jeff Gordon to cut into his lead. Jarrett's lead fell from 145 to 66 points. California was the tenth race of the season with twenty-six races remaining.
"It was one of those days you hope you don't come across, but you do," Jarrett said of his performance Sunday.
"We were pretty decent at the first part of the race and then we really started chasing the car. We got terribly loose, but nothing really went right. We finally got the car decent toward the end and thought I could make a run toward the top five.
"We finally got the car where I thought we'd go pretty good, and then we dropped a cylinder," Jarrett concluded. "It was just a case where nothing really went right."
The Winston Cup teams have less than six days until they compete again. The transporters must travel across the country to race in Richmond, Virginia next Saturday night.
Editors Note: To view hundreds of hot photos and racing art, please visit The Racing Image Galleries and The Visions of Speed Art Gallery
.