The Callahan Report: Sadler get first win; 'Bad Boy' Stewart makes public apology
By Terry Callahan
Motorsports Editor, The Auto Channel
March 25, 2001
Elliott Sadler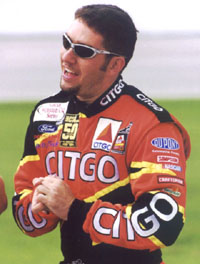 BRISTOL, TN:
When Elliott Sadler started his engine Sunday for the Food City 500 at Bristol, he was hopeful of grabbing a top ten finish. That would have been quite a feat considering that he was starting from the 38th position and he was pitting on the backstretch. Winning would be out of the question since the lowest starter to win at the short track previously was Dale Earnhardt (1999), who started from 26th place. Jaws dropped as Sadler took the checkered flag for his first Winston Cup win. His team outsmarted all the other teams and Sadler did his part with a flawless performance.
Sadler, driving for the legendary Wood Brothers, gave his team its first win in more than eight years. Morgan Sheppard was the last driver to win for the team back in 1993.
Sadler had his car set up for long runs. His team's strategy was to not pit until it was necessary. Most teams called their drivers into the pits during the many caution periods in the race. Sadler stayed on the track, with well-used tires, and was still able to hold off a hard charging John Andretti at the finish. Sadler beat Andretti by three car lengths…a mile by NASCAR standards.
Several drivers tried to make a move to the front in the waning laps, but none were as strong as Sadler. Jeremy Mayfield ran a patient race and finished in third place glued to Andretti's bumper.
Andretti's second place finish was the best for the nine Dodge cars running this season. Sadler and Mayfield were driving Fords.
Tony Stewart

Tony Stewart, driving a Pontiac, was set to have his best showing of the season (running in fourth place) but made a bad choice in the final turn of the final lap. He was battling Jeff Gordon who was a little bit faster than Stewart. Gordon, driving a Chevrolet, was able to get his fender under Stewart down the backstretch. Stewart tried to cut off Gordon but spun himself out in the process. Gordon finished in fourth place. Stewart dropped to 25th.
The typical hot-headed Stewart charged after Gordon as he entered the pits after the cool down lap. Stewart rammed Gordon on the crowded pit road and spun him out. It was a dangerous move by a driver with a temper as hot as his talent.
NASCAR officials immediately called Stewart and Gordon into their makeshift headquarters at the track. Gordon and Stewart have been long time rivals even before racing in Winston Cup. The two came up through the USAC midget and sprint car ranks.
After reviewing tapes, Stewart knew he had made a mistake.
"We just went in the corner on the last lap together," Stewart said. "My spotter told me he was looking low. By looking at the tape he was a little further than that. But, I didn't see him at the door and I know that any time the roles have been reversed he is expecting me to lift."
Jeff Gordon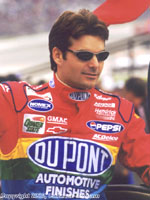 "It's just racing. It's just Bristol. It's part of the deal," Stewart continued. "The reason we ended up in the [NASCAR] trailer is because I spun him on the pit lane and that was wrong. I could have hurt somebody, in all reality. I apologize to Home Depot and all of our sponsors for doing that because that wasn't right."
Gordon was not surprised by Stewart's move after the race. The two drivers had exchanged words before (Watkins Glen, 2000).
"I guess Tony (Stewart) didn't realize I was underneath him down the back straightaway, 'cause it's pretty obvious to me," said Gordon. "We were just racing real hard. I got a heck of a run and he slipped up coming off of (turn) two. I had my nose in there, and I guess somebody didn't tell him I was there because it was pretty obvious. I did everything I could to keep from hitting him. I was sideways too, and he just came down."
The stars of NASCAR head to Texas Motor Speedway next weekend for the Harrah's 500. Dale Earnhardt Jr. is the defending champion of that race. Editors Note: To view hundreds of hot racing photos and art, visit The Racing Photo Museum and the Visions of Speed Art Gallery.