The Callahan Report: Harvick wins while memories of Earnhardt dominate
By Terry Callahan
Motorsports Editor, The Auto Channel
March 11, 2001
HAMPTON, GA: Kevin Harvick was given mission after Dale Earnhardt died in the Daytona 500 last month. His mission was to take Earnhardt's ride and the well organized Richard Childress Racing team to victory lane. Not a small task for a rookie driver. When Kevin Harvick blurred across the finish line just inches ahead of Jeff Gordon in the Cracker Barrel 500 Sunday, he did much more that win a NASCAR Winston Cup race. He began the healing process that was needed after losing the sport's brightest star.
Harvick's first NASCAR Winston Cup win was as emotional as Dale Earnhardt's 1998 Daytona 500 victory. Harvick did burn outs, two victory laps, and was met by every team as he drove towards his spot in the winner's circle.
Dale Earnhardt
1951-2001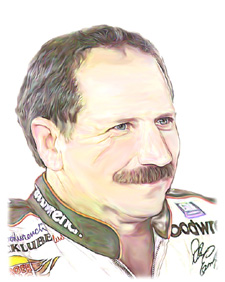 "I don't even know how to put it into words, to tell the honest truth," a tearful Harvick said. "It took an extra cool-down lap just to get through the emotional part of it. I don't know how you could have scripted it any better."
Few expected Harvick to perform so quickly. Rookies rarely win in their first season, let alone in their third attempt against America's best racing drivers. Harvick took on the style of Dale Earnhardt during his ride to winning the Cracker Barrel 500 at the Atlanta Motor Speedway. His daring moves, going three wide late in the race, were reminiscent of Earnhardt himself. He showed no fear…only determination.
Not only did Harvick drive like his teacher, he brings the same philosophy to the track when it comes to speed. Earnhardt loved to go fast. He hated rules that slowed the cars down. Earnhardt and Harvick shared a desire for speed.
"If you want to race that's what you do," Harvick said after qualifying at NASCAR's fastest track. "If you think it's too fast, maybe you ought to go do something else."
Until the tragic death of Earnhardt, Richard Childress Racing was bringing up Harvick a little at a time. Ironically, the Cracker Barrel 500 was supposed to be his first Winston Cup race. The team was planning to run a limited schedule for Harvick in 2001 and then bring him in as Earnhardt's teammate in 2002. He proved Sunday he was ready for the accelerated schedule.
The race to the finish line was so close, Harvick's team didn't know if they should be jumping up and down or crying. As it turned out, they did both. The emotional win was overwhelming for all the race teams and the fans. Even second place finisher Jeff Gordon was happy for Harvick and his team.
"That was a great, great race and I'm really proud of Kevin," said Gordon, the new Winston Cup point leader. "I hate to come in second, but in this situation I don't mind because a little more of something is going on over there."
Harvick pulled off his first win much like his mentor Earnhardt his 76th race a year ago in Atlanta. In the 2000 running of this race, Earnhardt dueled Bobby Labonte to the finish line, winning by about a foot.
"I was sitting at home watching this race last year and for it to wind up almost the same way is scary, if you think about it," Harvick said with a smile. "And then coming into Victory Lane, with all those guys putting their arms out to me…all those guys who have been through one of the most difficult situations and supported me through it…all I can say is this one was for Dale.''
Richard Childress Racing has always done well in Atlanta. Earnhardt finished in second place during the fall race at the Atlanta Motor Speedway in November. Harvick was driving the same car Earnhardt used in that race. Earnhardt won in Atlanta nine times throughout his career.
Team owner Richard Childress, who is normally "laid back" and soft spoken, could not hold back the tears when the race was finished. Like everyone at the speedway, good memories of Earnhardt filled the air.
"I just kept praying for Dale to help us out,'' he said. "He gave us the help we needed. I know he's somewhere, I can see him with that mustache of his just breaking into a big grin."
There were other emotional moments in Atlanta. The 125,000 fans in attendance all stood on the third lap of the race. They all raised an arm and put up three fingers in honor of Earnhardt who drove his famous black number 3 Monte Carlo. At the same time, 7,000 black balloons were released, a thousand for each of Earnhardt's seven championship titles.
The racing action was some of the best in a long while too. Jeff Gordon was the dominant driver early in the race, but he ran out of fuel, sending him one lap behind the leaders. Gordon would not have been a factor in the race had it not been for his teammate Jerry Nadeau, the November winner in Atlanta. Nadeau slammed on his brakes hard to allow Gordon to get back on the lead lap as the field took one of the late race yellow flags.
Nadeau looked like he would be able to win just like he did in November. He battled with Dale Jarrett, Harvick, and Sterling Marlin throughout the afternoon.
NASCAR Winston Cup racing finally had a perfect afternoon. It was long overdue. Great racing, but more importantly…great memories…made the Cracker Barrel 500 the turning point of the 2001 season. Keep smiling. There is more exciting racing to come.
Editors Note: To view hundreds of hot racing photos and art, visit The Racing Photo Museum and the Visions of Speed Art Gallery.