The Callahan Report: Jeff Gordon wins the 'million'; Teresa Earnhardt requests relief
By Terry Callahan
Motorsports Editor, The Auto Channel
Jeff Gordon

LAS VEGAS, NV:
With bright lights and jingling bells of slot machines, Las Vegas is usually an exciting place. The UAW-Daimler Chrysler 400 at Las Vegas Motor Speedway could have used a little help from "the strip" Sunday afternoon. There were thirteen lead changes in the annual Las Vegas event, but the majority of those passes came during pit stops. Three-time Winston Cup Champion Jeff Gordon took his fifty-third checkered flag after leader Matt Kenseth pitted with nineteen laps remaining. It was Gordon's first win in twelve races.
Gordon, who still hasn't hit 30 years of age, blew away the competition in the waning laps. He beat second place finisher and 1999 Winston Cup Champ Dale Jarrett by 20 car lengths.
What a difference a year makes. In the 2000 running of the Las Vegas race, Gordon could barely pass a tow truck. He and his team vowed to themselves to do their homework and beat the odds of Las Vegas for the 2001 race.
"Last year, this race was the most frustrating day we've ever had," said Gordon. "Me as a driver and Robbie (Loomis) as a crew chief…we were pulling our hair out at this race. We told ourselves that we are going to figure this place out."
The work paid off. Jeff Gordon gave his typical textbook run Sunday. He was patient and exact in his driving style. Gordon, who stared from the twenty-forth spot, slowly picked his way through traffic on the 1.5-mile wide racetrack. When lap 180 clicked by, Gordon was in the lead. He hung in the top ten throughout the remainder of the race.
"Early on, the car was real, real loose," said an elated Gordon in Victory Lane. "We made some adjustments and that helped a little bit, but I think the key seemed to be when we made the two tire change. It really came to life. We were driving by guys who took four tires on. The car was just on a rail."
This was not the first time Gordon has won a race buy using the two-tire pit stop method. Gordon changed two tires at Michigan a couple of years ago and blew away the competition. His car was so good in that race his tires were impounded and inspected by NASCAR. Other teams accused Gordon and his crew of "soaking" the tires to increase adhesion. The tires were found to be "solution free" and the victory stood. No protests are expected this time around.
While many fans yearned for excitement, at least one lucky fan thought the race was full of thrills…about one million of them to be exact. The UAW-Daimler Chrysler 400 was part of the Winston No Bull 5 program. Gordon was one of five drivers eligible for the million-dollar bonus.
Gordon needs a million bucks like Tiger Woods needs golf lessons, but in the program initiated by the series sponsor, a race fan also receives a million dollars. Rodney Mims, who is only 21 years old and works in a tire store in Alabama, can throw away his tire tools. Mims left Las Vegas a millionaire by virtue of Gordon's victory at Las Vegas.
Sterling Marlin became the early points leader by crossing the finish line in third place Sunday. Marlin, who is teamed up with veteran CART owner Chip Ganassi, drives one of nine Dodge powered cars on the Winston Cup circuit. Few expected Dodge to be so successful this early in the season. Marlin credits his new team owner for much of his success. Marlin is the only driver to finish in the top-ten in each of the three races held this season.
Sunday's race began much like last week's race at Rockingham where there was a first lap crash. In Las Vegas, the Winston Cup drivers made it to the second lap before making some noise. Jeff Burton, a former winner at Las Vegas, was into the wall on the second lap. Before ten laps were complete, Brett Bodine, Jeremy Mayfield, and Rusty Wallace all tested the concrete at Las Vegas.
Todd Bodine, who pulled off the Busch Grand National victory Saturday, raised some eyebrows in the first 75 laps. Bodine was able to run ahead of the big dogs. He made the normally mighty power plant under Dale Jarrett's hood look like a mo-ped. Bodine, with a low budget team, proved he had heart by sticking with the fight. Bodine finished the race in fifth place, his best finish in nearly three years.
Dale Earnhardt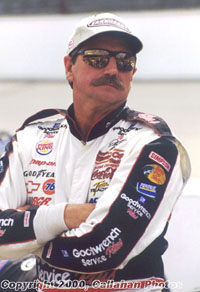 The Las Vegas event was the second race held since the death of legendary driver Dale Earnhardt. His widow, Teresa Earnhardt, made a plea to the public Sunday concerning media requests to release Earnhardt's autopsy photos..
In part, Mrs. Earnhardt said:
"This is the first time I've spoken in public since we've lost Dale. Honestly, I'm not very comfortable being here. It's too soon. But this issue is of vital importance - not just to my family - but to anyone ever faced with being exploited after losing a loved one.

"I am grateful to be among friends, and hopeful that my difficult decision to come here today will make a difference.

"I ask anyone, who feels as strongly as we do, to let your voices be heard. Over the next few days, please contact the Speaker of the Florida House of Representatives and the President of the Florida Senate, both of whom are in Tallahassee, and will hopefully be taking up this issue shortly.

"Ask them to protect the privacy of citizens by preventing the publication of autopsy photos. Then do the same in your own state. Please also contact Florida Governor Jeb Bush and then contact your own governor. Finally, we encourage you to let the Orlando Sentinel know how you feel about this unfortunate situation."
I, as part of the media, believe that Teresa Earnhardt's request should be granted. The public would not benefit from the release of these photos. Let the Earnhardt family grieve and get through this ordeal in their own way. The best thing we all can do to help them is to keep them in our prayers, continue to provide them with moral support, emails, and well wishes.
Dale Earnhardt left us with great memories. Lets keep them great.
Editors Note: To view hundreds of hot racing photos and art, visit The Racing Photo Museum and the Visions of Speed Art Gallery.