Kart Expo '99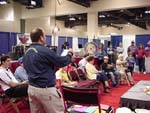 The Auto Channelís
broadcasts will allow Internet users and karting enthusiasts to see the best and the latest products and services that the industry has to offer. In all, TACH will present 9 live half-hour programs over the two days that feature interviews with representatives from the top manufacturers, kart racing celebrities, and association officials. The exhibitor list includes Briggs & Stratton, Reb-co Racing, SuperKarts USA, Margay Racing Products, American Honda Motorsports, Skip Barber Racing School, and World Karting Association. The shows will then be archived for continuous on-demand access.
---


Get the Free Windows Media Player
---
Want more information? Search the web!
Search The Auto Channel!