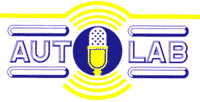 "The AutoLab" is an automotive broadcast series about the automotive industry, its history, and its culture, presenting the ideas of leading college faculty, authors, and automotive practitioners in a relaxed, conversational format.
New programs air
Saturdays at 7:05am Eastern Time




March 6, 2004
Interviews:
David Champion, Senior Director, Auto Test Department - Consumer Reports ... The Process Used in Testing Cars
John Russell, Contributor New York Post and Auto World Magazine with Sharon Sudal... Land Rover Driving School
Robert Erskine, Senior European Correspondent ... Are There Rattling Camshafts and Worn Oil Pumps from VW?
Special Guest:Kenn Stokes, Toyota Motor Sales