Kart Expo '99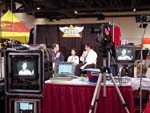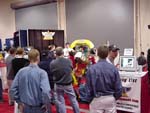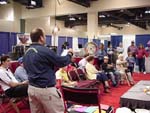 The Auto Channelís
broadcasts will allow Internet users and karting enthusiasts to see the best and the latest products and services that the industry has to offer. In all, TACH will present 9 live half-hour programs over the two days that feature interviews with representatives from the top manufacturers, kart racing celebrities, and association officials. The exhibitor list includes Briggs & Stratton, Reb-co Racing, SuperKarts USA, Margay Racing Products, American Honda Motorsports, Skip Barber Racing School, and World Karting Association. The shows will then be archived for continuous on-demand access.
---


Get the Free Windows Media Player
---
Live & On-Demand Cybercast Coverage
Saturday 12/04/99
Sunday 12/05/99
Interview Shows
Trivia Challenge
10:30am ET
Guests:

Rob Howden - Shifter Kart Magazine
Briggs & Stratton
Dan Alden - Alden Enterprises

12:00pm ET
Guests:

Travis Robinson - RIMO Karts
Gary Lobaugh - MRP Speed School
Dan Gallinger - Karts-R-US.com
Don Drislane - Skip Barber Racing School
Kevin Oonk - AMB
Tom Argy Jr. - TCM Racing

1:30pm ET
Guests:

Dave Larson - International Racing Assoc.
Adam Ross - LEAF
Jim Murley- SKUSA Superkarts! USA
Lee Smith - Performance Unlimited North
Bob Vehring - Badger Kart Club
Carson Combs - Bobs Kart Shop
Bob Cycon - Kart Expo International

11:00am ET
Contestants:

Bob Ferguson
Mike McDowell

1:00pm ET
Contestants:

Cody Gardner
Robby Lehmann

2:30pm ET
Contestants:

Bill McDowell
Marc Miller

Contest prizes
furnished by:

CH Products
Plastex
Spare Tank
AIM Multichron
Cra-Z Soap

News from Kart Expo 99
Want more information? Search the web!
Search The Auto Channel!