Kart Expo '99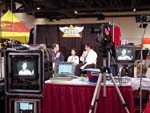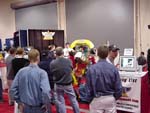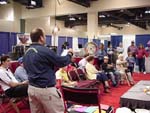 The Auto Channelís
broadcasts will allow Internet users and karting enthusiasts to see the best and the latest products and services that the industry has to offer. In all, TACH will present 9 live half-hour programs over the two days that feature interviews with representatives from the top manufacturers, kart racing celebrities, and association officials. The exhibitor list includes Briggs & Stratton, Reb-co Racing, SuperKarts USA, Margay Racing Products, American Honda Motorsports, Skip Barber Racing School, and World Karting Association. The shows will then be archived for continuous on-demand access.
---


Get the Free Windows Media Player
---
Live & On-Demand Cybercast Coverage
Saturday 12/04/99
Interview Shows
Trivia Challenge
8:30am ET
Guests:

Randy Kugler - World Karting Assoc.
WKO Introduction
Bob Cycon - Kart Marketing Group
Joe Ramos - SSC Racing
Bill McDowell - McDowell Racing

11:00am ET
Guests:

John Kozubik - John's Kart Shop
Michael Giessen - Driver
Peter Becker - FKP
Michel Boisclair - SRA Karting
Bruce Eades - HRH Insurance

1:00pm ET
Guests:

Michael Giessen - WKA Triple Crown Champ
Michael Sox - Shadow Racing
Charlie Frear - Deep Seat
Ted Leach - Trilogy Racing

2:30pm ET
Guests:

Wesley Loftin - Driver
Hurricane Racing
Roger Hargens - TuffDuty
Bob Falcone - Eurokart Racing
Mitchel G. Hagy - Duke

10:30am ET
Contestants:

Alex Lushatz
Barry Dawson

12:30pm ET
Contestants:

Troy Whitaker
Mike Gaither

2:00pm ET
Contestants: 3:30pm ET
Contestants:

David MacDonald
Mark MacDonald

Sunday 12/05/99

Contest prizes
furnished by:

CH Products
Plastex
Spare Tank
AIM Multichron
Cra-Z Soap


Special presentation:
TCM Racing presents:
1995 CIK World Championship
Valence, France
Click to View

News from Kart Expo 99
Want more information? Search the web!
Search The Auto Channel!