Video Coverage of the 1999 Cycle World International Motorcycle Show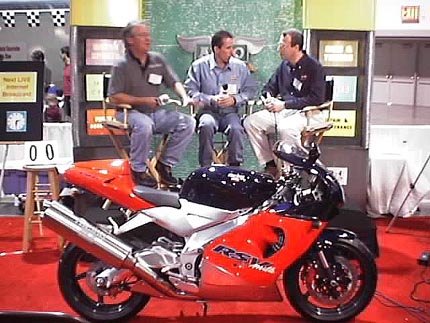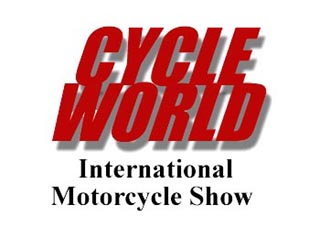 Hosted by Craig Erion and Larry Mason.
---


Get the Free Windows Media Player
---
Live & On-Demand Cybercast Coverage
Friday 12/4/98
Saturday 12/5/98
Interview Shows
Trivia Challenge
11:30am PT
Guests:

Jeff Salamon, KTM LC4
Tom Edison, Works Shocks
Joe Heise, Buell S3T
Scott Dudek and Troy Jungheim, Bell Helmets
Mark Reese, Suzuki GTX 3000 R

1pm PT
Guests:

Michael C. Vaughan, Triumph: Photo
Edelweiss Bike Travel
Fred Rou, Motorcycle Consumer News
TT Supporters Club
Rocky Aiello, Yamaha
Mark Gallardo, Starmotorcycle School

2:30pm PT
Guests:

Art Gompper, Harley-Davidson
Mike Rollins, Moto-Laverda: Photo
Larry rides a Harley
Mark Wilhelm, Aprilia: Photo
Gary McConville, Motorcycle Tour Conversion

4pm PT
Guests:

Monty Scott, ATK: Photo
Meredith Gibson, California Motorcycle Safety Program
Mathew Tate, Los Angeles Triumph Victory: Photo

7pm PT
Guests:

Larry Rome, Motorcycle Protector
Logan Smith, Zooke
David Duncan, BMW: Photo
Uri Thatcher, Color Rite Distributing East
Brad Bernstein and Carl Nagy
Brad Little, Honda 400EX: Photo

8:30pm PT
Guests:

Chris Souza, Ducati
Joe Reed, King of the Daredevils

11am PT
Contestants:

David Tiffin
Richard Tiffin

12:30pm PT
Contestants: 2pm PT
Contestants: 3:30pm PT
Contestants: 8pm PT
Contestants:
Sunday 12/6/98
Need More Information?


You can even look at Last Years Event
Want more information? Search the web!
Search The Auto Channel!