[an error occurred while processing this directive]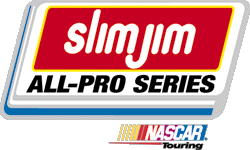 1999 NASCAR Slim Jim All-Pro Series 19th Annual Greased Lightning All American 400
October 2, 1999 at Nashville Speedway USA -- Nashville, TN
Final Results
Finish
Start
#
Driver
Sponsor/Make
Laps
Points
Earnings
Status
1
5
86
Wayne Anderson
Jani-King Chevrolet Monte Carlo
401
180
$23,975
running
2
34
4
Ron Young
Pine Construction/Cofer Bros. Bldg. Material Chevrolet
401
170
11840
running
3
22
81
Tony Walls
Chandeleur Homes Chevrolet Monte Carlo
401
165
6450
running
4
13
45
Scott Kilby
Arndt & Herman Windows Chevrolet Monte Carlo
401
160
4225
running
5
1
8
Freddie Query
RaceCar College Chevrolet Monte Carlo
401
155
4160
running
6
19
52
Scott Hansen
Victor Ford/Delta Faucet Ford Thunderbird
401
150
2860
running
7
38
33
Conrad Burr
National Peening Chevrolet Monte Carlo
399
146
2910
running
8
23
88
Ricky Turner
Keith-Built Homes/Williams Lumber Ford Taurus
399
142
2360
running
9
39
3
David Bonnett
Dunlop Golf/Pro Golf Discount Chevrolet Monte Carlo
399
138
2510
running
10
29
72
#Benny Gordon
Elliott Trucking Pontiac Grand Prix
399
134
2710
running
11
20
30
Jeff Fultz
Multiple Tool Chevrolet Monte Carlo
399
130
2410
running
12
24
55
Terry Brooks
C&C Boiler/Cleaver Brooks Chevrolet Monte Carlo
397
127
1810
running
13
21
93
Dave Feiler
Anderson Custom Homes/Jeff Fuller RE/MAX Chevrolet
395
124
1710
running
14
39
08
Chuck Winders
Ortho/Round-Up Chevrolet Monte Carlo
393
121
1610
running
15
31
16
Hal Goodson
Nortel Networks Chevrolet Monte Carlo
392
118
2110
rear end
16
12
03
Ken Alexander
Greased Lightning Cleaner Degreaser Chevrolet Monte Carlo
390
115
1485
running
17
36
26
Keith White
Bayer Agricultural/Advantage Flea Adulticide Chevrolet
376
112
1760
running
18
2
44
#Coy Gibbs
MBNA Chevrolet Monte Carlo
364
109
1935
running
19
10
28
Billy Bigley, Jr.
Peerless Woodworking Chevrolet Monte Carlo
359
106
2110
running
20
4
54
#Rodney Childers
C&C Boiler/Cleaver Brooks Chevrolet Monte Carlo
339
103
1885
running
21
27
15
Mark Day
Scogin Enterprises/31-W Insulation Chevrolet
319
100
1330
wheel bear.
22
26
5
Bobby Gill
W.J. Plemons Investments Ford Thunderbird
304
97
1305
ignition
23
7
01
Lee Tissot
Brinkley Racing Pontiac Grand Prix
296
94
1280
rear end
24
3
19
Steven Howard
Dick Brooks Automotive/Greer Flooring Center Chevrolet
280
91
1755
rear end
25
37
83
#Tina Gordon
InLand Buildings/Moon Pie/Greased Lightning Chevrolet Monte Carlo
275
88
1530
running
26
11
2
Steve Carlson
Mathew's Solo Cam Bow's Chevrolet Monte Carlo
241
85
1205
engine
27
8
09
Randy Gentry
Carolina Painting/Milliken Cleaners Chevrolet Monte Carlo
224
82
1680
accident
28
25
75
Scott Henderson
Lewisburg Industrial & Welding Chevrolet Monte Carlo
210
79
1155
accident
29
14
04
Mardy Lindley
Aloe-LuYa/Drinkard Litho Chevrolet Monte Carlo
176
76
1130
rear end
30
32
53
Robert Burroughs
Burroughs Motorsports Chevrolet Monte Carlo
149
73
1505
rear end
31
40
18
Steve Mendenhall
Interstate Batteries Chevrolet Monte Carlo
145
70
1080
engine
32
35
34
#Ken Weaver
Square D/All-Phase Electric Chevrolet Monte Carlo
138
67
1480
accident
33
28
47
Darryl Sage
Brinkley Racing Pontiac Grand Prix
133
64
1080
engine
34
33
68
Ron Breese, Jr.
Honeywell Chevrolet Monte Carlo
131
61
1080
steering
35
17
14
Josh Clemons
Fuzzy's Sauces/SkySpy/Tech-Star Chevrolet Monte Carlo
122
58
1080
accident
36
9
1
Eddie Mercer
Phoenix Construction/Eddie Mercer Automotive Chevy
93
55
1080
rear end
37
18
11
#A.J. Frank
Brinkley Racing Chevrolet Monte Carlo
87
52
1380
accident
38
6
37
Larry Raines
Goulds Pumps Chevrolet Monte Carlo
72
49
1080
engine
39
16
00
David Reutimann
Pennzoil Chevrolet Monte Carlo
67
46
1680
engine
40
15
9
#Patrick Lawler
Manheim's Auto Auction of Texas Chevrolet Monte Carlo
29
43
1480
brakes
(# Indicates Rookie Contender)
Final Results for the 1999 Slim Jim All-Pro Series
Pos
Car #
Driver
Points
Starts
Poles
Wins
Top 5
Top 10
Earnings
1
86
Wayne Anderson
2627
16
0
5
13
16
$85,130.00
2
28
Billy Bigley, Jr.
2477
16
0
4
11
13
$65,295.00
3
16
Hal Goodson
2355
16
1
3
8
11
$63,055.00
4
45
Scott Kilby
2200
16
3
0
5
12
$30,140.00
5
30
Jeff Fultz
2164
16
0
0
5
11
$28,260.00
6
19
Steven Howard
2115
16
2
2
4
8
$40,945.00
7
00
David Reutimann
2082
16
0
0
3
10
$25,560.00
8
09
Randy Gentry
1913
16
1
0
4
4
$25,000.00
9
44
#Coy Gibbs
1903
16
2
0
0
3
$19,615.00
10
54
#Rodney Childers
1896
16
2
0
4
5
$20,640.00
11
31
Ronnie Burkett
1892
13
0
0
5
10
$34,135.00
12
4
Ron Young
1889
14
0
0
5
5
$33,110.00
13
53
Robert Burroughs
1841
16
0
0
0
4
$19,215.00
14
9
#Patrick Lawler
1770
15
0
0
0
4
$15,150.00
15
72
#Benny Gordon
1715
15
0
0
0
4
$16,100.00
16
26
Keith White
1675
16
0
0
0
0
$16,365.00
17
34
#Ken Weaver
1662
16
0
0
0
2
$14,740.00
18
11
#A.J. Frank
1450
14
0
0
0
0
$10,990.00
19
33
Conrad Burr
1397
12
0
1
1
3
$22,890.00
20
83
#Tina Gordon
1381
11
0
0
0
0
$8,355.00
21
3
David Bonnett
1361
13
0
0
0
1
$12,605.00
22
1
Eddie Mercer
1275
12
0
0
2
2
$17,450.00
23
77
#Chad Bland
1135
10
0
0
0
0
$6,305.00
24
20
#Brian Smith
980
8
0
0
0
0
$4,650.00
25
38
#Shane Sieg
973
7
0
0
0
1
$4,405.00
26
14
Josh Clemons
926
10
0
0
0
1
$7,750.00
27
7
#Mike Franklin, Jr.
840
6
0
0
0
5
$5,125.00
28
01
Lee Tissot
834
7
0
0
1
4
$6,145.00
29
04
Mardy Lindley
697
7
0
0
0
0
$6,180.00
30
10
Steve Mendenhall
629
5
0
0
2
2
$6,175.00
31
25
Mike Cope
617
5
1
0
1
2
$7,880.00
32
87
Kevin Prince
601
6
0
0
0
0
$2,835.00
33
96
Jeremy Thompson
577
5
0
0
0
0
$2,275.00
34
23
#Lance Goodson
512
4
0
0
0
1
$3,055.00
35
18
#Strom Altman
500
4
0
0
0
0
$2,340.00
36
6
#Robbie Pyle
485
5
0
0
0
0
$3,345.00
37
88
Ricky Turner
455
4
0
0
0
2
$4,505.00
38
2
Robbie Ferguson
417
2
0
0
0
0
$1,145.00
39
36
Rick Roller
355
3
0
0
0
0
$1,445.00
40
05
Chip Rutherford
347
3
0
0
0
0
$1,495.00
41
07
Greg Harrison
340
3
0
0
0
0
$1,475.00
42
20
Jim Inglebright
312
3
0
0
0
0
$2,425.00
43
18
George Ingole
311
3
0
0
0
0
$1,245.00
44
8
Freddie Query
293
2
2
0
1
2
$5,575.00
45
98
Sean Studer
289
2
0
0
1
2
$3,675.00
46
5
Jerry Awbrey
284
2
2
1
1
1
$8,535.00
47
94
Scott Riggs
279
3
0
0
0
0
$2,585.00
48
29
Jason Hogan
276
2
0
0
0
2
$1,570.00
49
97
Philip Duffie
270
3
0
0
0
0
$1,550.00
50
07
Jimmy Garmon
269
2
0
0
0
1
$1,470.00
51
75
Keith Brack
265
2
0
0
0
0
$1,125.00
52
37
Larry Raines
265
3
0
0
0
1
$2,700.00
53
66
Gary McCoy
224
2
0
0
0
0
$1,165.00
54
8
Chuck Winders
203
2
0
0
0
0
$2,145.00
55
89
Tony Ponkauskus
189
1
0
0
0
0
$400.00
56
85
Robby Marhefka
176
1
0
0
0
0
$525.00
57
80
Toby Porter
166
1
0
0
1
1
$2,725.00
58
90
Keith Gardner
165
1
0
0
1
1
$1,950.00
59
81
Tony Walls
165
1
0
0
1
1
$6,450.00
60
52
Scott Hansen
150
1
0
0
0
1
$2,860.00
61
7
Jason Schuler
142
1
0
0
0
1
$1,050.00
62
5
Jesse Harris
130
1
0
0
0
0
$925.00
63
55
Terry Brooks
127
1
0
0
0
0
$1,810.00
64
51
Brian Hoppe
124
1
0
0
0
0
$650.00
65
93
Dave Feiler
124
1
0
0
0
0
$1,710.00
66
03
Ken Alexander
115
1
0
0
0
0
$1,485.00
67
62
John Gerstner
109
1
0
0
0
0
$700.00
68
12
Bobby Parsley
106
1
0
0
0
0
$615.00
69
0
Steven Christian
100
1
0
0
0
0
$875.00
70
15
Mark Day
100
1
0
0
0
0
$1,330.00
71
5
Bobby Gill
97
1
0
0
0
0
$1,305.00
72
26
Jimmy Cope
94
1
0
0
0
0
$895.00
73
10
Doug Klein
91
1
0
0
0
0
$775.00
74
23
Brad Correll
88
1
0
0
0
0
$500.00
75
01
Derrick Kelley
88
1
0
0
0
0
$575.00
76
1
Scott Sands
85
1
0
0
0
0
$545.00
77
72
Steve Carlson
85
1
0
0
0
0
$1,205.00
78
6
Jerry Russell
79
1
0
0
0
0
$480.00
79
70
Kevin Gingrich
79
0
0
0
0
0
$0.00
80
75
Scott Henderson
79
1
0
0
0
0
$1,155.00
81
82
Donnie Wilson
76
1
0
0
0
0
$675.00
82
72
Dennis Southerlin
73
1
0
0
0
0
$485.00
83
48
David Probst
67
1
0
0
0
0
$520.00
84
0
Rodger Gentry, Jr.
64
0
0
0
0
0
$0.00
85
15
Dwayne Buggay
64
0
0
0
0
0
$0.00
86
47
Darryl Sage
64
1
0
0
0
0
$1,080.00
87
68
Ron Breese, Jr.
61
1
0
0
0
0
$1,080.00
88
76
Earl Bergeron
58
0
0
0
0
0
$0.00
89
18
Debris Brown
52
0
0
0
0
0
$0.00
90
71
Ray Skillman
52
0
0
0
0
0
$0.00
91
91
Richard Noda
46
0
0
0
0
0
$0.00
92
75
#Billy Mills
40
0
0
0
0
0
$0.00
93
2
David Littleton
37
0
0
0
0
0
$0.00
94
39
Carl Hedin, Jr.
34
0
0
0
0
0
$0.00
95
11
Donald Long
34
0
0
0
0
0
$0.00
96
60
Ryan Hanson
22
0
0
0
0
0
$0.00
97
25
Scott Wimmer
7
0
0
0
0
0
$0.00
98
97
Wayman Wittman
4
0
0
0
0
0
$0.00
99
55
Scot Walters
1
0
0
0
0
0
$0.00
100
65
Andy Kirby
1
0
0
0
0
0
$0.00
Day 1 Qualifying
Pos

#

Driver

Hometown

Sponsor/Make/Model

Fast Lap

Avg. Speed

1
8

Freddie Query

Mooresville, N.C.

RaceCar College Chevrolet Monte Carlo

18.669
114.928
2
44

#Coy Gibbs

Huntersville, N.C.

MBNA Chevrolet Monte Carlo

18.812
114.055
3
19
Steven Howard
Greer, S.C.
Dick Brooks Automotive/Greer Flooring Center Chevrolet
18.838
113.897
4
54
#Rodney Childers
Mooresville, N.C.
C&C Boiler/Cleaver Brooks Chevrolet Monte Carlo
18.853
113.807
5
86
Wayne Anderson
Wildwood, Fla.
Jani-King Chevrolet Monte Carlo
18.860
113.765
6
37
Larry Raines
Cumming, Ga.
Goulds Pumps Chevrolet Monte Carlo
18.860
113.765
7
01
Lee Tissot
Arden, N.C.
Brinkley Racing Pontiac Grand Prix
18.870
113.704
8
09
Randy Gentry
Easley, S.C.
Carolina Painting/Milliken Cleaners Chevrolet Monte Carlo
18.887
113.602
9
1
Eddie Mercer
Pensacola, Fla.
Phoenix Construction/Eddie Mercer Automotive Chevy
18.890
113.584
10
28
Billy Bigley, Jr.
Naples, Fla.
Peerless Woodworking Chevrolet Monte Carlo
18.897
113.542
11
72
Steve Carlson
West Salem, Wis.
Mathew's Solo Cam Bow's Chevrolet Monte Carlo
18.922
113.392
12
03
Chad Chaffin
Nashville, Tenn.
Greased Lightning Cleaner Degreaser Chevrolet Monte Carlo
18.924
113.380
13
45
Scott Kilby
Statesville, N.C.
Arndt & Herman Windows Chevrolet Monte Carlo
18.925
113.374
14
04
Mardy Lindley
Taylors, S.C.
Aloe-LuYa/Drinkard Litho Chevrolet Monte Carlo
18.938
113.296
15
9
#Patrick Lawler
Colleyville, Tex.
Manheim's Auto Auction of Texas Chevrolet Monte Carlo
18.939
113.290
16
00
David Reutimann
Zephyrhills, Fla.
Pennzoil Chevrolet Monte Carlo
18.946
113.248
17
14
Josh Clemons
New Albany, Ind.
Fuzzy's Sauces/SkySpy/Tech-Star Chevrolet Monte Carlo
18.970
113.105
18
11
#A.J. Frank
Bluffton, S.C.
Brinkley Racing Chevrolet Monte Carlo
18.972
113.093
19
52
Scott Hansen
Green Bay, Wis.
Victor Ford/Delta Faucet Ford Thunderbird
18.981
113.039
20
30
Jeff Fultz
Cincinnati, Oh.
Multiple Tool Chevrolet Monte Carlo
18.984
113.021
21
93
Dave Feiler
DeForest, Wis.
Anderson Custom Homes/Jeff Fuller RE/MAX Chevrolet
18.991
112.980
22
81
Tony Walls
Albertville, Ala.
Chandeleur Homes Chevrolet Monte Carlo
18.998
112.938
23
88
Ricky Turner
Dawsonville, Ga.
Keith-Built Homes/Williams Lumber Ford Taurus
19.004
112.903
24
55
Terry Brooks
Concord, N.C.
C&C Boiler/Cleaver Brooks Chevrolet Monte Carlo
19.026
112.772

Failed to Qualify

25
15
Mark Day
Clarksville, Tenn.
Scogin Enterprises/31-W Insulation Chevrolet
19.039
112.695
26
5
Bobby Gill
Dalton, Ga.
W.J. Plemons Investments Ford Thunderbird
19.048
112.642
27
47
Darryl Sage
Nashville, Tenn.
Brinkley Racing Pontiac Grand Prix
19.064
112.547
28
72
#Benny Gordon
Summerville, S.C.
Elliott Trucking Pontiac Grand Prix
19.071
112.506
29
08
Chuck Winders
Louisville, Ky.
Ortho/Round-Up Chevrolet Monte Carlo
19.092
112.382
39
16
Hal Goodson
Darlington, S.C.
Nortel Networks Chevrolet Monte Carlo
19.099
112.341
31
7
Mike Franklin
Homestead, Fla.
Spitzer Dodge Sales Chevrolet Monte Carlo
19.105
112.306
32
75
Keith Brack
Miami, Fla.
Brack Electric/Race Comm Radios Chevrolet Monte Carlo
19.108
112.288
33
53
Robert Burroughs
Laurel, Miss.
Burroughs Motorsports Chevrolet Monte Carlo
19.109
112.282
34
3
David Bonnett
Hueytown, Ala.
Dunlop Golf/Pro Golf Discount Chevrolet Monte Carlo
19.121
112.212
35
33
Conrad Burr
Concord, N.C.
National Peening Chevrolet Monte Carlo
19.128
112.171
36
2
Robbie Ferguson
Jonesborough, Tenn.
Shoney's/Pizza Plus Chevrolet Monte Carlo
19.128
112.171
37
20
#Brian Smith
Mooresville, N.C.
Juba Glass Chevrolet Monte Carlo
19.140
112.100
38
68
Ron Breese, Jr.
Oak Creek, Wis.
Honeywell Chevrolet Monte Carlo
19.146
112.065
39
98
Keith Gardner
Louisville, Ky.
Dean's Chug-A-Lug Milk Chevrolet Monte Carlo
19.147
112.059
40
23
Lance Goodson
Loganville, Ga.
Easy Care/Quaker State Chevrolet Monte Carlo
19.171
111.919
41
55
Scot Walters
Louisville, Ky.
Auto Books/Southern Metal Products Chevrolet
19.187
111.826
42
65
Andy Kirby
White House, Tenn.
Mapco Express Chevrolet Monte Carlo
19.207
111.709
43
38
#Shane Sieg
Tucker, Ga.
S&W Automotive Chevrolet Monte Carlo
19.214
111.669
44
83
#Tina Gordon
Centre, Ala.
InLand Buildings/Moon Pie Chevrolet Monte Carlo
19.228
111.587
45
75
Scott Henderson
Lewisburg, Tenn.
Lewisburg Industrial & Welding Chevrolet Monte Carlo
19.251
111.454
46
34
#Ken Weaver
Mishawaka, Ind.
Square D/All-Phase Electric Chevrolet Monte Carlo
19.262
111.390
47
18
Steve Mendenhall
Raleigh, N.C.
Interstate Batteries Chevrolet Monte Carlo
19.262
111.390
48
5
Jerry Awbrey
Winder, Ga.
StreetWires/Esoteric Audio Chevrolet Monte Carlo
19.286
111.252
49
11
Donald Long
Pensacola, Fla.
Group III Asphalt Chevrolet Monte Carlo
19.348
110.895
50
77
#Chad Bland

Holland, Ind.

Jasper Engines & Transmissions Chevrolet
19.357
110.844
51
60
Ryan Hanson
Beloit, Wis.
Magic Construction/Prairie Ave. Construction Chevrolet
19.455
110.285
52
25
Scott Wimmer
Wausau, Wis.
Country Kitchen Chevrolet Monte Carlo
19.492
110.076
53
18
George Ingole
Lakeland, Fla.
Southern Insurance Agency Chevrolet Monte Carlo
19.542
109.794
54
26
Keith White
Higginsville, Mo.
Bayer Agricultural/Advantage Flea Adulticide Chevrolet
19.549
109.755
55
97
Wayman Wittman
Appleton, Wis.
Dan & A.J.'s Bar/Wittman Constr. Ford Taurus
19.630
109.302
56
4
Ron Young
Conyers, Ga.
Pine Construction/Cofer Bros. Bldg. Material Chevrolet
Did not start

57
2
David Littleton
Columbia, Tenn.
Auto Trim Design Chevrolet Monte Carlo
Did not start

58
80
Toby Porter
Greenville, S.C.
Fruit Works Chevrolet Monte Carlo
Did not start


# denotes Rookie-of-the-Year candidate
Entry List
#
Driver/Sponsor
Hometown
Make
req
00
David Reutimann
Pennzoil
Zephyrhills, Fla.
Chevrolet Monte Carlo

1
Eddie Mercer
Phoenix Construction/Eddie Mercer Automotive
Pensacola, Fla.
Chevy

01
Lee Tissot
Asheville Motor Speedway
Arden, N.C.
Pontiac Grand Prix

2
Robbie Ferguson
Loomis-Fargo
Jonesborough, TN
Chevrolet Monte Carlo

2
David Littleton
Med-Plus
Columbia, TN
Chevrolet Monte Carlo

03
Ken Alexander
Greased Lightning
Anderson, SC
Chevrolet Monte Carlo

3
David Bonnett
Dunlop Golf/Afco
Bessemer, Ala.
Chevrolet Monte Carlo

04
Mardy Lindley
Aloe-LuYa/Drinkard Litho
Taylors, S.C.
Chevrolet Monte Carlo

4
Ron Young
Pine Construction/Cofer Bros. Bldg. Materials
Conyers, Ga.
Chevrolet

463.2875

5
Bobby Gill
Victor Ford
Dalton, GA
Ford Taurus

5
Jerry Awbrey
StreetWires/Esoteric Audio
Winder, Ga.
Chevrolet Monte Carlo

7
+Mike Franklin
Spitzer Dodge Sales
Homestead, Fla.
Chevrolet Monte Carlo

8
Freddie Query
Query Racing
Mooresville, N.C.
Chevrolet Monte Carlo

461.4250

08
Chuck Winders
Ortho/Round-Up
Louisville, Ky.
Chevrolet Monte Carlo

468.4500

09
Randy Gentry
Carolina Painting/Milliken Cleaners
Easley, S.C.
Chevrolet Monte Carlo

461.2750

9
+Patrick Lawler
Manheim's Auto Auctions of Texas
Colleyville, Tex.
Chevrolet Monte Carlo

11
+A.J. Frank
Houghston Clinic/Fuel Clothing
Bluffton, S.C.
Pontiac Grand Prix

11
Donald Long
Group III Asphalt
Pensacola, FL
Chevrolet Monte Carlo

14
Josh Clemons
Fuzzy's Sauces/SkySpy/TechStar
New Albany, Ind.
Chevrolet Monte Carlo

461.8125

15
Mark Day
Scogin Enterprises/31-W Insulation
Clarksville, Tenn.
Pontiac Grand Prix

16
Hal Goodson
Nortel Networks
Darlington, S.C.
Chevrolet Monte Carlo

18
George Ingole
Southern Insurance Agency
Lakeland, Fla.
Chevrolet Monte Carlo

463.2250

18
Steve Mendenhall
Interstate Batteries
Raleigh, N.C.
Chevrolet Monte Carlo

19
Steven Howard
Dick Brooks Automotive/Greer Flooring Center
Greer, S.C.
Chevrolet

20
+Brian Smith
Juba Glass
Mooresville, N.C.
Chevrolet Monte Carlo

23
+Lance Goodson
Easy Care/Quaker State
Loganville, Ga.
Chevrolet Monte Carlo

25
Scott Wimmer
Country Kitchen
Wausau, Wis.
Chevrolet Monte Carlo

26
Keith White
Bayer Agricultural/Advantage Flea Adulticide
Higginsville, Mo.
Chevrolet

468.5625

28
Billy Bigley, Jr.
Peerless Woodworking
Naples, Fla.
Chevrolet Monte Carlo

463.3250

30
Jeff Fultz
Multiple Tool
Cincinnati, Oh.
Chevrolet Monte Carlo

33
Conrad Burr
National Peening
Concord, N.C.
Chevrolet Monte Carlo

468.6375

34
+Ken Weaver
Square D/All-Phase Electric
Mishawaka, Ind.
Chevrolet Monte Carlo

37
Larry Raines
Sta-Rite/Marathon Electric
Cumming, Ga.
Chevrolet Monte Carlo

38
+Shane Sieg
S&W Automotive
Tucker, Ga.
Chevrolet Monte Carlo

44
+Coy Gibbs
MBNA
Huntersville, N.C.
Chevrolet Monte Carlo

45
Scott Kilby
Arndt & Herman Windows
Statesville, N.C.
Chevrolet Monte Carlo

468.9500

47
Mitch West
Brinkley Racing
Asheville, NC
Chevrolet Monte Carlo

52
Scott Hansen
Victor Ford Sales
Green Bay, Wi.
Ford Taurus

53
Robert Burroughs
Burroughs Motorsports
Laurel, Miss.
Chevrolet Monte Carlo

463.4375

54
+Rodney Childers
C&C Boiler/Cleaver Brooks
Mooresville, N.C.
Chevrolet Monte Carlo

55
Terry Brooks
C&C Boiler Sales and Service
Concord, NC
Chevrolet Monte Carlo

55
Scot Walters
Southern Metal Products
Cornelius, NC
Chevrolet Monte Carlo

60
Ryan Hanson
MAGIC Construction
Beloit, WI
Ford Taurus

65
Andy Kirby
MAPCO Express/Williams Travel Center
White House, TN
Chevrolet Monte Carlo

68
Ron Breese, Jr.
Breese Racing
Oakcreek,WI
Chevrolet Monte Carlo

454.5500 464.5500

72
Steve Carlson
Mathew's Solo Cam Bow's
West Salem, WI
Chevrolet Monte Carlo

72
+Benny Gordon
Elliott Trucking
Summerville, S.C.
Pontiac Grand Prix

75
Keith Brack
Brack Electric/Race Comm Radios
Miami, Fla.
Chevrolet Monte Carlo

75
Scott Henderson
Lewisburg Industrial & Welding
Lewisburg,TN
Chevrolet Monte Carlo

77
+Chad Bland
Jasper Engines & Transmissions
Holland, Ind.
Chevrolet Monte Carlo

80
Toby Porter
Mac's Auto Glass/Victory Circle Chassis
Greenville, S.C.
Chevrolet

460.7375

83
+Tina Gordon
InLand Buildings
Centre, Ala.
Chevrolet Monte Carlo

86
Wayne Anderson
Jani-King
Wildwood, Fla.
Chevrolet Monte Carlo

88
Ricky Turner
Keith-Built Homes
Dawsonville, Ga.
Ford Taurus

93
Dave Feiler
Anderson Custom Homes
DeForest, WI
Chevrolet Monte Carlo

97
Wayman Wittman
Dan & AJ's Bar/Wittman Const.
Appleton, WI
Ford Taurus

98
Keith Gardner
Dean's Chug-A-Lug Milk
Louisville, KY
Chevrolet Monte Carlo
---


Get the Free Windows Media Player
---
The following interviews and presentations require Microsoft Media Player
Bob Harmon Tribute
Prior to driver introductions for the 19th Annual Greased Lightning All American 400, Nashville Speedway General Manager Joe Earnest introduced former Slim Jim Director of Public Relations Bob Desmond. Desmond presented the Nashville Speedway fans with a surprise tribute to Nashville Speedway President and Slim Jim Series founder Bob Harmon. This tribute included guest appearances by many former and current stars of the Slim Jim series including Randy Couch, Darrel Ryalls, Steve Grissom, Jody Ridley, Hal Goodson, Freddy Query, Wayne Anderson, Billy Bigley, and David Bonnett. The entire 20 minute presentation is presented here courtesy of The Auto Channel, Nashville Speedway, and the NASCAR Slim Jim Series.
Click Here to view the Presentation
Driver Interviews
Louisville Motor Speedway Vice President Frank Scott conducted the following interviews for the Auto Channel.
Want more information? Search the web!
Search The Auto Channel!