<!img align=bottom src="features-lg.gif" alt="Features" height=54 width=311>
Z Beginning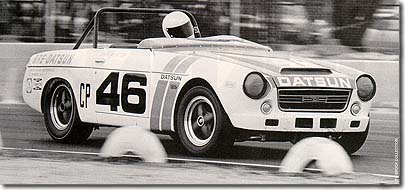 John Dinkel finds all the original players and tells the take of how Datsun's Z car became a production racing legend.

The sound was like that of a thousand bees, drunk with power and skid row pollen. As it grew louder I searched the late-summer sky of the Southern California high desert for the source of the noise, squinting to protect my eyes from the glaring cloudless sky, until I finally detected what I'd been hunting for. Coming in low over the Willow Springs racetrack was a small blue-and-yellow single-engine airplane. It circled once and then took off to the east. That was John Morton's Kachina, and his buzz of the track signalled the arrival of John and Pete Brock for a reunion with one of the original 1970 BRE-Datsun 240Z racers.

As I jumped into my car to pick them up a few miles down the road at the Rosamond SkyPark, my mind wandered back to 1969. The Vietnam War; Crosby, Stills, Nash, and Young; Richard Nixon, gas-guzzling musclecars.

A young Chrysler engineer (me) is motoring across the country behind the wheel of a 1966 Barracuda Formula S, new wife and Triumph Spitfire in tow. I'm headed for Newport Beach, California to assume the position of engineering editor at Car Life, the sister magazine of Road & Track. R&T's now-famous January 1970 cover "scoop" with a black and white photo of the 240Z had already hit the newsstands by the time I arrived in late-December '69, so I didn't get to ogle that first Z in the flesh-a tremendous disappointment. Little did I know that one short year later I'd be hanging out at Pete Brock's BRE race shop in El Segundo almost daily, following preparation of the 240Z for SCCA C-Production racing and watching Pete's crew develop the Datsun 510 sedan for the Under-2.5-liter class in the Trans-Am series.

The late 1960s and early 1970s were the heyday of amateur production racing in America, but a scant few people knew it. Most of these series' battles were waged behind closed doors, the SCCA having deemed many of the races non-spectator events for insurance purposes. Yes, the epic, nationwide battles between factory-supported C-Production 914s, TR6s, and 240Zs became legendary, but only secondhand for most.

Undoubtedly, the most dynamic outfits on this battlefield were the factory-backed teams of Pete Brock on the West Coast and Bob Sharp in the East. Their D-Production successes with the Datsun 2000 roadster made Nissan a force to be reckoned with in SCCA club racing during 1968 and 1969. And from the very first pictures they saw of the new Datsun coupe, Brock and Sharp could sense the upcoming Z-car's competition potential. A light, low unibody GT with independent rear suspension and a 2.4-liter, 6-cylinder version of the 2000's overhead-cam Four, the 240Z had champion written all over it.

But until they had one in hand, neither could begin the steps necessary to convert the Z from what R&T called "the most exciting [and affordable ] Grand Touring car in a decade" into a winner on the racetrack. And there was nothing either Sharp or Brock could do to hurry the arrival of the first load of Z-cars headed for the states to get a jumpstart on the fast-arriving 1970 racing season.

BRE's development didn't start until late January 1970 with the arrival of a pure production model straight from the first shipment of 20 cars to land in Los Angeles.

But on the East Coast, Datsun's misfortune was Sharp's gain. The first Z car in the country had suffered body damage at an auto show. Bob was told to "come get the car before Datsun changes its mind." So Sharp's preparation of the Z for C-Production racing had started a few months earlier than BRE's.

Let the record show that despite the late start, BRE's number one driver, John Morton, managed to garner enough C-Production points to qualify for the SCCA's annual ARRC national championships in Road Atlanta. Morton won the 1970 C- Production runoffs, initiating a string of 10 consecutive C-Production/GT-2 victories for the 240, 260, 280, and 280ZX versions of the Z.

Following consecutive wins in 1970 and 1971, Morton and BRE switched their focus to the SCCA Trans-Am series. Picking up where BRE and Morton left off, Bob Sharp Racing took the championship in three of the next four years (Walt Maas winning in 1974) with Bob behind the wheel. Elliott Forbes-Robinson, Logan Blackburn and Frank Leary took the checkers in 1976, 1977 and 1978, respectively. In 1979 Bob Sharp Racing returned to the winner's circle, this time with actor/racer Paul Newman as driver, a final championship that concluded a decade of Datsun domination the likes of which we will probably never see again.

Sharp turned his attention from driving to team management as Datsun (now Nissan) entered the eighties. Moving up from GT-2, Sharp Racing dominated the GT-1 category from 1984 through 1988 with their incredible 300ZX Turbos driven by Jim Fitzgerald, Paul Newman and Bob's son, Scott. Incidentally, Scott's first national championship had come in 1986 in GT-2 behind the wheel of the same Z car (updated to 280Z specs) Bob had raced from 1970-1975. Before Scott raced it, the car had been stored in Bob's basement for six years.

In total, Datsun/Nissan Z cars have captured 29 SCCA national titles, numerous SSA and SSGT victories and 18 major professional championships including IMSA GTU, GTS, Firehawk Endurance titles and one SCCA Pro-Rally championship. An incredible record for one manufacturer and one car!


The Roundtable


So here I was scurrying along Rosamond Boulevard to pick up Pete Brock and John Morton to reunite them with BRE 240Z number two. This was Take 1 of a two-part miniseries in which Morton would drive and Brock would photograph the Z prior to a roundtable discussion about the early glory days of the Z. Included among the notables who had accepted an invitation to participate was 86-year old Yutaka Katayama, the highly enthusiastic former president of Datsun's West Coast operations, under whose benevolent eye BRE's racing activities had taken place.

You can read all about the trials, tribulations and racing successes of the BRE Z car in the accompanying sidebar. For the moment, let's jump to the roundtable discussion which took place in Los Angeles the morning after the Z car wake.

Participants included the aforementioned Mr. Katayama, Peter Brock, Bob Sharp, Trevor Harris, John Knepp and John Morton from the BRE race team, Bob Thomas who handled Datsun public relations at the time, Harry Newton, SCI contributing editor and a long-time friend and business associate of Sharp's, Les Cannaday, a well-known Southern California Datsun collector/historian/enthusiast/restorer, and yours truly.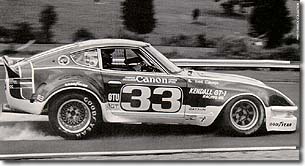 I started the proceedings off with the following question:

SCI: How did Datsun get involved with racing in America?

Bob Sharp: In 1964 I was working as a manufacturer's rep. Paul Bruck, a Rambler-Datsun dealer in Greenwich, Connecticut, decided to race the 1500 sports car known as the SPL-310. The choice of drivers came down to Alan Wiley, a Madison Avenue advertising executive and me. Eventually, we sold the dealer on the two of us sharing one car, and later in the season another 310 was added. We won a couple of races and I went to the first SCCA Riverside Runoffs.

Meanwhile, the dealer had gone bankrupt, but I went to Mr. Kawazoe, the East Coast's [version of] Mr. Katayama, and talked him into a racing program for the following year. I started in a Gulf gas station-we also sold used cars-and eventually we moved 10 miles down the road. I had a program developing and selling Datsun racing parts similar to what Kas Kastner (Triumph's West Coast Competition Director) was doing with Spitfires and TR4s. And we were quite successful racing the Datsun 1600 and 2000 roadsters. By 1969 I'd started a Datsun dealership and I saw my very first Z car-a green one-at the New York Coliseum auto show. I went up to Mr. Kawazoe, who had a very close personal relationship with his dealers and asked, "When am I going to get one to prepare for racing?"

Mr. Kawazoe shook his head and said, "Maybe if we get a salt-damaged car you can get one, but right now I have nothing I can give you."

Well the green car went to the Toronto auto show and a model sat on the roof and caved it in. I got a call from Mr. Usami who said excitedly, "Bob, come down here quick and get this car. It's no good as a show car and it can't be sold. Grab it before they change their mind." So I took that car, prepped it and raced it all year. We built up a second car for the Runoffs and Jim Fitzgerald, our Southern Division driver, ran it at Atlanta.

Pete Brock: I came in through the back door because I was working in Los Angeles for Hino Motors, a truck company affiliated with Toyota. I was offered and I signed a contract to develop the 1966 2000GT for racing. This was right at the time Carroll Shelby had won Le Mans but had lost his contract with Ford. Shelby looked around and decided the best thing to do was to buy a Toyota dealership. But being Shelby, he also purchased the Toyota distributorship for the entire Gulf states region.

Toyota was obviously very impressed with Shelby and when he asked if they were going to get involved in racing he was told they'd just signed a contract with Pete Brock. To which Shelby replied, "Hell, he's just the guy who changes my tires!"

To make a long story short, Shelby got on a plane, flew to Japan and convinced Toyota they should give him the 2000GT contract. Meanwhile, I had come home from Japan, having visited Toyota to consolidate our "deal," and built up a shop and was waiting for the Toyota 2000s to arrive.

I waited. And I waited. I had worked for Shelby and had quite a number of friends there. One day I got a call from one of the guys who said, "Pete, I know you're waiting for the Toyotas, but they ain't gonna be there."

I replied, "No way, I'm sitting here with a signed contract."

To which my friend responded, "Well you may have the contract, but we've got the cars and we're preparing them to go racing against Porsche and Triumph."

So I hung up and said, "Okay, Shelby, I know how the game's played."

I went to Nissan and said, "I don't care what it takes, I want to race your cars because I want to beat Shelby." They explained that they didn't have a car that was suitable for racing. And I said, "You don't understand. You can make a race car out of anything!" (laughter) And they said they still weren't interested because they already had a factory team with Duane Fuerhelm out in the valley. I replied, "Yeah, but they're running dead last and it's an embarrassment to Datsun. To which they replied, "It's really not a good car."

I told them the 2000 roadster could be a winning car, but I just couldn't convince them. But I refused to give up. I knew the controller at Hino Motors in Tokyo, Mr. Miyako. I called him and described what had happened.

He told me, "I have a friend-we went to Tokyo University together-and now he is chairman of Nissan. I will talk to him."

A week later Mr. Miyako called me back and said, "Nissan Japan will send you the cars and the money."

So we started our racing program without Nissan USA support. We won the Pacific Coast Division the first year with Frank Monise and John Morton driving our Datsun 2000 roadsters. And after that we were accepted by Nissan USA because we had proven our ability to succeed. That was when I got to meet Mr. K.

SCI: Question for Mr. Katayama: Why was Datsun racing in America?

Mr. K: When I came to America I had the idea to start racing at the amateur level with local people. I wanted people to enjoy our cars.

Brock: He's being too modest. The beautiful thing about Mr. K is that he loves automobiles. It wasn't the winning or the losing or the selling of the automobile that was important to him but rather seeing other people share his passion and enthusiasm for the automobile. Obviously, winning was important to us, but it was Mr. K's humanistic approach to the car and the people that made the Datsun racing program so different.

SCI: How was Datsun's American racing viewed by Nissan in Japan?

Mr. K: Back in Tokyo they didn't understand or recognize American racing at all. Tokyo's eyes were only looking at Europe. They were trying to use any American racing developments for Formula 1 or other types of European racing. I was trying to attract more attention to us and fortunately Mr. Kawazoe was also eager to go racing.

Sharp: The Japanese had no concept of what we were doing. I think they thought we were out in the boonies running around pylons and hay bales. We needed cams and pistons and they were sending us beautifully- crafted catch tanks and no engineering help.

Brock: It was that political split between Nissan and Prince. All the race guys in Japan were working for the Prince division. Nissan didn't want their trick FIA high-performance parts coming to the U.S.

SCI: Describe how the 240Z came about.

Mr. K: When Datsun first came to America nobody was looking at us. But when I surveyed the market, I noticed that Americans were taking an interest in small sports cars. I was closely watching all the imported European cars. They were selling very well but the Europeans were not offering very good service. So I thought to myself, "If we provide good service all around the country maybe we could be successful. But to attract people perhaps we should think about a sports car."

Prior to the Z Nissan had the Silvia. It was displayed at the New York auto show but I didn't like it very much. It was hard to get into and it was too small for Americans, so I told Tokyo not to bring it over here. I told Tokyo we needed to keep our eyes on what the American market needed.

Most people, even today, believe that the German designer, Goertz, designed the Z car, but I actually created the car. I really liked the XKE because it was so slim and aerodynamic and had good legroom. I told Tokyo, "This is the kind of car we should build for America." I think today's Z is too fat. I really don't like a fat car (laughter). I like a slim car.

Les Cannaday: What was it you said at your birthday party to the American and Japanese Nissan executives? Don't let the Fairlady become the fat lady? (laughter)

Mr. K: I got together with two Nissan designers and we worked out most of the details of the Z.

Harry Newton: Why the decision to build a coupe instead of a convertible?

Mr. K: A coupe is a better car for all-around driving-not necessarily for racing-because it's quieter and more comfortable, especially at high speeds, and I had noticed that Americans drove fast on their highways. Also, a coupe is safer than a convertible. Because we could only do one car at that time, I proposed we should start with the coupe.

SCI: Describe your initial impressions of the Z relative to the Datsun roadsters.

Brock: The biggest difference is that the roadster suffered with a very narrow tread and a short wheelbase. And because it hadn't been designed for a 2-liter engine, there was no room in the engine compartment to exhaust cooling air from the radiator. That's when we came up with a front spoiler which was an absolute cheater device because, at the time, the SCCA didn't allow aerodynamic devices. So we made it up in the form of "brake scoops" which were legal. The fact that we were able to produce more air pressure at the nose of the car so the engine would cool was completely accidental (laughter). It didn't really matter whether the car cornered well because our drivers developed a dirt track style with it. And it had plenty of horsepower down the chute.

The Z was completely different because it was unit body construction. But we could tell it had all the ingredients needed to make it a winner. I simply turned it over to Trevor Harris to make it work. One thing I have to say is that virtually every fast American Nissan race car that's ever been built was designed by Trevor.

Trevor Harris: I'm leaving this room (laughter).

Sharp : The other thing that's interesting is that the roadster had limited suspension travel so when you lowered it, it was brutal on bumpy tracks. The MacPherson strut suspension on the Z was great.

Morton: One thing I remember prior to the arrival of the Z. We were running the roadster at Willow Springs to get enough points to qualify for the Runoffs where we intended to run the Z. The Porsche factory had Alan Johnson in the 914/6, which was their big push, and Milt Minter was in a 911.

The previous year they'd had a knock-down drag-out C-Production race which included lots of fender banging. So before this race they held a special drivers' meeting in which they said that any C-Production driver who touches another will be black- flagged out of the race.

Ginther's (Richie Ginther, Porsche team manager) plan was to prevent Datsun from winning any points. They weren't worried about the roadster, but they greatly feared the Z. Porsche's strategy called for Minter to block me and not let me by at any and all costs and for Johnson to lead and win the race.

At the start, Johnson jumped into the lead and Milt got in front of me. But I wasn't worried because the roadster was running the big Mikuni carburetors and the engine made really good horsepower. But on the straight Milt blocked me. He was a very good driver and very effective at blocking and I couldn't get by.

Meanwhile, Johnson disappeared into the distance in the 914. About halfway through the race I got so frustrated that I decided I was going to let Minter hit me. He had been chopping me off at the downhill kink and I stuck my nose inside him and dared him to hit me. Well he did and the contact sent Minter off the road and way up the hill, leaving me with a big second place lead. And then the next lap there was a black flag and I thought, "I wonder who that is for (laughter)." It was for me and Milt because he had gotten going again.

Pete and everyone else on our team was livid because it really screwed us up, but it didn't hurt Porsche because Johnson won the race. There was almost a big brawl. Milt's contention was that I had more horsepower and he had to drive a little bit defensively. But the race steward thought Milt was lying. He said, "There's no way a 4-cylinder Datsun could have more horsepower than a Porsche!" But Floyd Link, one of our guys who had been arguing with Milt about his blocking tactics, overheard the steward and grabbed Minter by the lapels and dragged him over to this SCCA official. "Tell him what you told me about the Datsun's horsepower," Floyd screamed at Milt while pointing toward the steward. And Milt admitted to the guy that the Datsun had more horsepower. So it was obvious we were about to get an incredible car, a wolf in sheep's clothing. . .actually a wolf in wolf's clothing!

SCI: How easy was it to convert the Z into a race car?

Brock: The biggest problem was the engine. In Japan the Z was sold with a completely different 2-liter twin-cam based on FIA rules for racing. The L-series engine for the American market was never intended for racing. It was a street engine, essentially a six-cylinder version of the 2000 4-cylinder we had previously raced in the roadsters. It wasn't designed for racing and when we pushed it to the point where it made any horsepower, either the clutch or the flywheel or both would shear off because the crankshaft had such a bad third harmonic vibration. We couldn't run 10 laps at Willow without breaking and we had to start the first couple of races with the bad crank. We'd lead the race and then bam, we'd shear off the clutch or the flywheel. It was very frustrating because the factory was aware of the problem. We shared all our information with Nissan but it was like a big sponge. It seemed like all our information went in, but nothing was coming out. But eventually the factory developed a forged counterbalanced crank and from that point there was no stopping us. It really was a fantastic car.

Morton: A testimony to how good a car the Z was is that of all the BRE race cars, it was the least modified. It had a roll bar mounted to the floor with diagonals back to the struts. It had stock brakes, discs front and drums rear. We added a brake balance beam to one of the cars. It had a lot of horsepower and that's about it.

Harris: Those cars were disturbingly stock.

John Knepp: Talk about stock, even the shocks were stock! We simply modified the valving.

Sharp: From an East Coast perspective, we always looked at California as hot rod country. I don't know who we would have gone to on the East Coast to build a hot engine. Because you guys made so much horsepower, we always tried to do more suspension work, to put the power down and get around the corners faster.

Interesting thing about our first test. We'd been used to those archaic roadsters and here's this beautiful car with MacPherson struts that would eat up the bumps. But we started out with too low a front roll center, and the first time I went into Big Bend at Lime Rock that car felt like the heaviest, plowing turkey I'd ever driven. I was expecting a light little car that would handle like a Porsche... We were all disillusioned. We knew something was wrong with the geometry. If we'd left it stock, it would have been better than with our "improvements." We improved it into a failure! However, after correcting our geometry problems, the car ended up a beautifully-balanced race car.

A very significant change occurred with how we prepared race cars when BRE got into the game. Up till then we'd get a car in February, strip off the putty, make a few changes, add decals and numbers and two months later you'd be racing what had been your street car. The first time anyone had a contract to build a car and race it the following year, holy mackerel, that was a whole different breed of cat. The whole concept of stripping the car down to nothing and rebuilding it was a whole generation of expense above what anyone had previously done.

Knepp: We were all intimidated by Porsche and its reputation. And we realized that to beat the likes of Porsche we'd have to pull out all the stops to make the Z a real race car. It wasn't a matter of throwing out the old way. The goal was to win.

Brock: Most people are not aware of what an important program this was because it represented a transition from real amateur club racing to factory-backed professional racing. Porsche had two serious efforts, one with Al Holbert in the East and Richie Ginther out West. Triumph was very strong with Bob Tullius on the East Coast and Kastner on the West Coast. Shelby was with Toyota, Bob was running the Z back East and we were running on the West Coast. At that time there was more money going into C-Production racing than any other type of racing in the US And 80 percent of those races were non-spectator events because the SCCA wasn't set up for it. It was an incredibly interesting time because the competition was such that you had eight cars on the grid that were within half a second of each other. We had great racing, fabulous cars, good drivers, and the public really knew nothing about it.

Newton: So was it product development-driven rather than marketing-driven?

Brock: No, it was driven by Mr. K's personal interest in it. He wanted that car out there where people could enjoy it. The SCCA was so myopic that they didn't understand what they had. They were anti professional factory racing, so they tried to suppress it. Stupid.

Sharp: I think the other part of it was that the Porsche was a known sophisticated commodity to an American reading Car and Driver and Road & Track, and I think Datsun felt that if the Z could beat Porsche, that would tell American enthusiasts that this was a quality automobile.

SCI: Let's spend a few minutes talking about your competition.

Morton: I'll tell you one story to give you some idea of how competitive it was. We had this old Hino transporter with a Cadillac engine Max Balchowsky had installed, which was left over from Pete's Hino team. The first day we tested the Z, we were cruising up the San Diego Freeway headed to Willow Springs in the Hino and apparently Kas Kastner, Triumph's West Coast competition manager and one of our main competitors, got a call from somebody who said he'd seen Brock's transporter and it looked to be headed out to Willow.

Kas knew that the Z was about ready to be tested so he got a cooler, drove out to Willow and hid up in the hills where he could watch us. It was a successful test because the car didn't break, but it wasn't very fast because it was extremely stiff. It turned around a 1:38 which was roadster time. When we got back from the test, Kas called Pete and said, "You had a spinout and your car went off the road and you did a 1:38, and on and on."

We had no idea where he'd gotten the information until sometime later when he admitted he had watched our entire test through a pair of binoculars. For some reason, I can't remember why, I wore a different color helmet that day. Kas said, " I saw everything, but I just couldn't figure out who was driving the car." That's how competitive it was.

Sharp: On the East Coast we had an interesting situation. Bob Tullius had been dominating everything. As we began to compete against him, we made him turn the wick up. We didn't realize he may have had 1000 rpm in reserve. As we'd develop the Z and turn a new lap record, he'd turn the wick up some more. It was fun and that's what it's all about. We won some races and he won some races and at some point he didn't have any more wick to turn up. And I think we drove the English cars into not being reliable. Their engines were long-stroke designs and I think we had a better basic design to start with. And eventually the Datsuns drove them into unreliability. That's when we started beating on each other. It was the heck with the Triumphs, we're racing John Morton and Dan Parkinson and Jack Scoville and Logan Blackburn and Jim Fitzgerald...And that kept improving the breed.

Newton: When did outside sponsorships enter the picture?

Sharp: It was our goal even back then to sell big money sponsorships-the oil companies, Canon cameras-because the cost of running any of the series was more than we could get out of Nissan.

Brock: We had a lot of product sponsorship and finally Goodyear came back in and started supplying tires to us. That was a really big deal for us because the cost of tires was fairly high.

Sharp: We always had free tires, even in the roadster days. But for a company to pay big bucks, that was a whole other thing. I have to be honest, looking back, Paul Newman was a tremendous help in the sponsorship area. To be able to tell someone that Paul Newman was going to drive your car was big bucks. That was selling exposure because Nissan didn't do much exposure.

Bob Thomas: I remember one year Bob had Budweiser as a sponsor and I was doing PR for the company. A racer from Rochester came up to me during the season and said, "You've got Budweiser. How can I compete with you?" So he shows up at the Runoffs and written on the side of his car is "Generic Beer" (laughter).

Sharp: I was in a unique situation being chairman of the dealer advisory board for the 1100 Datsun dealers. I beat on the dealers telling them that a lot of guys all around the country are winning races in Datsuns so tell the world about it.

Brock: We were the first to put a dealer group together for support.

Sharp: It's too bad that it wasn't contagious and went around the country.

Bob Thomas: Well you know when Mr. K left, part of the passion left.

Brock: It ended. It ended. The administration that came in after Mr. K left gave us the worse group of cars that we ever got... like the F10. Those people had no passion.

Sharp: I have one question and you don't have to answer it if you don't want to. It's a shame that the Z is ending. I would have expected that Nissan would have come out with a car like the Miata, an under $20,000 Z car. I love the present Z and, yes, it has gotten bulbous. But it's become a gentlemen's road sports car, not a lean machine like the 240. I know we can't do anything about government regulations and today's 300ZX at $48,000 is a phenomenal car, but like the first 240 we prepared for racing, we've improved it into a failure. Do you think there will be a Z car coming back in the future?

Brock: Let me answer "Yes." That way Mr. K doesn't have to say anything that would compromise Nissan's plans (laughter). If you build an icon like the Z, it has to come back.

Sharp: It would be a shame if it didn't.

Brock to Mr. K: Can you use your influence again?

Mr. K: It is very difficult but the influence and support of the people assembled in this room would be of great power in making it come back.

Morton: You know there's something kind of schizophrenic about a company that rents a museum to celebrate 25 years of the Z car and rents another a year later to announce they aren't going to make it any more (laughter).

Newton: Bob hit it on the nose I think. What Nissan needs is an answer to the Miata. You have to go back to simplicity. You have to get into that $20,000 dollar bracket. You're not going to achieve cult car status with a $50,000 car that can only be afforded by people with lots of other interests that fragment their involvement with the automobile.

SCI: I'd like to ask Mr. K how the Nissan people in Japan view this curious celebration for the death of a car that is so important to us. Do they have the same sense in Japan of how important the Z has been to the US market?

Mr. K: When I returned to Japan after being over here in June for the Z car convention, I was really surprised when I was invited to the Nissan president's office. It was the first time since I left the company 20 years ago. All of a sudden Mr. Hanawa started to talk about heritage and history and the philosophy of the Z car. I went to see him just to push for a new Z car. He did not answer about that but still he was talking to me about the history and the culture of the Z. So your power is very strong and your support is very necessary to open the eyes of the President of Nissan.

Brock: How do you channel that into the company?

Mr. K: Last year it was very fortunate that I could meet Mr. Nakamura, the new president of Nissan of North America. He was asking me about the Z car and he was very interested. So I hope it comes back.


Epilogue


Recently, Nissan USA began a program to market Vintage Z cars at select dealers. The dealers have Z Stores in their showrooms to sell pre-owned Zs, including mint-condition 240Zs (see pg. 66). Perhaps this is one way in which enthusiasm for the Z car can be sustained at a time when it is otherwise missing from the US market.

Want more information? Search the web!

Search The Auto Channel!