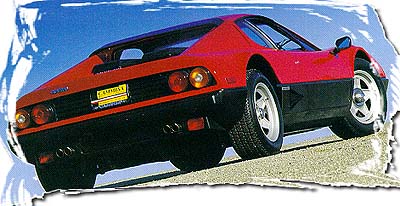 Velvet Golove With Knock-Out Punch: Berlinetta Boxer

Do you like the idea of owning an "ultimate" Ferrari? From 1964 to 1989, the 500 Superfast, the 275 GTB/4, the 365 GTB/4 Daytona, the Berlinetta Boxer, the 288 GTO, and the F40 were Ferrari's per-eminent street performers during their respective production runs. Yet, only one ca be bought for under six figures: the Berlinetta Boxer. Text & photos by Winston Goodfellow.

For it coming-out party at the 1971 Turin Auto Show, the Pininfarina-designed and built prototype arrived fashionably late, appearing at 10:30 am on press day. Named after its 4.4 liter flat 12-cylinder "boxer" engine, the Berlinetta Boxer was loaded with design innovations such as hidden door handles, roller shades for the windshield, and windscreen washers that warmed the water. "We incorporated everything we know into the BB," Sergio Pininfarina commented at the time.

"They obviously know a lot," America's Motor Trend noted in ther Turin Show review." ...(H)ailed as the star of the show, the BB is not only a strinkingly beautiful machine...it is one of the most techincally advanced designs car buffs could dream of."

At the 1972 Turin Show, Ferrari announced that the Boxer had reached production stage. Officially called the BB 365 GT4, the "365" derived from the cc size of one cylinder, while the "4" referred to the number of overhead cams. Beautifully crowning the engine were four triple-throat 401F3C Weber carburetors.

Overseeing the BB's development was Angelo Bellei, a 30-year Ferrari engineer. Though a road-going flat-12 engine was unprecedented, "When we made the decision to make the Boxer, we had no qualms," he stated in an interview in the Seventies with journalist Mel Nichols. "Our experience with the Dino 246 GT and the Foumula One boxer engine combined to give us complete confidence in the path we wished to follow... We knew our belief in the flat-12 would present us with certain problems in the development of a new car... but we felt we could overcome them with proper care and attention."

The chasis was a semi-monocoque design around the cabin, with tublar sub-frames front and rear. Based on Ferrari's experience with the 250 LM and street-going 206 adn 246s, "What we did have some doubts about," Bellei commented, "was the weight at the rear."

The suspension reflected such concerns. Up front were unequal-length A-arms, coil springs, inclined shocks, and an anti-roll bar, while the rar also had unequal-length A-arms and anti-roll bar, but dual-coil springs and tube shocks.

Overseeing the flat-12's design and development was Giuliano de Angelis, Ferrari's head of the road-car engine design. Using the 3-liter competition boxer as a starting point, the engine had a volume of 4.4 liters, so a number of components (pistons, connection rods, valvetrain, etc.) that were already in production could be used.

When the first flat-12 was tested, "everything went according to plan," thing went according to plan, de Angelis gleefully told Nichols. "We ran the first tests and found that we had nothing major to correct or update." Instead, giving trouble was the transaxle's lubrication, a problem first addressed by changing the pinion's bearing from alloy to steel, then increasing the size of the sump.

Deliveries began some ten months after 1972's premature production announcement. Whereas the'71 Turin show car had four exhaust pipes and tail lights, the production 365s had six of each. The doors, belly pan, nose and tail sections were of aluminum, while the front and rear valence panels were of fiberglass. The interior we< trimmed in leather, but a number of 365s had cloth seat faces. All 365s used 7 1/2inch wheels front and rear, and often had the lower half of the body painted black.

Starting with s/n 17185, Ferrari constructed 387 units of the 365 OTB/4 BE over the next three years. Both Bellei and de Angelis say that the first engine produced 380 hp at 7000 rpm, and 318 lb. ft of torque at 4500 rpm. The two Ferrari engineers also claim that the Boxer prototype topped out at 302 kph (188 mph) i testing, some seven mph faster than was obtained in the production version. To increase driveability, production engines were detuned to 360 hp at 7000 rpm, and 311 lb. ft. of torque at 4500 rpm.

Unfortunately for the BB's reputation, Ferrari's press material didn't reflect these lower figures. Whereas every magazine that tested the Daytona either met or exceeded Ferrari's claimed top speed, no one got close to the 188 mph claimed for the Boxer-as exemplified by the 175-mph Road & Track figure reported in the June, 1975 issue.

Worse, the BB was not universally praised like the Daytona. Road & Track's acceleration times (0-60 in 7.2 seconds; some 2 seconds off factory figures) were disappointing-badly affected by a slipping clutch, a transmission that frequently remained in neutral when upshifting at redline, and tractability problems below 3000 rpm. At speeds above 130 mph, the front became light on undulating roads. England's Motor encountered nearly identical problems, and recorded performance figures only slightly better than R&T's.

However, some 365 Boxers were well sorted screamers. Mel Nichols recorded 0-60 in 5.3 seconds, and 0-100 in 11.3 when he tested one for England's CAR magazine. "The incredible thing..." he noted, "was that (these) times were achieved with none of the wheelspin and drama normally associated with such acceleration runs."

Many of the driveability and refinement problems were solved with the BB512, the new version's name deriving from the power plant's 5 liters and 12 cylinders. Bore and stroke were increased from 81 by 71 mm to 82 by 78 mm. Other mechanical modifications included a dry-sump oiling system, a higher final drive (from 3.46:1 to 3.2:1) to offset the engine's low redline (now down 700 rpm to 7000), and a twin plate clutch (in place of the 365's 9.5-inch single plate) for lighter pedal pressure.

The 512 also received subtle cosmetic changes. The rear track increased 1.7 inches, as 9-inch rear wheels became standard. The body was two inches wider and 1.5 inches longer, with the revised front end featuring a small chin spoiler. NACA ducts helped rear brake cooling, and tail lights and exhaust pipes now numbered four. The design of the rear decklid changed slightly, and slats replaced the mesh between the tail lights. Inside, the position of the supplemental control changed, while the instrument panel remained untouched.

Although production started in July, 1976, with s/n 19677, the 512 was officially introduced at the Paris Auto Show several months later. The prototype 512 engine delivered 360 hp. the production version 340. Once again, Ferrari ran the higher figure, and early press reports erroneously stated that the new BB would be 10-15 mph faster than the 365 Boxer it replaced.

Road & Track tested a federalized 512 in March, 1978. By revving the engine to redline and dumping the clutch, 0-60 took 5.5 seconds, 0- 100 13.2. Though they didn't record its actual maximum speed, they marvelled at the Boxer's ability to keep accelerating, easily running it beyond 150 mph. "The 512," they concluded, "(is) the best all-around Sports & GT car we have ever tested. (It) has it all: the speed, the handling, the lovely shape, the well-done cockpit and, most important of all, a reputation for reliability."

Regarding top speed, in 1982 R&T squeezed Out 168 mph from another federalized 512. Two years later, they clocked 176 mph in a European BB, confirming what engineer Bellei told Nichols: a "good production" version was just two mph slower than the prototype 512's 178 mph.

After 929 BB 512s were produced, at the Frankfurt Auto Show in 1981 Ferrari introduced the fuel-injected BB 512i. The newest Boxer looked almost identical to its carbureted predecessor, save different badging, inset fog lights up front, a reverse light on the tail, and new side mirrors. Inside, the steering wheel changed, while the dash had a more sleek appearance in front of the passenger, and three air outlets on its upper area instead of two.

With its Bosch K-Jetronic fuel injection and Digiplex ignition system, the BB 512i also produced 340 hp. Easily the most civilized of the Boxer series, it was also the most popular. Production started with s/n 38121 and, after 1007 units had been built, ended in 1984 with s/n 52935.


On the Road


Our test car, a 1983 BBi s/n 48665), has 9,300 one-owner miles. One of four in stock at Cammisa Motor Cars, it was an interesting mix of old (the center console's rocker switches and levers) and new (central locking, delayed interior light dimmer).

Inside, the BBi seems wide on first acquaintance, its dimensions shrinking with familiarity. The comfortable leather seats have optional cloth inserts, while the headliner is a tan corduroy material. Drivers over 6'1 " will find headroom tight, legroom excellent. The passenger had better be on the small side, for the "shotgun seat" has even less legroom. Forget using the trunk for anything but small bags.

The forward view is excellent, and side and rear visibility quite good, thanks to the quarter windows. The expansive front glass makes a/c a must on hot days.

After a brief, muffled whirr, the flat-12 fires willingly. Flexibility defines this incredibly civilized powerplant. Pottering through traffic is a breeze, the torque promoting upshifts at 3000-3500 rpm. (The Boxer proved so docile that more than once I used it for running errands downtown). Its manners at speed are even more flattering. The suspension is compliant but firm, keeping the car flat while cornering. At triple-digit speeds, you glide in luxurious tranquility-a peek at the speedometer is necessary to inform you that you're running in "let me introduce you to your cellmate" territory.

The accelerator, brakes, and after-market Kevlar clutch have a positive, friendly feel. The steering is heavy only at rest, lightening as you go faster while always giving proper feedback and strong return action. Understeer on tighter turns pulls the nose in, yet the chassis remains neutral on fast sweepers. The brakes offer marvelous feedback, repeatedly hauling the BB down with authority.

Still, it is the engine you recall. To truly appreciate its tractability and grunt, start from a dead stop in second. With no hesitation whatsoever, the head of steam steadily builds to 3500 rpm. Above 4000, everything comes alive: Now rocketing forward, the car accelerates with increasingly greater vigor the higher the tach needle climbs, strongly pressing you into the grasp of the buckets.

Although the injected-12 doesn't have the loud, aural excitement of the carbureted Ferraris, it plays a lovely note of subdued, luxurious excitement-the raspy, hollow music of a Formula One car in action. In fact, the BBi is so proficient, so superbly competent, that you never feel it breaking a sweat, never giving you the sense that it is trying hard. Only the speedometer lets you know you're moving extremely rapidly.


What to Look For


With fiberglass valence pans and aluminum panels, rust is generally not an issue, though door skins might start pulling away. Still, Michael Duffey of Fantasy Junction recommends putting one on a hoist so "you can look for chassis damage. If you find any frame rails that appear 'kinked,' the car has been hit and not properly repaired."

Cammisa Motor Cars' Brandon Lawrence and Southern California's Tom Shaughnessy point to weak clutches as a trouble area, while Forza Motorsport's Peter Sweeney says to check for weak second-gear synchros. Dash tops also have a habit of shrinking from exposure. Duffey notes that the earlier cars' interiors and paint had a tendency to wear out quickly.

FORZA's technical consultant, Tony Palladino, says to check for worn differential-carrier bearings, worn/cracked cv joints and boots, seized advanced distributor weights, and a righthand fuse panel that is prone to melting at the electric radiator fan circuit. Palladino also cautions that "excessive smoke out of the tail pipes on a cold start might mean ring-sealing problems."

All of FORZA's experts stress that proper smog equipment is a must, particularly for California buyers. "One of the first things I do for California cars is to look for the BAR sticker in the door jam," Lawrence points out. "If it's there and current, you don't have a problem. Otherwise, you are looking at a major expense."

Ex-owner Shaughnessy says to also examine shocks and exhaust systems. "These days," he cautions, "a 365 exhaust is almost impossible to find." AII our experts feel that service records are imperative. "The first 50,000 miles are easy," Duffey notes. "It's the next 50,000 I worry about. Records document mileage. A reasonably priced Boxer can become unreasonable in a hurry if major work is needed."


How Much To Pay?


In spite of its superlative road manners and eye-catching design, "BBs are a hard sell," Duffey says. "Boxers are like Mike Tyson," Sweeney agrees. "They don't get any respect anymore. The market is soft."

Tom Shaughnessy is even more bearish. "They are the softest offering in the Ferrari market," he says. "As an old car with a new body style, it loses big because it doesn't appeal to either new or old car buyers. Also, a lot of lay people think it's a 308. What they don't know is that this is a serious car, not something entry level."

Get past such perceptions and you have found a gem. "It's a great car," says Lawrence, "the last of the muscle cars. Sure, a Testarossa performs better, but it doesn't offer the same feel and excitement. Boxers are nice and noisy, not 'virtual reality' cars like so many others today."

The soft market makes it an opportune time to shop, with our experts saying there is no price differential between a 365, 512 or BB 512i. Peter Sweeney places values $55,000-95,000, depending on condition "Very few trade at the high end of the market," he notes. "The real number is above $60,000 and below $80,000."

Michael Duffey's figures are close to Sweeney's. "It's hard to find a bad Boxer," he says, an opinion shared by all our expert "One that is a strong runner with faded paint and a ratty interior will bring $5055,000. A really good car that isn't quite th best would retail for $75,000. The best com mend a premium above that, even though I really haven't seen one in that condition move recently."

Tom Shaughnessy says "$55,000 is entry level, buying a Boxer that is 'just a ear,' on with faded paint. A very good car will cost $70,000-75,000, while $95,000 gets 'Pebble Beach' type quality-a 52000 serial number with plastic on the sills. Having said that, I'mm not sure one of those actually exists."

Brandon Lawrence feels "the market is $65,000-95,000. The low figure buys something mediocre, while $75,000 gets a a very nice Boxer. Another $ 10,000 gets a great one, although an '84 with proper California papers and releases fetches over $90,000."


Which Model To Buy?


Before heading out the door, checkbook in hand, the key is to determine which car is right for you. Although I was completely enamored with the BB 512i's performance and civility, a properly sorted 365 is the fastest, but most basic. Yet, "I used a 365 as a daily driver for almost three years," Shaughnessy laughs (see sidebar). "Like all of the BBs, its powertrain was bulletproof."

"If I had my pick," Duffey seconds, "I would take a 365. It's a twitchy, very exciting drive-like a Lamborghini Miura with a Prancing Horse on the front. The 365 feels very much hand-built; when stuff fell off you would find number stampings."

Peter Sweeney is also a fan of the 365: "That is the one to keep. It is the most primitive, but the most enthralling. Most have gone to Japan-they are the only ones enamored with them. I also love the carbureted 512. The sound is fantastic-just like a Formula One racer. You just look for an excuse to run it hard."

Brandon Lawrence is thoroughly sold on the BB 512 i's refinement, also because he prefers the last of any model run: "As a result of California's ever-tightening smog requirements, I really haven't sold a carbureted Boxer in 8 years. Besides, the fastest I have gone in a car was in an injected BB when the speedometer showed 185!"


Summary


If you believe the old Wall Street saying of "Sell into strength, buy into weakness," then this is an ideal time to shop. In its day, the BB was Maranello's ultimate, and as such it is the only top-of-the-line Ferrari priced under $100,000. Spend time with a nice, tight Boxer, and it is difficult not to be affected by its shape, performance and charms. Being an ax-Daytona owner I would certainly take a BB over my old steed, for the BB is a much more useable, modern feeling car, and leaves little on the table in terms of straight-line performance and eye-catching appearance.

So why are Boxers languishing? Tom Schaughnessy's "BB's aren't new cars or old cars, so no one covets them" observation speaks volumes. Furthermore, when first introduced, Boxers didn't meet Ferrari's quoted performance figures like its Daytona and 275 OTB/4 predecessors, while initial quality and refinement were hit and miss. Production was over 2,000, some fifty percent more than the Daytonas and almost six times that of the 275 GTB/4s.

Yet some day that larger production number may not be enough. "Since 1990, Boxers have been illegal to import into the U.S.," DOT's Dick Merritt points out. In other words, no new ones are entering the US, and those exported aren't coming back. While our supply may be plentiful now, it is finite and quietly dwindling.

Want more information? Search the web!

Search The Auto Channel!