A Visit With the Inventor of the Wheel

When we asked photographer RICK McBRIDE to search his long-forgotten files for pictures that might be of special interest to FORZA readers, he sent us this series from a visit with the master creator of steering wheels, ENRICO NARDI, dated 1963.

S ome functional objects of the past are so right, from a purely technical viewpoint as well as aesthetically, that they attain a standing of timeless significance. The design of these objects cannot be changed or improved. As far as equipment for the sports cars of the early postwar era is concerned, a Borrani wire wheel is one such object, Nardi steering wheels are another.

I first met Enrico Nardi in Torino during 1963,when I went to have one of his steering wheels fitted to my brand new Lancia Flaminia, as this was pretty much de rigueur at the time. While every Ferrari of this era came equipped with a Nardi volante, they were also available as an expensive accessory for certain prestige cars - my Flaminia, of course, qualified.

I took delivery of the Lancia just a stone's throw away from Nardi's facilities in Via Vincenzo Lancia, the low buildings set literally in the shadow of the Lancia skyscraper. So I could always say that Enrico Nardi himself had run my Flaminia back and forth, lovingly, over his cobblestone courtyard in order to get the three-spoke wheel perfectly centered.

I was fascinated by Signore Nardi and his wheels. The walls of his office were covered with signed photographs from the giants of the sport, a choice location going to a picture of Alberto Ascari sitting in the first Ferrari - the vettura 815. He expressed particular pride over the strength and integrity of his wheels which, according to him, had saved many a race driver from serious injury.

A man of many talents, Enrico Nardi, born in 1907, left Bologna in the Twenties. His first serious job in the automotive business was with Lancia, where his humble task entailed testing trucks. Somehow he caught the eye of Vincenzo Lancia, and remained something of an advisor to the Lancia firm's founder until the latter's death. At the time, Nardi had already built a race-car special powered by a JAP motorcycle engine, and used it successfully in hillclimb events. Nardi left Lancia in 1937 to join Scuderia Ferrari as a mechanic/test driver, and again gained the confidence of the boss. This led to Nardi's work on the 815, which was powered by two four-cylinder Fiat engines joined together. One of these cars competed in the 1940 Mille Miglia, piloted by the nobleman Marchese Lotario Rangoni Machiavelli di Modena - with Nardi as co-pilot. Nardi stayed with Ferrari during the war years, when the firm's output had to be shifted to products dictated by government needs.

After the war, in 1946, Nardi set up his own company with partner Renato Danese. The firm specialized in various speed equipment, but also built a small series of race cars powered by a gamut of engines, ranging from a 750 cc BMW motorcycle unit to an 1100 cc Fiat and a 2500 cc Alfa Romeo. These cars were known for their low weights, and attained a measure of success. A curious note is that California team owner John Edgar actually bought a Nardi-Danese, but the car was never entered, Edgar instead opting to have his drivers campaign Ferraris.

By the mid-Fifties, Nardi began to tire of the car-building business. His last effort was a curious twin-boom sports car built for the 1955 Le Mans 24-hours. The strange contraption had two wheels and the driver in one fuselage, and a 750 cc Giannini twin-cam engine and two wheels in the other. The car came to start, but met with an accident in the second hour. That was the end of Nardi's car building adventures, and he now concentrated on the line of high-performance products- such speed-enhancing parts as special manifolds, crankshafts, camshafts, and more - as well as his very expensive and elegant steering wheels.

Speaking of expensive, my historian colleague, Jim Sitz, located an advertisement in a 1950 issue of Road & Track where Nardi steering wheels were offered for sale at $28.00 - that at time when a working-man's salary was no more than $40.00 a week. Today, these steering wheels can fetch one hundred times their original cost, and it takes $400 just to have one restored.

According to a 1952 Nardi sales brochure, the first postwar Ferrari was equipped with a Nardi steering wheel. This was apparently quite different in its styling than the design that was developed later, and featured walnut instead of the African mahogany wood.

Back to my 1963 visit to the Enrico Nardi facilities. I can still visualize through my inner eyes how, as one entered the gated property, there were two rows of low buildings, separated by a long courtyard. Through the open doors, one could see long rows of old race cars, and groups of workers involved in the various aspects of limited-scale manufacture- even then, 36 years ago, it all seemed like a scene from another era, an era when all were artisans and everyone took great pride in their level of craftsmanship (why is it that Italians always seem to do this kind of thing much better than anybody else?).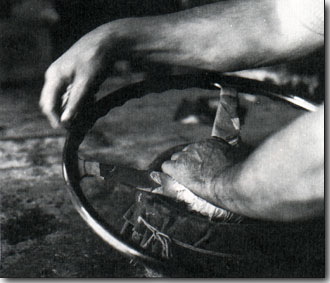 After my visit with Signore Nardi, I was taken around to the various work stations and promised that I could take pictures (these were intended for Road & Track but were n ever used, and while looking for the photos in preparation for this article I found a letter sent to me many years later from the then-editor, Dean Bachelor, excusing the delay in returning the material), but I soon discovered that many aspects of the operation were jealously guarded secrets, so much so that to many of my questions I was given a terse but polite segreto (secret) as an answer. It went like this:

"What kind of special glue do you use to laminate all these strips of wood?"

"Segreto!"

"How do you join these curved sections?"

"Segreto!"

"What kind of lacquer do you spray on as a final finish to your steering wheels?"

"Segreto!"

"And what about the black line that goes around the rim, what function does that have?"

"Decorativo!"

And so it went. Now, in retrospect, I'm surprised at how much of the operation I was actually able to photograph.

Only three years after my visit, I heard that Enrico Nardi had passed away, just 59 years old. His widow eventually sold the name, so that today it still survives, although the products are quite different.


Want more information? Search the web!

Search The Auto Channel!