AutoZone continues growth with Auto Palace purchase
AUTOZONE, Inc., has reached a definitive agreement to acquire Auto Palace in a transaction valued at $55 million, according to John C. Adams, Jr., chairman and CEO of AutoZone.

Auto Palace, a 22-year-old privately held company based in Brockton, MA, owns 112 retail auto parts stores in six notheastern states - Connecticut, Massachusetts, New Hampshire, New York, Rhode Island and Vermont. The Auto Palace stores will be converted to AutoZone stores once the transaction meets regulatory approval.

"This acquisition gives AutoZone a meaningful presences in a brand new market," said Adams. Prior to this, we didn't have any stores in five of the six states where Auto Palace operates and only a handful of stores in New York. We're comfortable with the value, we've visited their locations and we've researched the markets extensively. Auto Palace is a dominant player in the northeast, and I'm tremendously excited to be adding so many top-notch parts people to the AutoZone team.

"Strategically, this purchase makes sense, and it's a solid boost to our already rapid expansion plans."

AutoZone sells auto parts, chemicals and accessories through its chain of 1,772 stores in 32 states. The company plans to open 350 new stores in fiscal 1998.

In 1997, AutoZone opened 305 new stores nationwide and entered five new states-California, Maryland, Iowa, New York and Nevada. As with the Auto Palace purchase, these states greatly enhanced AutoZone's overall geographic presence.

"Opening 305 new stores last year was a great accomplishment. What's really exciting is the fact that so many of them are in markets where we didn't have a presence a year ago," said Adams.

California and New York are good examples of markets where AutoZone has been able to catch on quickly with the buying public, said Adams. "They are large areas with big car populations and lots of people who do their own repair work," he points out, adding that California saw eight new AutoZone outlets while New York added 11 stores.

AutoZone's net income in the first quarter of 1998, which ended November 22, 1997, was $47.5 million with per share earnings of 31 cents. The same quarter in fiscal 1997 saw a net income of $38 million and per share earnings of 25 cents. First quarter sales in 1998 were $675.3 million.

We have a winner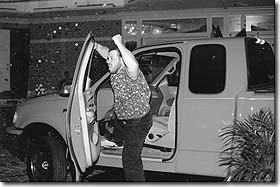 Thomas Hughes of Petersborough, NH, pumps his fist in the air after winning a new Ford XLT Super Cab 4x4 truck in the All Pro/Bumper to Bumper Winner's Circle Sweepstakes. More than 2.5 million customers entered the sweepstakes, but only Hughes had the key that started the new truck during a celebration last October at the All Pro/Bumper to Bumper Auto Parts 300 held at Charlotte Motor Speedway.


RETAIL BRIEFS
Editor's Note: This column focuses on retailers' updates. Included are top executive appointments, awards, business transactions, promotions and other news.
Beck/Arnley Worldparts Corp. of Nashville, TN, has introduced PartsLink, a 24-hour customer service telephone line that allows customers to access BWC's inventory of more than 26,000 part numbers. PartsLink connects callers to the BWC mainframe computer through a reliable, secure link that provides fast, accurate and convenient access to inventory. Using a touch tone phone, callers can check stock and place emergency orders.

BWC is the largest U.S. distributor of OE-quality parts for the import aftermarket. For information about PartsLink, contact Beck/Arnley customer service at 800-256-3058.
Republic Automotive Parts, Inc. announced 1997 third quarter net sales of $50.3 million, with a net income of $1.1 million. During the same quarter in 1996 the company's net sales totaled $47.2 million with a net income of $1.6 million. For the nine months ending September 30, 1997, net sales amounted to $146.2 million with a net income of $3.2 million. Comparatively, 1996 net sales were $139.9 million in the first nine months with a net income of $4 million. Republic President Keith M. Thompson attributes the lower earnings to an industry-wide softness in retail demand for replacement automotive parts.

Republic distributes replacement parts through 11 distribution centers and 90 autoparts stores in 13 states. The company also distributes automotive body parts principally in the southeast through 19 distribution facilities.
Assets of Assets of Apex Automotive Warehouse and its associated Whitlock stores have been purchased by Tri-State Automotive Warehouse, Inc., and The Menco Corporation, according to Parts Plus President Mike Lambert. Apex is a Parts Plus member warehouse that will now operate as a subsidiary of Tri-State Automotive, based in Northlake, IL.

Parts Plus has more than 2,000 auto stores and Car Care Centers throughout the United States and Canada. The company has 37 member warehouses operating more than 120 distribution centers.
Discount Auto Parts has presented Gabriel Ride Control Products and Maremont Exhaust Products with its 1997 "Manufacturing Partner of the Year" award for providing consistent quality products and superior customer service. Both companies are divisions of Arvin Industries, Inc. Discount Auto Parts has more than 400 retail outlets in Florida, Georgia, Alabama, S. Carolina and Mississippi.

Want more information? Search the web!
Search The Auto Channel!