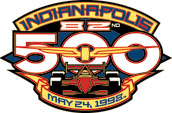 The 82nd Annual Running of the Indy 500
If you're looking for the hottest live TV programming from the Brickyard, Indy 500 news, feature articles from the desk of our motorsports editor, or photos from the track, we have it!
The Auto Channel is on the scene at the 1998 Indy 500 and continues its tradition of bringing "The Greatest Spectacle in Racing" to the net. We provide unparalleled coverage of the Indianapolis 500.
Special 1998 Indy 500 Coverage

Want more information? Search the web!
Search The Auto Channel!