Vigilante 8
Playstation

| | |
| --- | --- |
| Publisher: | Activision |
| Developer: | Luxoflux |
| Players: | 1-2 |
| Difficulty: | Easy |
| Camera: | Far Chase, Cockpit |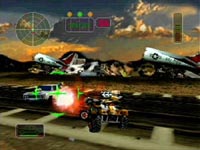 The Gameplay In Vigilante 8 Rivals Twisted Metal In Many Ways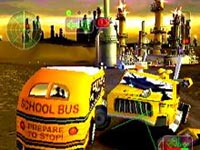 Just Two Of The Many Secret Vehicles Able To Be Unlocked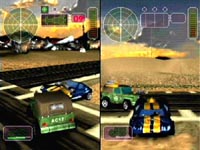 Multiplayer Is Played Via Split Screen; Either Vertical or Horizontal

(Images above taken from the Nintendo 64 Version)

---
| | | |
| --- | --- | --- |
| Control: | | (4) |
| Graphics: | | (5) |
| Sound: | | (4.5) |
| Replay Value: | | (4.5) |
| Overall: | | (4.5) |
Vigilante 8 Proves That You Don't Have To Be Twisted Metal To Be The Best
Everybody knows about Twisted Metal, the classic Playstation car combat game, as well as the superb sequel. But, since the developers of the Twisted Metal Series (their name escapes me), no one has really been able to get the car combat equation right again. No one, that is, except for Luxoflux, and Activision. The creators of the other truly great car-combat game, Interstate 76, have convened and produced the next great car-combat game, Vigilante 8.
Vigilante 8, from Activision, takes place in the 70's, during the oil shortage. I personally like the fact that they were historically accurate on that point. At any rate, OMAR, a group trying to monopolize the worlds oil reserve, is trying to get the United States to agree with its terms. But, being the stubborn superpowers that we are, we disagree. This leads OMAR to hire a terrorist named Sid. Sid recruits a band of outlaws called the Coyotes, who terrorize small towns, and destroy oil refineries. That's when the Vigilantes come in, to stop the Coyotes. One thing leads to another, and after a raid on an U.S. Military base, the Coyotes and the Vigilantes both have alien weapons technology. I don't know about you, but this seems kind of hokey to me. But, it is a good idea for a back-story to a car- combat game, even though one usually isn't needed.
Vigilante 8 has great graphics, thanks to an ultra modern engine. All of the levels are rendered beautifully, from the dark, bleak oil refineries of Texas, to the glitzy casinos of Nevada. And the best part is, EVERYTHING IS DESTRUCTABLE. This gives a realistic feel to Vigilante 8 that was missing in games like Twisted Metal. The vehicles in Vigilante 8 are also designed very well. And since the game is set in the 70's, you have many of these to choose from. There are a range of 70's muscle cars, as well as a camper, a dune buggy, a big rig, and, yes, a school bus. Each vehicle is detailed beautifully, with appropriate color shading. And when you take damage, it shows. The vehicles can go from a sparkly clean brand new right-out-of-the-showroom beauty in the beginning, to a wrecked up heap of junk at the end of a long battle. Each car has its own differing statistics. As you would guess, the school bus has great armor, but very little speed, whereas the Rattler has lots of speed, but very little armor. In addition to this, each car has its own suspension system. When going up hills (or, as it may be, falling down them), the school bus, for example, reacts very differently than the Leprechaun (a Gremlin). This is a great addition to this kind of game, and this reviewer applauds Activision for the attention to detail.
The sound in Vigilante 8 is also superb. Each car has its own respective driver, and each driver yells a unique phrase when firing off his or her special weapon. It's hilarious hearing the beekeeper in the camper yell, "Swarm!!", or the military test pilot yell, "Bomb's away!!!". Also, the music of Vigilante 8 is great. It keeps with the seventies feel- disco tunes and twang guitars ring throughout. Another great addition, although small, is the individual motor sounds for each car. This again shows Activation's great attention to detail.
As I mentioned above, the weapons of Vigilante 8 are great and unique. There are lots of regular weapons, like a homing missile and a machine gun (along with many others), as well as devastating weapons for each of the individual cars. The special attacks range from the apocalyptic (Loki, the military test pilot's 3 patriot missiles), to the pointless (Molo, the bus driver's exhaust smoke). It would have been nice if Activision had made the weapons a little more balanced, as some weapons can win the match with one use.
The control in Vigilante 8 is probably its only semi-disagreeable feature. When controlling the bigger vehicles, it is almost impossible to perform a 180-degree turn. Even the smaller vehicles, which supposedly have better control than the others, are difficult to maneuver. Also, when going up a hill in nearly every vehicle, one has to back up 200 yards and then go at full speed. It's not that bad, but it becomes pretty tedious when you're trying to turn around and get the person who's been shooting you in the back with machine gun, or to save your partner who is on top of the next hill.
Activision has succeeded in creating a great car combat game on Playstation, possibly even the best. It's small control problem cannot keep this game from going to the top, and I suggest any racing, car combat, or hell, any game fan pick this one up.
-Andrew Sturgeon


---
CHEATS
Codes-
Enter these on the Password screen in the Options Menu
-Extreme Difficulty: HARDEST OF ALL
-Very Difficult: I AM TOUGH GUY
-Invincibility: I WILL NOT DIE
-Reduced Gravity: REDUCE GRAVITY
-Play As The Same Character: SAME CHARACTER
-No Enemies: GO SIGHTSEEING
-Stronger Homing Missiles: DEADLY MISSILE
-All Levels and Secret Characters: WMNNWLHTSCUCLH
-View All Movies: SEE ALL MOVIES

Secret Weapons-
Each weapon has two secret ways of using them. The manual that came with the game has one of them. Below are the rest...
-Roadkill Mines: Cactus Patch: Left-Right-Up-Fire Machine Gun/Cost 1-6 Mines
(Lays up to 6 mines behind your vehicle)
-Bull's Eye Rockets: Stampede: Up-Down-Up-Fire Machine Gun/Cost 1-5 Rockets
(Fires up to 5 rockets one after the other)
-Bruiser Cannon: Cow Puncher: Down-Up-Down-Fire Machine Gun/Cost 2 Shells
(Fires two shots at the same time for a lot of damage)
-Sky Hammer Mortar: Turtle Turnover: Down-Down-Down-Fire Machine Gun/Cost 2 Shells
(Flips your opponents vehicle upside-down)
-Interceptor Missiles: Halo Decoy: Up-Up-Down-Fire Machine Gun/Cost 2 Missiles
(Used to make homing missiles or specials to track it instead of your vehicle)

Passwords in Quest Mode-
Enter these on the Password Screen in the Options Menu
Coyotes
Loki
THLOHJWURONKLQ (Mission 1)
VIBWYIVGOPAUWX (Mission 2)
CEJMULWPCYYAVS (Mission 3)
PGGOVIUNUQEIVU (Mission 4)
Houston 3
BDPTGXUBXOCCKE (Mission 1)
GCTPCXCCIWXVUJ (Mission 2)
NXJFNPZXRAAGMB (Mission 3)
DTQQSKTRYIHGEN (Mission 4)
Boogie
FOJGCRHLWMUQZV (Mission 1)
DRFIQVOUYIHGEN (Mission 2)
WCHPZDGBCYEDBF (Mission 3)
JHAZRUUMTLUYBG (Mission 4)
Beezwax
YUYFNKTAQGLNYW (Mission 1)
TXXKKGEWRONKLQ (Mission 2)
KHUSNNWJXORZHK (Mission 3)
UIBRJCCYSARVH (Mission 4)
Molo
EDDNXIAPNTRDBA (Mission 1)
ITAHZJRMYTLSJQ (Mission 2)
NPRJUYRYRAAGMB (Mission 3)
AKFQPUISMWAHWA (Mission 4)
Sid Burn
LPHPMMDNMPEMVB (Mission 1)
PEONQGUNUQEIVU (Mission 2)
XOKIXDXBKQRFOJ (Mission 3)
OYROHGBDNLSJSI (Mission 4)

Vigilantes
Chassey Blue
AOGIKYFGQQTWGA (Mission 1)
YMBEJEOPDHYHZV (Mission 2)
RIPJNYEPGFPJAI (Mission 3)
HGFTDDNMUBXRLV (Mission 4)
Slick Clyde
TNLCROHSQAZDMQ (Mission 1)
QDANNFHMSLBMWF (Mission 2)
FYLYRFKEAHGGAW (Mission 3)
OIRYEEBGDBNHBJ (Mission 4)
Shiela
EDAOHLJIOUEDBA (Mission 1)
HSDNTZSGVOGCLP (Mission 2)
NTWZYUQSPXMHMB (Mission 3)
BXINCWNWGCQVJF (Mission 4)
John Torque
WSLZFBNQDTFDBF (Mission 1)
BXNJRYSXTYACKE (Mission 2)
IBXGFDQBSNISJQ (Mission 3)
ZCTEAFJVMNDJUT (Mission 4)
Dave
PYQXPDUMJNBOUP (Mission 1)
OULIUZTJHPKWTD (Mission 2)
QYDJBUYBZTEUQC (Mission 3)
Convoy
AIHJZNIFPZNFWA (Mission 1)
UKXCXCOAIGOKVH (Mission 2)
KHREIWYIZREYHK (Mission 3)
VSNKJVURSUNRWX (Mission 4)