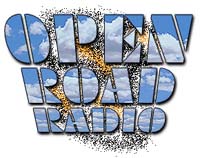 Open Road Radio
hosted by Gina Woods, Dan Schmitt and Jim Viverito
WEEKLY SEGMENTS:
Celebrity Guest Hosts
Live Interviews
Ride & Rally Reviews
Moments in Motorcycling History
Tech Tips
News & Legislation

Restoration Tips
Team Chicago Racing Updates
New Product Reports
Motorcycle Music
Listener Call-Ins
Prize Giveaways
| | |
| --- | --- |
| | Plans, produces and coordinates show material and broadcasts. Gina started as a broadcast professional with WVVX and US99. Her history with motorcycles includes retailing with Harley Davidson, Co., and runway show designing, promoting, and coordinating with J & P Productions. She has been riding for 8 years, and currently owns a '49 Harley Davidson Panhead. |
| | |
| --- | --- |
| | Plans, produces, and corrdinates show material and broadcasts. TigerLady is also a Contributing Editor to Ironworks and Thunder Press and Editor of the Mean Bikee Chix Newsletter and producer of the MBC Hot Dates Calendars&tm;. She started riding 22 years ago, was service writer at a Honda cycle shop, and currently owns an '89 Honda NT650 Hawk GT. |


BIKER ACTIVIST
Jim has been involved in the sport of motorcycling for years. He is a racer with A.H.R.M.A. and has served as President of Chicago A.B.A.T.E. He currently rides a Harley-Davidson Lowrider.
| | |
| --- | --- |
| | Weekly feature since January 1997, featuring AMA-sanctioned race results, other race association news, interviews with notable racers, and discussion of various types of racing. Dan races in AMA events with Team Chicago Challenge, on a Yamaha factory-supplied and is sole producer of Team Chicago Challenge, a Midwest weekly motorcycle half hour racing television program, available on 26 cable and broadcast outlets covering all of the greater Chicagoland area, Western Michigan, and Northwest Indiana. |
| | |
| --- | --- |
| | Weekly feature since January 1997 showcasing local, national or international rides, rallies, or destinations. Bob started riding in the '50s in motorcross and scrambles, in amateur racing and dabbled in race promotion. Bob currently rides a '97 FLHTCI. |
| | |
| --- | --- |
| | Elaine started riding 10 years ago to keep up with Bob. She rides a Harley '95 FXDL. |
Want more information? Search the web!
Search The Auto Channel!