SOUTH FLORIDA INTERNATIONAL AUTO SHOW
October 6th 2000

Exclusive 'TV ON THE NET' Broadcasts
Only THE AUTO CHANNEL Brings You Every New Vehicle Introduction
& Every Press Conference


Amid sun-kissed skin, breezy tropical nights, miles of sandy beaches, and a flurry of tropical storms, The Auto Channel made its second annual trek to the tropics to broadcast the introduction of the hottest bodies in Miami Beach. The Auto Channel was there to capture the official new vehicle announcements of seven manufacturers, numerous consumer presentations, and entertainment shows of North America's first International Auto Show of the season this October 6, 2000.

The 30th Annual South Florida International Auto Show at the Miami Beach Convention Center kicked off its 10 day showing of over 1000 vehicles representing more than 100 exhibitors.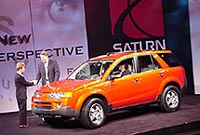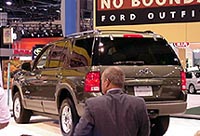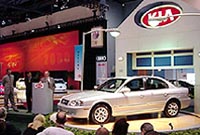 Saturn Corporation unveiled their first SUV and Ford Motor Company is presented their redesigned 2002 Explorer. Kia Motors of America introduced its "biggest Kia ever!"-- The Optima mid-sized sedan, while Hyundai Motor America will revealed two vehicles: The 2001 Elantra and all-new full-size XG300 sedan

Volvo Cars of North America presented their all-new sporty S60 sedan to the US public, while Daewoo gave a corporate update and showed off their new option package for the Lanos. Chrysler discussed their 2001 Sebring convertible and newest concept cars.

Also, Local favorites, such as Million-Dollar Alley, showcased high-end marks, such as Rolls Royce, Ferrari, and Bentley. While Memory Lane displayed a large variety of privately owned classics that have been preserved throughout the decades. And, the Auto Show Mall provided a variety of products for people who pamper their automobiles.
Schedule of Press Events
Video
Time
Manufacturer
9am
Saturn
10am
Ford
11am
Kia
1:15pm
Hyundai
2pm
Volvo
2:30pm
Daewoo
3pm
Chrysler

Vehicle Presentations
Video
Manufacturer
Aston Martin
Bentley and Rolls-Royce
Buick Lacross
Buick Park Avenue Ultra
Chevrolet "Horizons" (musical group)
Honda Insight
Infiniti I-30t
Isuzu Rodeo Sport (english)
Isuzu Rodeo Sport (spanish)
Lexus SC430
Mercedes-Benz C-Class
Neiman Marcus Ford Thunderbird
Oldsmobile 2002 Bravada
Panoz Esparante
News Articles
See coverage of last year's Auto Shows
Want more information? Search the web!
Search The Auto Channel!