New Talladega Grandstand Named After Allison Family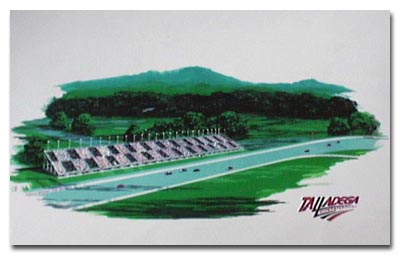 Talladega, Ala. - Talladega Superspeedway is honoring Alabama's first family of racing with the addition of the Allison Grandstand, speedway officials announced today.
The new Allison Grandstand will replace the current grandstands on the backstretch and will have the same 22,000-seat capacity. It will be ready in time for October's Winston 500.
The Allison Grandstand will be elevated nine feet and will begin at the exit of turn two. It will be more than 1,000 feet in length and 30 rows high. The Allison Grandstand will include three permanent concession stands and three restrooms.
"The Allison family has done so much for motorsports in our state and Talladega Superspeedway that we felt it was only fitting to name our new grandstand after them," said Talladega Superspeedway president Grant Lynch. "When NASCAR fans think of Alabama they think of the Allisons and Talladega Superspeedway. It's just a natural fit.
"This certainly is an addition we are going to be proud of, and we think the Allisons will be proud to have their name on it."
Bobby, Donnie, Davey and Clifford Allison all raced at Talladega Superspeedway in NASCAR Winston Cup or ARCA Series events. Bobby, Donnie and Davey scored a combined nine Winston Cup victories at their home track. Bobby led the way for four victories, followed by Davey's three and Donnie's two.
"I always looked forward to racing at Talladega, and I still enjoy coming back when the races are in town," Bobby said. "The renovations they have done have really made the place look nice. I can't wait to see it when they finish the grandstand on the backstretch. I am extremely delighted to have our family's name on it."
"I've always felt that Talladega Superspeedway was a part of my life, today I feel like they've made me and my family a part of them," Donnie said. "As they continue to grow and move forward, it's exciting that we are a part of it."
With the capacity to put nearly 100,000 seats along the backstretch, Talladega Superspeedway plans to name sections after all of the Alabama Gang members. Farmer and Bonnett grandstands will be next in honor of members Red Farmer and Neil Bonnett.
Talladega Superspeedway just recently finished a $10-million renovation project, that included 5,000 tower seats at the south end of the frontstretch. An additional 5,000 tower seats will be added at the south end of the frontstretch in time for October's Winston 500.
Seats for the new Allison Grandstand and the 5,000 addition tower seats are currently on sale. For ticket information call (256) 362-RACE or visit www.DAYTONAUSA.com.