Ordering Information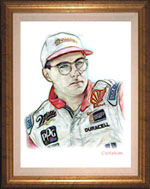 Thank you for visiting Visions Of Speed. The artwork presented on this site can be purchased either framed or unframed. All artwork can be printed on high quality glossy paper (8.5" x 11"). The artwork can be framed as shown, ready for proud display in your home or office. Framed artwork has an 8" x 10" mat opening.
All prints are limited edition. The number of prints vary for each piece of artwork, but no more than 500 of each print will ever be sold. A certificate of authenticity will be shipped with your artwork. The prints will be serialized and signed by the graphic artist (Terry Callahan). The price for unframed prints is $10.00. The price for framed prints is $20.00 (plus $5.75 shipping in the United States).
Send Inquires and Orders To:
Callahan Designs
1030 Belvedere Drive
Slidell, LA 70458
TEL: (504) NEW-DIXI
(504) 639-3494
Special Projects: Terry will be happy to produce artwork for all your needs, personal or professional. The artwork can be printed or used electronically on web sites. Terry's arwork is genterated using high quality photographs as models. Contact Terry for any "special projects" you may have.
Terry Callahan is a motorsports journalist and graphic artist. Credits include: Motorsports Editor, The Auto Channel; Senior Staff Photographer, The Race Net; CBS Sportsline; IndyPhoto; Racing Cards West; Stefan Johannson Karting Centers; Conseco; rickyrudd.com; The Internet Fine Arts Database; turn2.com; and a variety of other electronic publications.
Main Menu | CART | NASCAR | IRL | VINTAGE | Ordering Information
---