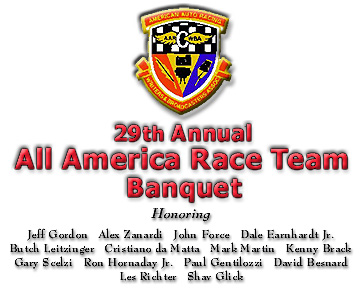 9:00pm PST Wednesday, January 20th
Twelve of the nation's most successful auto racing drivers in 1998 will be honored at the 29th annual Auto Racing All American Team banquet at the Renaissance Long Beach Hotel, along with two veterans of the sport, promoter Les Richter and sportswriter Shav Glick.
Also to be commemorated at the banquet staged by the 500-member American Auto Racing Writers and Broadcasters Asssociation is the most famous street race in US history, the Long Beach Grand Prix, now in its 25th year.
The All American team, consisting of two each from stock car, open wheel, drag, short track and road racing and two drivers at large:
Jeff Gordon of Pittsboro, Ind., the youngest-ever three-time NASCAR Winston Cup champion, and his closest challenger, Mark Martin of Batesville, Ark.
Championship Auto Racing Teams' two-time driving champion Alex Zanardi of Italy and Sweden's Kenny Brack, winner of the Indy Racing League title.
Eight-time National Hot Rod Association funny car champion John Force of Yorba Linda, Calif., and two-time top fuel champ Gary Scelzi, Fresno, Calif.
NASCAR Busch Grand National champion Dale Earnhardt Jr. of Kannapolis, N.C., and NASCAR Craftsman Truck series winner Ron Hornaday Jr., Palmdale, Calif.
Butch Leitzinger of State College, Pa., winner of Professional Sports Car Racing's world championship and runner-up in SCCA's runaway winner in the Trans-Am series.
PPG-Dayton Indy Lights champion Cristiano da Matta of Brazil and SCCA-USAC Formula 2000 champion David Besnard, an Australian living in St. Petersburg, Fla..
One of these drivers will receive the prestigious Jerry Titus Memorial Trophy, which goes to the auto racing writers' and broadcasters' "driver of the year."
Richter, a football All American lineman at California and all-pro linebacker for the Los Angeles Rams, is winding down his 37-year career in auto racing. First as president at Riverside International Raceway, later as a founder of the International Race of Champions series, a NASCAR vice-president and an official of Penske Motorsports Inc. who supervised the construction and successful launch of California Speedway, Richter is one of the most influential officials in the sport today.
Glick, who started reporting auto racing in the early 1960's at the Los Angeles Mirror and ever since with the Los Angeles Times, is a multi-award winning writer and one of the nation's most honored motor sports journalists.
Want more information? Search the web!
Search The Auto Channel!