New Motorcycle/Review
Honda CBR900RR Fireblade (1999)
by Alexis Bachofen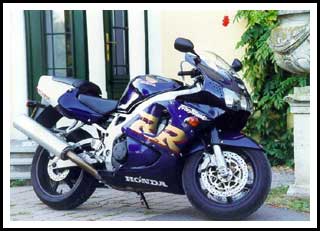 What better way to test a motorcycle than ride it over 2000miles in 10 days - or from London, England to Lebring, Austria and back? Passing through some of the most beautiful countryside in the world, my trip was to take me through England, France, Belgium, Germany and finally Austria.
I had worried for many weeks which bike was going to accompany me on the trip through Western Europe, and finally after debating with Scott Grimsdall at Honda UK came up with the Honda CBR900RR Fireblade. How was my body going to stand up to the test let alone the motorcycle? The Firebalde is better know as a race bike than a tourer, but from the moment I picked up the bike from Honda UK I knew I'd made the right decision.
Armed with my passport, insurance documents, Eurostar ticket and map I set off with all my essentials crammed into my Gearsack tankbag, that was happily stuck to the Fireblade and kindly supplied to me by Steve Coyne at AJ Sportex Ltd. In fact I was very surprised at how much I could indeed fit into the tankbag. It easily held, 1 jumper, sneakers, jeans, 2 T-shirts, 1 large hardback book, change of underwear, cap, camera, 1bottle of water, clear visor and various other essentials.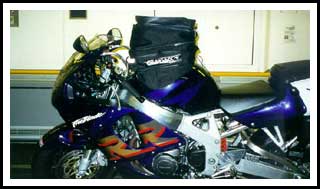 The tankbag has the added advantage of zipping and unzipping into two separate halves, both of which have incorporated map-readers. It fits on any bike and is also one of the few guaranteed waterproof tankbags. At just under £90 it's the best quality and looking tankbag I've ever used.
I was wearing a set of Tech Road Jackets and Pants as well as Alpinestars GP Tech boots all kindly supplied by Alpinestars Italy. The Tech Jacket is perfect for touring, made from Cordura and Ballistic nylon it can withstand even the heaviest weather and is fully breathable with a removable thermal liner. It also has fully adjustable CE approved shoulder and elbow protectors as well as a good back protector that straps around with the jacket buckle. The Tech Pants are made from the same material and also include a removable thermal lining and CE protectors at the knees. Plenty of easily accessible pockets complete the jacket and pants. The GP Tech boots are the best available boots on the market. Fully waterproof, as comfortable as slippers and well reinforced with Carbon and Kevlar, it's no wonder they are the choice of so many racers worldwide. They also fit my foot much better than any other boot and comfort was a serious issue for the up-coming 1000 miles I had before me.
I left my house in London at 3.30am to get to Folkestone for the 5am Eurostar train, through the tunnel to Calais. It rained the entire way, torrential downpour more to the point, but I was relieved to see that the Gearsack tankbag was indeed waterproof, as were all the clothes I was wearing. The train is fantastic, if a little expensive,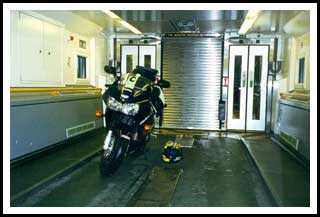 I think £120 is a little much just for a 25 minute train ride, and there are no concessions for bikes. At this rate Eurostar won't be in the red too much longer! Beware when getting on and off the train as it can be a little slippery, and I don't advise anyone to use the ridiculous wheel clamps that Eurostar provide as they can scratch the faring. I decided to sit on the bike and listen to my Minidisc, comfortable and warm, just happy that it wasn't raining on me anymore. I had noticed, on the ride to Folkestone, that the Firebalde was very stable in the wet and even in my tired state, very comfortable. Last to board the train and last to leave, who ever said attitudes towards bikers are changing?
As soon as I arrived in Calais there was one thing no longer on my mind - horrid new digital speed cameras! Although I had a little trouble finding the motorway I was looking for, in the end after tanking up, I was off and heading towards Belgium. So, let's see how the bike, and tankbag, feels at 120mph. Humm..fine..let's try 130..140...at this rate it wasn't going to take me long to get to the German Autobahn. And it didn't by 9.30am, following a couple stops for fuel and a stop for breakfast in Belgium I crossed the border at Aachen into Germany. Travelling though Europe is great, no borders no police on the motorway and lots of bikers to join you on your crusade. That's if they can keep up! I was astounded by the performance of the Fireblade and how safe and stable it felt. I've ridden Suzuki's Hayabusa I have to say the Blade feel's far more similar to the Suzuki than the Blackbird. Both bikes try to pull from under you when accelerating and both bikes feel very safe at high speed. I found myself cruising at 120mph quite happily, resting my arms from time to time on the tank and occasionally resting my head on the tankbag, that wasn't hindering me or the bike in anyway. Thanks again Steve!
Riding through Germany is quite an experience. I was ridding on average at 120mph; impressed by the good rear view observation of the drivers, when suddenly I'm overtaken by a Mercedes travelling so fast I hardly get a chance to read the numberplate. It's strange to think of the considerable difference in speeds all the vehicles are travelling at, and how that compares to most other European countries. Germany has well constructed and maintained motorways, patrolled by police on the lookout for dangerous drivers. Fast is not dangerous, but aggressive fast and weaving is. If only all countries could take a similar view. Certainly beats setting up cameras that record your every move 1 (one) mile an hour over the limit.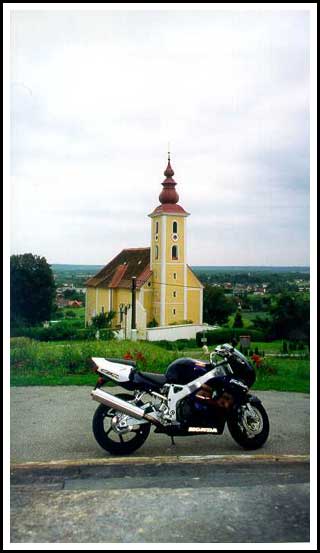 My plan was to stop somewhere around Frankfurt for the night, but as I passed through Koln, and her beautiful towers, I knew I would make it further than I had initially anticipated. Following Koln came Germany's capital Bonn, then on to Frankfurt, past Nurenburg where all the infamous Second World War trials occurred and then to Munich. It was approximately an hour from Munich when the scenery suddenly dramatically changed. From being flat and rather boring I could see mountains upon the horizon as I was approaching the Alps. The weather brightened and then, as I raced towards Austria I was confronted by a full rainbow, stretching out before me. It was one of the most beautiful moments I've experienced, the rainbow started on my right side between two mountains and sailed 180 degrees into a lake on my left. I've no idea what lake I rode by but the event inspired me and I knew I would be riding all the way to my destination that night.
I did in fact arrive in Lebring, my final destination at 9pm the same day. With time difference and consideration of the channel crossing, as well as 3 one-hour meal stops I rode for a total of just over 10 hours. Not one part of my body was sore, aside from a slight headache, and the bike had no problems what so ever.
Had the Honda Fireblade not been so comfortable I would have never dreamed of riding non-stop 950 miles. But every time I did stop for petrol I took the time to sit down, have a drink and rest for a couple minutes. The Fireblade will travel about 130 miles, on the motorway, before it needs a tank-up, I played it safe and stopped every 100 miles; as I had no intention of running out of petrol in a foreign country. The Blade has a simple to read display, as expected from Honda, but at the same time it's all kept to the minimum, which, I think, is nice to see from Honda. The specs speak for themselves; a liquid-cooled 918.5cc, 16-valve inline 4 engine producing 130bhp at 10,500 rpm. The Firebalde is fast, very fast, but at the same time the power delivery is progressive whilst remaining smooth. And although it only weighs 180kg, the Blade does not feel flimsy, positioned well on the road the bike is stable and easy to handle. One can throw it from side to side on bends and it rarely twitches. The awesome power delivery is always accessible,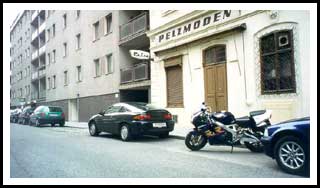 no matter what gear you're in, the bike has so much torque that you never have to down shift. Add to that a relatively large rear seat compartment, that will hold all sorts of essential riding bits, I managed to easily fit my disc lock as well as additional chain and lock inside, and you have one of the most complete bikes ever constructed. It's no wonder that Honda have sold so many and have only recently become threatened by Yamaha's R1.
By the time you'll be reading this article Honda would have released their new Firebalde (see photo). Completely re-modelled Honda "hopes" it will re-take their share of the market lost to the R1. Having ridden both bikes, both of which I thoroughly enjoy, I would have to say that for me the Firebalde is the more comfortable and more practical. I agree that the R1 looks better, but take a look at the redesigned Firebalde! Speed wise there's little in it, the R1 is a little faster but I doubt you would be able to ride it straight to Austria and back. However this is not about the Firebalde V's the R1. It's to tell you how good the Blade is and how I'm looking forward to riding the new one. If it's an improvement upon this model you can count on the fact that I'll have my name down for one tomorrow! The current model retails for around £7500 expect the new model to be a little more. For a great bike, that's well made and reliable you can't beat the Honda Firebalde. Now all I need to do is ride it back to London......
For more information on the Fireblade contact Honda at: www.honda-eu.com
For more information on Alpinestars clothing and accessories: www.alpinestars.com
For more information on Gearsack Tankbags: AJ Sportex in the UK (44) 01795 424 428
The Route
FROM
TO
DISTANCE
LONDON
FOLKSTONE
70miles
CALAIS
ARRAS
65miles
ARRAS
CAMBRAI
35miles
CAMBRAI
MONS
35miles
MONS
NAMUR
55miles
NAMUR
LIEGE
40miles
LIEGE
AACHEN
35miles
AACHEN
KOLN
38miles
KOLN
BONN
35miles
BONN
FRANKFURT
95miles
FRANKFURT
NURENBURG
115miles
NURENBURG
MUNCHEN
95miles
MUNCHEN
SALZBURG
72miles
SALZBURG
BAD ISCHL
35miles
BAD ISCHL
LIEZEN
35miles
LIEZEN
GRAZ
70miles
GRAZ
LEBRING
25miles
TOTAL
950miles