The
American
Carrozzeria
Michael Lamm looks behind the closed doors of Metalcrafters, the domestic auto industry's private coachbuilder.
Actually, this story shouldn't even be in this magazine; it ought to be on the front page of the Wall Street Journal. This is one of those WSJ businessy/human-interesty success stories about how free enterprise pays off, how savvy persistence can lead to big rewards, how sweat and talent can turn rags into riches and how finding a niche means filling it.

And yes, the free-enterprise system does still work: It worked for Bill Gates, it worked for Richard Branson and it's working right now, this minute, as we speak, for the Gaffoglio family.

Back in 1973 the Gaffoglios - father and two sons - emigrated from Argentina to Southern California and took jobs in various bodyshops. There they labored quite simply, pounding bent fenders back into shape, straightening dented doors and raising crushed roofs. Today, thanks to intelligence, skill, astronomically high standards and some good old-fashioned luck, the Gaffoglios own a multimillion-dollar company called Metalcrafters. Metalcrafters' primary business is the fabrication of steel-bodied prototypes and concept cars for America's auto industry. While Bertone, ItalDesign, Zagato and Pininfarina offer similar services in Italy, in this country Metal-crafters is unique. Only the automakers themselves have an equal ability to form sheetmetal, glass and automotive plastics, but the engineer/craftsmen at Metalcrafters handle these tasks with such skill, artistry and efficiency that their shops are continually besieged with contract work from Detroit.

Because their clients often want Metalcrafters to keep a low profile, I only first heard of them when covering the Chrysler Atlantic concept car for SCI last May. The Atlantic's workmanship was simply stunning, and more amazing still, the car ran. Concept cars are normally just rollers, and their build quality is often pretty ragged. Look where you oughtn't - say the bottom of a door or underneath a rocker panel - and you'll usually discover a mess. And why not? The public rarely gets a chance to peer beneath the surface anyway.
But here stood the Atlantic, looking more perfect than any brand-new Mercedes or Bentley. The sheetmetal gleamed like a moonlit lake, the paint and chrome were flawless and the glass and rubber seals all fit perfectly. Even the scratch-built underhood pieces were meticulously finished, while the interior looked production and the massive wheels proved hermetically clean.

And then I found out that the entire car, from start to finish, had been scratchbuilt in less than seven months.

"Aw, come on," I said. "By whom?"

"By Metalcrafters," replied the Chrysler representative.

Three other concept cars were present at Chrysler's Arizona proving grounds that day: the Plymouth Backpack, Chrysler Thunderbolt and Eagle Jazz. A Pebble Beach concours judge could have gotten down on his hands and knees, crawled all over any of them, whisked his white cotton gloves all around the undersides and found each car a 100-pointer.

"Metalcrafters?" I blurted out. "What's Metalcrafters?" At which point Chrysler introduced me to brothers George and Ruben Gaffoglio, the duo that drives the shop. "Where did you learn to do such wonderful work," I asked them. "Who sets the standard? And how much does Chrysler pay you to build such fantastic cars?"

Most of what they knew, they told me, they'd learned from their father, John Gaffoglio, and it was also their father who passed along the standard. As for the cost of these particular concept cars, they couldn't answer that directly. They did, however, say that a relatively inexpensive prototype - not a showcar but just something for internal proof-of-concept use - might cost in the high six figures. A typical rolling concept car would normally run over a million, meanwhile, and it's not unusual for Metalcrafters to charge several million dollars to build a fully operational machine like the Atlantic or Thunderbolt.

(From left to right) John, Ruben and George Gaffoglio
with Chrysler Atlantic cam cover in the foreground.
So what other prototypes and showcars has Metalcrafters built? Well, they made the first Viper - and made it in metal, by the way, not fiberglass. The first Maserati TC. The Mercedes Swatch cars. The Chrysler Cirrus showcar. The Nissan Gobi. Prototypes of the current Grand

Cherokee. The Dodge Daytona 91 concept car. Several mid-engine Dodge Intrepid prototypes. The first Mitsubishi 3000GT retractable hardtop. Miscellaneous Isuzus and Hyundais.

Javier Valdivieso works on CATIA.

Their main client remains Chrysler, however, and this relationship goes all the way back to


1979. That was the year Lee Iacocca jumped on the dying Chrysler horse and started kicking it back to life. What Iacocca really needed - and fast - were some running metal prototypes. He wanted to bring these future products to Washington so the politicians could see and touch the cars of Chrysler's promised resurrection.


Trimming a handmade prototype roof inside the glass oven.

A member of Iacocca's staff mentioned Metalcrafters and the great work being done by the Gaffoglios - an Italian name, not lost on Lee - and suggested they might be an inexpensive, quick source of prototypes. "So Mr. Iacocca got hold of us," remembers George Gaffoglio today, "and asked us to make a metal prototype.

"We had to say `What's a prototype?'"

After striking a deal, Metalcrafter's first full prototype was that of the 1981 Chrysler Imperial. "They gave us pre-stamped, raw sheetmetal, and we took a Dodge Mirada and built the Imperial over it. The whole project took 28 days start to finish, and Mr. Iacocca couldn't believe that anyone could have a prototype ready in that short a time. But he happened to be in California then, so he paid us a visit, and that's basically how the relationship got started."

Still, Iacocca knew his bid for loan guarantees didn't hinge on the Imperial but rather on the inexpensive, bread-and-butter, fwd 1981 K-Cars. Unfortunately, Chrysler was still a year away from having presentable factory prototypes of these, and considering the firm's dire need for cash, that delay might easily put them out of business. Iacocca realized the only place he could turn was to Metalcrafters.

"So then we got into building these metal prototypes of the K-Car." George continues. "Chrysler also needed running vehicles for experimental work and advertising photography, and one thing just led to another." And as Chrysler's star rose, so did Metalcrafters; the coachbuilder now employs 116 people, and they often hire more for especially intense jobs.

One thing the Gaffoglios pride themselves on is being able to combine old-world craftsmanship with the latest computer aids. When Chrysler began switching to CAD/CAM design several years ago, Metalcrafters went out and bought the latest computer hardware and CATIA software. This system allows them to accept electronic data from Chrysler and use it to drive their own clay-milling and prototyping machines.

Since no one at Metalcrafters knew how to run a computer - much less deal with the intricacies of computer-aided design - the Gaffoglios tapped former machinery department head Javier Valdivieso to learn the system. "He's a hands-on type of guy," notes George, "so when he learned CATIA, he could apply his real-life experience to it. It's not like the student who learns it in college and deals just with theory."

This sort of in-house advancement is also typical of the way Metalcrafters works. "Eleven years ago, our master painter started out here as a floor sweeper," George adds. "He was 15 when we hired him; today he runs the entire department, and there's simply none better."

Like the Gaffoglios themselves, most of Metalcrafters' sheetmetal people are displaced Argentineans. Some were craftsmen the Gaffoglios knew from the old country, and some they sought out. Today approximately 20% of their workforce hails from Argentina, while others come from such diverse places as El Salvador, Mexico, Germany and Scandi-navia. Everyone, though, no matter where he's from, speaks Spanish.

When Metalcrafters gets an order to build a prototype, a showcar or an individual component, here's what happens. The information can arrive in one or more forms: styling sketches, mechanical drawings, clay models or electronically digitized surface data. Metalcrafters first makes a full-sized clay model, either by hand or via a 5-axis, computer-driven milling machine. The clay is laid up over an armature - huge pieces of Styrofoam cut slightly smaller than the intended vehicle's outer surface. Two or three inches of clay are then slathered onto the armature and carefully sculpted to the proper spec.

Once the refined clay model exists, Metalcrafters makes sectional female fiberglass molds, which in turn become checking fixtures for the sheetmetal that follows. Sheetmetal panels are again formed in a number of ways, but most often they're done on an English wheel or by hand, using various hammers and beating the sheets out over a bag of sand. Large panels are usually done up in smaller sections, welded together and the seams ground smooth.

Occasionally the customer will also send numerical data to produce a stamping die. Let's say it's an outer doorskin; Metal- crafters has a good-sized sheetmetal press, so they mill a plastic die and stamp out the rough panel themselves. This method saves lots of time over handbuilding and also proves out the numerical data for panel springback (the rebound inherent in stamped metal) and other possible glitches. Metalcrafters and the customer work together closely, discussing progress and problems back and forth on a regular basis. Chrysler, the most common client, is always there with technical help, but Metalcrafters does much of its own engineering and sometimes even comes up with a trick the customer hadn't considered - say an easier way to attach a brace or make a flange.

Another area of the shop shapes and trims the glass. These parts used to be made outside, but this often caused headaches. If a windshield arrived at the last minute and was a little undersized or not bent quite right, it meant cutting off the car's roof (which by then was usually painted and trimmed) and reshaping it to fit.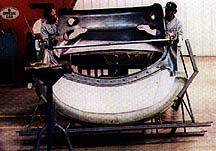 Today those problems are solved by creating glass in-house. John Gaffoglio did some research, found a suitable used oven for sale at an aerospace vendor, bought it and converted it for short-run auto glass. Molds to form the glass are made from ceramic employing the same methods used to make fiberglass checking fixtures. Flat glass is cut to size, laid on the mold and then heated in the oven, where it drapes into shape by gravity.

Oscar Torea (left) and Pablo Romera check the shape of a '97 Chrysler showcar nosepiece.






Mercedes/Swatch showcar and the first metal Viper (below).
Still another area works on nothing but prototype interiors. The craftspeople here usually start from color sketches - what they call "fat tape drawings." From these they create full-sized clay seating bucks, instrument panels, doorpanels, consoles and headliners by eye. Once those get approval, the fabricators can pull female molds and use these to make the appropriate finished surfaces out of self-skinning foam plastics and other common interior materials.
Wheels come in digitally, are milled in hard plastic, and the master is sent out to be cast in metal. Taillamps and headlight lenses are often the trickiest pieces of the job, and if the customer doesn't have finished examples on hand, Metalcrafters has to fabricate them from scratch, usually creating lenses from specially made molds or melting sheet acrylic and forming the lenses by hand. Same with headlamp buckets, inner fenders, inner hood bracing, inner decklids and so forth. It's like building a model car from scratch, only this time it's full-sized.

Chrysler usually supplies the platform for the cars they commission from Metalcrafters, but sometimes - as in the case of the Atlantic - the chassis had to be custom-tailored. For that project Chrysler shipped as many components as possible, such as frame rails, suspension, brakes, etc., and left Metalcrafters to do the basic engineering that enabled their craftsmen to construct and integrate the body.

The question now is, is Metalcrafters an old-world coachbuilder or a modern engineering shop? "We like new technology," notes George, "and we've invested heavily in it. But we also value the craftsmanship of our people. You'll notice a few oldtimers here, but we also have a lot of young people. The average is about my age, 37, so we're a fairly young as a whole, yet our experience spans about 100 years, and we like to capitalize on that. We have to make a living out of this, but most of all we love what we do." This is never more obvious than when you look at their products.
The Leadup
So how did the Gaffoglios get into the business of running America's only true carrozzeria? For the answer you have to go back 80-some years to the time when the Gaffoglios - like many other poor Italian families - left their farm and moved to Argentina. Upon arriving in a country that fixes things rather than throwing them away, 13-year-old John Gaffoglio went to work for his brother-in-law as a sheetmetal apprentice; by 18 he was running his own bodyshop.

In the years after WWII, the Argentinean racing community occasionally came to John desiring special front ends or fenders for their prewar Ford and Chevy racing cars. With this exposure John quickly turned into a rabid car enthusiast, but his real cash cow proved to be building sleeper cabs for big-rigs. To that end he opened a small factory in Buenos Aires and eventually employed 60 people.

Having been sent down the enthu-siast road, however, John Gaffoglio began subscribing to Popular Mechanics, Motor Trend and other American car magazines that further fired his passion. These eventually made him realize that the happening place was really Los Angeles, so in 1973 he packed up his family and made for the promised land.

At that point his eldest son, George, then 15, took a job with European Auto Restorations in Costa Mesa, California, a shop working mostly on older Ferraris, Maseratis, Porsches, etc. "The shop owner liked what I was doing," George recalls, "and he figured, `If you're pretty good at this, your dad must be terrific.' So he hired my father, too, and we started doing convertible conversions - mostly turning Ferrari Daytona coupes into spiders." The Gaffoglios stayed with European Auto Restorations for six years and then went out on their own to form Metalcrafters. The year was 1979, and word of their new operation spread all the way back to the ears of Lee Iacocca. The rest, as they say, is history. - ML