Sports Bastards
Michael Lamm didn't coin the phrase describing prewar hybrids, but he knows a thing or two about Railton, their premier example.

Henry Rasmussen photos.
Today, cars like the Pantera and Shelby Cobra are termed "hybrids." Before World War Two, however, European-built, American-powered hotrods had an appropriately more colorful name: "sports bastards." And as far as prewar production numbers go, the most successful of the lot was Railton, an English company that began building cars in 1933 and ended some 1460 units later in 1947 with a final handful bolted together mostly from leftover parts.

But Railton didn't spring forth from nothing. The design actually evolved from the thoroughbred Invicta and even borrowed that marque's cut-crystal grille shape and "riveted" hood hinges. Capt. Noel Macklin and J.G. Parry Thomas had launched Invicta in 1925, and for eight years they continued building these fast, low-slung cars in a small plant on Macklin's family estate near Cobham, Surrey. Despite successes in the 1931-32 Monte Carlo Rallies and Alpine Trials, however, the relatively expensive Invicta ultimately fell victim to the Depression. In 1933 Macklin was forced to move the operation into smaller, cheaper quarters at Chelsea, south of Hyde Park in London.
| | |
| --- | --- |
| Still, Macklin felt he owed it to his workers to keep the original plant going, and thus was born the idea of an affordable Invicta variant for the burgeoning middle class. It had to be easy to produce but also a delight to drive and look at; distinctively sporty but tough and reliable overall. What better way to roll all those benefits together, Macklin realized, than combining a strong American engine and chassis with British coachwork and assembly? | |
The result was something he called the 1933 Railton-Terraplane. The first part of the name honored Reid Railton, a respected designer of British speed-record and racing cars, while the other half derived from the American Essex-Terraplane nameplate, America's newest hillclimb champion and the upstart stock-car sensation whose internals Macklin would use under the skin. Reid Railton later said he had relatively little to do with the creation of his namesake, but he did become a paid consultant. Macklin, meanwhile, used nothing but Hudson components (Hudson, Essex and Terraplane were all corporate brethren) under the English-built body: frames, suspension systems, brakes, steering, engines and transmissions. It turned out to be a very fortuitous marriage.

In the late 1920s and early '30s, Hudson was the second-bestselling American car in England. The cheap, durable and locally assembled Ford sold better, but the Brits dearly loved RHD versions of the Hudson for their notable speed and nimble handling. Starting in 1930, Hudson also began producing a 4-liter, flathead straight-8 that combined excellent overall power with marvelous low-end flexibility - something most tax-dodging English motors sorely lacked.

As it happened, in 1932 Hudson brought out the Essex-Terraplane, a potent but affordable 6-banger aimed at Ford, Chevrolet and Plymouth. But while the 1932 Essex-Terraplane was fast even with the Six, a year later Hudson really outdid themselves and tossed the big straight-8 into the lightweight Essex-Terraplane chassis. This factory hotrod was supposed to counter Ford's strong and flashy new flathead V8, and counter the Ford it did. The 1933 Essex-Terraplane 8 produced 94 bhp from 244 cubic inches versus Ford's 65 from 221, and both marques offered roadsters weighing about 2500 pounds. The resulting Essex-Terraplane could top 95 mph and hit 60 in less than ten seconds - almost unheard-of feats in that day.

Over in England, Noel Macklin understandably saw the 1933 Essex-Terraplane as the ideal basis for his Railton. Macklin made a deal with Hudson's British subsidiary to supply Essex-Terraplane chassis and running gear while simultaneously striking another with John Charles Ltd. to build a series of semi-custom bodies under the quot;Ranalah" coachbuilder label. Ranalah Railton bodies consisted, in the tradition of that era, of aluminum skins over ashwood frames, all carefully fitted to the Terraplane's X-member, ladder-type chassis. Macklin lowered the Essex-Terraplane's semi-elliptic springs a couple of inches, installed André Telecontrol friction shocks for a tauter ride and sped up the Hudson steering with a longer Pitman arm.

Some 60 cars were built that first season before an immediate adjustment was forced onto Macklin. For 1934 Hudson dropped the Essex name and made only 6-cylinder engines available in its replacement, now simply called the Terraplane. The crew at Railton took these musical chairs in stride, however, and began producing cars on the 3-inch-longer Hudson Challenger 8 chassis instead.

The 1934 Challenger engine produced 19 more horsepower than the Essex-Terraplane 8 (113 versus 94), and with lighter and lighter bodies the Railtons were soon delivering top speeds of over 100 mph - 100.5, to be exact, according to Autocar's test of a 1935 Railton Light Sports Tourer. In road trim, the Light Sports Tourer weighed 2050 pounds, or considerably less than an Essex-Terraplane roadster. Stripped of fenders, runningboards, headlights and other easily removed items for racing, it could zip past 107.

The year 1935 was actually Railton's best, not just in terms of performance but also in production volume. The shops on the Macklin estate turned out some 500 cars that season, with an assortment of bodies not only by John Charles Ltd. but also R.E.A.L., Carlton, Whittingham & Mitchell, Carbodies, Coachcraft and E.J. Newns. You'd be hard put to find any two Railtons alike and, surprisingly, roughly half of those built were saloons. The fast, sporty Railton sedan had become quite popular with the British constabulary: According to author/historians Michael Sedgwick and Michael G.H. Scott, Scotland Yard as well as some metropolitan police departments used Railtons well into the 1940s, moving the bodies from old Hudson chassis to new ones as the mechanicals wore out.

One of the Railton's more illustrious American owners was John R. Bond, longtime editor and publisher of Road & Track. John had retired by the time my family and I - including My Son the Editor - visited him and his wife, Elaine, in the early 1970s at their home on Balboa Island near Newport Beach, California, where they lived next door to Briggs Cunningham.

John had recently finished a beautiful restoration on his own Railton, which he had bought sight-unseen from a seller in England. It was delivered in terrible condition. I asked him why he had worked so hard on such an obscure make of automobile. He explained that as a teenager back in Ft. Wayne, Indiana, he'd driven and fallen in love with the then-brand-new 1933 Essex-Terraplane 8, finding it infinitely faster and sweeter than the rival Ford V8. And while he couldn't afford any car in 1933 (he was still riding a bicycle), he could darn well afford anything he wanted after selling Road & Track to CBS! So he indulged a whim and bought this very sporting 1934 British version of his beloved Essex-Terraplane.

John was a walking encyclopedia when it came to cars, and he could still quote chapter and verse from the original Railton road tests in Motor and Autocar. The stripped Light Sports Tourer tested by Motor, he said, had turned in a top speed of 107.14 mph, while 0-60 came up in 8.8 seconds. These were mind-boggling figures before the war and stand up pretty well even today. But John also pointed out only three Light Sports Tourers were ever built, and that more plebeian Railtons like his Ranalah tourer could reasonably be expected to approach 100 mph but never quite get there.

Railtons also suffered from the usual Hudson quirks and afflictions, John pointed out. The 8-cylinder engine was a "splasher," meaning it used dippers on the bottoms of the connecting rods to splash engine oil onto the cylinder walls. This wasn't terribly efficient, but if you limited your revs to 4000 or so, the engine would stay together forever; at anything over that, you were taking its life in your hands.

Another problem inherited from the Essex-Terraplane 8 was an overly light and delicate transmission. In Hudson's admirable effort to keep weight down, their engineering staff came up with a 3-speed that weighed a mere 35 pounds - roughly half as much as a Ford V8's gearbox. The Hudson transmission again demanded a certain delicacy; if you got too rough with it you were likely to break something.

The third Hudson oddity was the clutch. Instead of using a conventional dry-plate design, Hudson favored a wet clutch. Both sides of the clutch plate were covered with perhaps 100 small, round cork discs. This unit rotated in a sealed flywheel/clutch assembly into which you poured a lightweight oil called "Hudsonite Clutch Fluid," though some mechanics duplicated the stuff with a 50/50 mix of 30-weight motor oil and kerosene. The cork soaked up this oil and, when squeezed hard between the pressure plate and flywheel, the myriad discs "dried out" and exerted a smooth, firm bite. Hudson's wet clutch worked extremely well if it you kept the fluid topped up. Allowed to go dry, however, it self-destructed right quick.

In addition to John Bond, another illustrious Railton owner in this country is Reid Railton's son Tim, an attorney now living in Northern California. Tim Railton has owned his 1937 Carbodies tourer since 1981, and it's the car you see running around on these pages.

The Railton automobile lived a short, active life, and of the original 1460 built, there are estimated to be about 200 left; some 25-30 likely exist in this country. Most national and larger regional Hudson club meets invariably bring out a few examples, so if you'd like to examine one close up, those are the places to do it. A Railton isn't something you'll just happen to see going the other way down the road.

THOSE OTHER BASTARDS


- The Jensen Brothers began selling hybrids in 1936, their best-known prewar models using Ford V8s and Columbia 2-speed rear axles.

These were quick, handsome roadsters with better performance and handling than their modest prices gave them any right to have; Clark Gable even owned a 1936 Jensen-Ford for a time.

Not all Jensens were Ford-powered, though; some used Nash straight-8s or flathead Lincoln Zephyr V12s - an engine more renowned for its cylinder count than its actual capability.

- Another British sports bastard, the Atalanta, only lasted from 1937 to the outbreak of war in 1939. Production began with a spiffy SOHC 4-cylinder, 12-valve, cycle-fendered roadster, but for 1938 Atalanta added 2- and 4-door saloon models using the Lincoln Zephyr V12. The Zephyr did have good low-end torque, which made the car easy to drive in traffic.

- The 1936-38 Lammas-Graham marched to a different drummer. Rather than go with Hudson or Ford power, this car used basically the same supercharged Continental flathead-6 that Graham-Paige offered in America. The British version of the engine had a slightly longer stroke than the American one, but in both the supercharger was a shaft-driven centrifugal type - not too efficient but fairly inexpensive. The supercharger boosted horsepower to 128 (versus 116 in this country), and this was essentially the same engine that Kaiser-Frazer and Willys kept using into the mid-1950s.

- Then there's the Allard. Sydney Allard began building trials specials based on the Ford V8 in 1934, and he became so successful running up muddy hills that people asked for copies. In 1937 he began more or less formal production of cycle-fendered examples, most again equipped with Ford V8s but a few also carrying Lincoln Zephyr V12s (the bellhousings were identical). Allard survived the war, reappeared for 1946 with flathead Ford V8s again and progressively became more sophisticated. Advances like independent front suspension, hydraulic brakes, de Dion rear axles and overhead-valve Ardun conversions appeared by the late 1940s. Soon Allards even offered ohv Cadillac or Chrysler V8s and sedan or station-wagon bodystyles. Allard continued in business through 1960, having eventually built everything from 3-wheelers to custom-order GTs.

- Finally, the Brough Superior, engineered and built by motorcycle manufacturer George Brough, mostly used 6- and 8-cylinder Hudson engines. The company began producing cars in 1935 and was put out of business by the war. Most were open-bodied, but a few 4-door saloons and a handful of 2-place Alpine Grand Sport roadsters were also made, the latter intended to compete with the Railton Light Sports Tourer.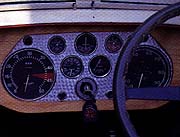 Because the roadsters were heavier than the Railtons, Brough offered a supercharger. The final model was the Type XII Saloon, which again used a Lincoln Zephyr V12.

- Other sports bastards were built during this period, but the above-mentioned were the more successful examples of a generally short-lived lot. - ML







RAILTON THE ENGINEER

- Between the wars, as the British empire crumbled, its aristocracy bumbled and the pound sterling tumbled, the average citizen of England was primed and eager for any sign that his once-invincible island could still beat the world at something_anything. Oddly enough, that something turned
out to be the World Land Speed Record (LSR).

- It took just a handful of men to give Great Britain the satisfaction of being the fastest nation on wheels. Leaders in this pursuit were Malcolm Campbell, John Cobb, Parry Thomas, George Eyston and Reid Railton. Campbell, Cobb, Thomas and Eyston financed and drove the cars, while Railton engineered and built the most successful examples for Campbell and Cobb.

- Reid Railton was born in 1895 and studied at Rugby School and the University of Manchester; then, at age 20, he went to work for Leyland Motors. Leyland built only trucks in those days, which didn't much interest Railton, but he did meet and work for Leyland's chief experimental engineer, J.G. Parry Thomas. Thomas became Railton's mentor, and the topic that interested both men most was speed: They talked long into many nights about the various nuances of forcing more power from engines, about aerodynamics and gear ratios, tire compounds, fuels and all that it might take to boost the LSR with a British machine.

- Both Parry Thomas and Railton left Leyland in 1923 to start businesses of their own: Thomas to pursue the LSR personally and Railton to build the Arab automobile, a line of small sports-racers. Thomas did capture the LSR in 1926 with a car he cobbled together from a WWI Liberty aircraft engine stuffed into an old Mercedes chassis, a contraption he called Babs. Malcolm Campbell beat Thomas' record the next year, whereupon Thomas fired up Babs once more on a long, flat beach at Pendine Sands, Wales, and was killed when Babs came unraveled.

- Reid Railton arrived on the scene half an hour after the accident and was absolutely devastated. Railton said of Thomas later, "...such ability as I have as an engineer I owe entirely to his teaching." Railton subsequently took over Thomas' unfinished work and, in the process, began engineering and building LSR cars for customers - first for Campbell (the famous Bluebird) and then for John Cobb, in the form of the Napier-Railton.

- Railton's reputation for speed had already been set by the early 1930s, so it was natural for Noel Macklin to choose so famous a name to help sell his 1933 sports bastard. After the outbreak of WWII and the demise of the Railton automobile, Noel Macklin even began building a different sort of sports bastard for the British navy - small warships powered by American-made Hall-Scott engines. Through Macklin's connection, Railton was asked to become an engineer for the Hall-Scott Motor Co. in Berkeley, California; he took the job and, as a result, moved his family there in 1939. After the war, Reid Railton stayed in America. He continued his LSR work with John Cobb and Donald Campbell (Sir Malcolm's son) and also consulted for Hudson from 1948 to 1956. In 1977, Reid Railton passed away at the age of 82.- ML



SPECIFICATIONS
1937 Railton Tourer
General
Vehicle type: front-engine, rear-wheel-drive convertible
Structure: steel ladder frame (Hudson) with aluminum body panels over wooden framing (Carbodies)
Engine
Type: longitudinal straight-8, iron block and head (Hudson)
Displacement (cc): 4168
Compression ratio: 6.3:1
Horsepower (bhp @ rpm): 122 @ 4200 rpm
Intake system: one 2-bbl downdraft carburetor (Carter)
Valvetrain: two pushrod-operated sidevalves per cylinder
Transmission
Type: 3-speed manual (Hudson)

Ratios

1st: 2.42

2nd: 1.60

3rd: 1.00
Final drive: 4.11

Dimensions
Wheelbase (in.): 116
Track, f/r (in.): 56/56
Length (in.): 186.6
Width (in.): 67.0

Suspension, brakes, steering
Suspension, front: radius arms with semi-elliptic leaf springs and friction shocks
Suspension, rear: live axle with semi-elliptic leaf springs and friction shocks
Steering type: worm and roller
Wheels (in.): 16x4
Tires (in.): 16x6.25
Brakes, f/r: 10-inch drum/10-inch drum

Performance
0-60 (sec.): 8.6
Top speed (mph): 92