One Man's Star Ship

Vince Gardner's Ford Vega shoulda been a contenda.

Vince Gardner had a better idea. Two decades before Chevorlet christened its star-crossed Beetle-fighter Vega, one of America's most talented car stylists affixed the same name to a charming two-seat roadster he designed to win a contest co-sponsored by Motor Trend and the Ford Motor Company. The Ford-Vega union sounds strange today, but in the early 1950's, when America greeted first-generation sports cars with rapt enthusiasm, the name made perfect sense: It's merely a clever fusion of Gardner's initials with the "a" from his surname.

In retrospect, Comet would have been a more appropriate appellation for Gardner's starship because it burned brightly for only a few years before fizzling into four decades of obscurity. But thanks to Fran Roxas, a noted Chicago-area classic car restorer, the celestial sparkle has been rekindled and the Ford Vega is back on its wheels as the perfect legacy of this designer's life and times.

Gardner's vivid personality and creativity were well known throughout the automotive styling community. He launched his career by winning GM's Fisher Body Craftsman Guild while still attending high school in Duluth, Minnesota. The intricate Napoleonic coach replica he built helped Gardner win a job in Gordon Buehrig's small design department at the Auburn Automobile Company. When the Cord 810 the team was working on turned out to be one of the most stunning designs in automotive history, this 23-year-old clay modeler's reputation took flight.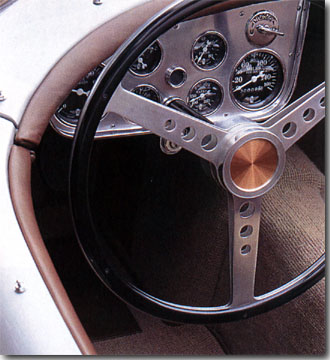 According to Auburn-Cord-Duesenberg historian Josh Malks, "Vince was highly creative and enthusiastic but a difficult person to work with. Nevertheless, when Buehrig moved from Auburn to Budd (a Detroit-based car body manufacturer) in 1936, he took Gardner with him. Years later, the two went to Studebaker, then to Ford together." At Raymond Loewy Associates' South Bend, Indiana studio, Buehrig and Gardner were instrumental in Studebaker's emergence as the industry's design leader after World War II.

Dave Todd, who became a close associate of Gardner's during that era, recalls, "I met Vince when I returned home from service and became a model builder at Studebaker. He had this customized Studebaker Starlight that was a big hit in South Bend. Vince bought the car brand new off the assembly line, took it home, and made a roadster out of it. The whole firewall and cockpit were moved back 18 inches. He made a plexiglass top and stuck the exhaust pipes out through the taillamps. At night that made the pipes look red hot.

"Vince won practically every contest he ever entered. When an Indiana travel-trailer manufacturer sponsored a design contest, Vince built this highly detailed miniature that had a removable top for viewing the interior. After lifting off the top, you could see a tiny pack of Lucky Strike cigarettes next to the bed and miniature coat hangers in the closet. Vince carved that model out of wood and sprayed it with metal to resemble polished aluminum. Later, he and I entered the Motor Trend design contest and built the Ford Vega."

Motor Trend was only a year old when its September 1950 cover touted three tantalizing topics: a road test of Chevy's new Bel Air hardtop, a roundup of custom cars, and a design contest involving a Ford Anglia. Blueprints for the obscure English import were thumb-tacked onto a clipboard depicted on Motor Trend's cover. Inside, bold type blared, "You can be a designer!" The rules declared the purpose of the competition as a means of arriving at a practical, functional body for a contemporary Ford Anglia chassis donated by the Ford Motor Company.

What was not disclosed is that the donor Anglia had been dropped on its head after its voyage from England to a West Coast port. The roof was crushed flat but the chassis survived unharmed. A little creative cropping on the Dart of Motor Trend's art department transformed the compacted import into a blank canvas for the nation's automotive artists. The winning paper design was to receive both the Anglia chassis and a $500 prize. There were only two hitches: Ford "reserved" rights to the winning design (two months after the contest was announced, rules were amended to grant Ford rights to ALL entries), and the winner had to build, or have built, the triumphant design, using the $500 "to defray expenses incurred in completing the body."

Walt Woron, Motor Trend 's first editor, recalls being overwhelmed by the response to the design contest. "We thought we might get a handful of entries. Actually, there was a terrific amount of interest and several hundred submissions. Some very professional-looking drawings were submitted along with a few scale models. But the three judges were unanimous in their decision that Vince Gardner won hands down."

Though the contestants had free rein in terms of bodystyle, most would-be designers proposed replacing the frumpy two-door-sedan bodywork with open roadster attire. Some suggested rebending the original sheetmetal, others proposed replacement body panels made of plywood, fiberglass, aluminum or laminated paper. The youngest entrant was 12, the oldest 62 and submissions came from as far away as Alaska and England. The panel of judges consisted of Walt Woron, Lynn Rogers who was the automotive editor of the Los Angeles Times, and legendary Indy race car designer Frank Kurtis.

Gardner's winning drawing and two photos of his cast-plaster scale model were presented in the January 1951 issue of Motor Trend. Every hint of the penny-pinching Anglia two-door sedan bodywork had been eradicated. In its place, Gardner presented a stunning envelope notably lower and sleeker than the Jaguar XK120s just beginning to filter into America through importers on each coast. Long fenders swept artfully over flat-disc wheels with minimal front overhang and subtle fin extensions cantilevered out back. Headlamps were hidden within the leading edges of the front fenders behind flush, pivoting covers. The two-piece gently curved windshield was frameless. The car's mouth was a subtle low and wide opening filled with fine chrome teeth aligned vertically behind a simple bumper bar. In back, twin angle-cut exhaust pipes poked through round chrome bezels and fender tips were protected by discrete chrome shields.

To seal the bargain, Motor Trend published a photo of the check-presentation ritual: A dapper Vince Gardner in a well-tailored suit shaking hands with stylist Willys Wagner of Ford's International Division while chief-contest-judge Frank Kurtis smiled approvingly. Attorneys clutching legally binding contracts were notably absent.

While some may have been inclined to take the money and run, Gardner was committed to see the project through to fruition. According to Todd, "We knew very well that the $500 prize money was not nearly enough to build a reasonable body. Things were cheaper in the early '50s but not that cheap. So there was quite a time lapse while Vince was trying to drum up money to continue.

"One evening he came to me with a smile on his face and said 'I know where we can get financing.' I asked where and he replied, 'We'll get old Hank to do it.' I said, 'Who's Hank?' He answered Hank Ford (Henry Ford II). When I asked if he knew old Hank, Vince said no, but that didn't stop him.

"So one snowy night I put Vince on a DC3 in South Bend for the flight to Detroit. He had no appointment. But he did have his scale model mounted in this neat little box. Everything was hinged so the top opened up and the sides all folded down to showcase the model. All the views of the car were drawn on the appropriate panel in blueprint form.

"Upon arrival, he marched into Ford's office where the receptionist asked him what he wanted. Vince said, 'I want to see Hank.' When the receptionist pointed out that they didn't have any Hanks in the building, he insisted, 'Oh yes you do, you have Hank Ford. Tell him Vince is out here with something he'll be really sorry to miss.'

"After he succeeded in gaining admission to Mr. Ford's office, he plopped his model down on the desk and began talking non-stop. He told about the Motor Trend contest, the fact that a Ford Anglia was at the heart of it, and that he intended to incorporate some unmistakable Ford characteristics such as swinging control pedals. Ford put up with this for 30 minutes. Then, all of a sudden, he punched a button on his intercom and instructed his secretary to cut a check to Vince for $8000.

"When he returned home that night with the check in hand, Vince announced, 'We'll do it in California."'

First Gardner and then Todd moved west. Upon arrival in the Golden State, Gardner established a combination living quarters and workshop in Hollywood - coincidentally on Gardner Avenue.

Quarter-scale drawings still in Todd's possession were updated as changes were made to the car throughout construction. Templates were taken from a quarter-scale clay model, refined, and transferred into a full-size wooden buck that was used to make the aluminum body panels. "Vince was really particular about the buck," remembers Todd. "To keep the car accurate and symmetrical, we made each template for only half of the body. Then we had a fixture so that every template could be removed from its position in the buck and reversed for use on the opposite side.

"Some of the panels were hand hammered with mallets over steel-shot bags. For other pieces, we used the shop's Chicago Pneumatics planishing hammer. The aluminum worked pretty easily so building the body didn't really take that long. It was the small details that took the most time. The headlamps were hydraulically operated using aircraft actuators. The door hinges were concealed. The grille had to be made piece-by-piece out of brass. Then it was assembled with small screws and chrome plated."

When he wasn't busy with what became the Vega, Todd did customizing and crash - repair work. The storefront shop soon became a magnet for car enthusiasts of every stripe. According to Todd, "When Henry Ford was in town he'd occasionally drop in to see how we were spending his money. Sometimes he'd bring celebrity friends such as Groucho Marx and Red Skelton. Instructors from Art Center were always trying to get me to enroll in their classes. And once, when I had my head inside the fender welding the headlamp mechanism, I saw someone's arm sweep over to drop a business card. All the person said was, 'If you're looking for a project, give me a call.' Later, when I looked at the card, the name on it was Howard Hughes. He wasn't particularly interested in sports cars but he was always on the lookout for able craftsmen."

Gardner tapped Phil Weiand, a founding father of the Southern California hot rod movement, to help build powertrain components. He assembled a small, sweet-sounding flathead V8 from components that started life as the "thrifty-sixty" (horsepower) engine from a 1937-'40 Ford. Weiand's own aftermarket heads pumped up the stock 6.6:1 compression ratio and a dual-carburetor intake manifold and tubular headers aided breathing. Another standard hot-rod trick was loading close-ratio Lincoln Zephyr gears inside a standard '39 Ford transmission case. The Anglia's flimsy axles and brakes were ditched in favor of American-made parts narrowed to fit the Vega's svelte proportions.

Exactly three years after the contest was announced, Gardner's Vega appeared on Motor Trend 's cover with an attractive brunette waving a white-gloved hand from the cockpit. Except for a few subtle refinements - deletion of the tailfins and poke-through tail pipes, addition of wire wheel and a much larger grille opening - the finished car was true to the original model. The writer acclaimed Gardner's attention to detail and made a point of the car's 32-inch cowl height ("the lowest being built") combined with cockpit room for six-footers. Brake and clutch pedals were suspended, as promised, and Gardner went one better by hanging the shift lever from the dash. A tasteful Ford crest was centered high in the grille and delicate Vega badges - including a star accent - graced the hood and decklid. According to the Motor Trend article, Gardner considered offering fiberglass replicas of his handiwork for sale to the kit car crowd.

That never happened partly because the Ford Motor Company took an interest in the Vega and summoned it back to Dearborn to help celebrate the firm's 50th anniversary. While in Detroit, Gardner dropped in to visit fellow stylists at GM. Dave Holls, who began designing Cadillacs in 1952, recalls the day the Vega appeared. "Every designer in the place was immediately drawn to the windows. Five minutes later, the studios were empty and everyone was down in the parking lot looking at Gardner's Vega. It was such a pure statement. We all thought it was just an exquisite little American sports car. Interestingly enough, the small team working on the Corvette at the time were buried so deeply in the styling building that they missed seeing the car."

Ford displayed the Vega for several years at its Rotunda exhibition hall and then it gradually slipped into obscurity. But not before a seed was planted. While strolling through the 1953 Paris Auto Show, Henry Ford II first acknowledged interest in building his own two-seat roadster, which would become the 1955 Thunderbird.

Gardner is credited with singlehandedly designing the 1956 line of Studebakers in a rented warehouse. And he competed against four other teams in a competition established to design the 1956 Lincoln Continental Mark II. Busy with his design career, Gardner passed the Vega to an associate who planned to update the driveline with a more powerful engine. Once disassembled, it spent the next 40 or so years moving from one garage to the next in the greater-Detroit area. Gardner's last design project was a neo-classic (Bentleyesque coachwork over a modern driveline) commissioned by firearms magnate Bill Ruger. The only details of his demise are that he asphyxiated himself in a friend's Auburn, Indiana garage in the spring of 1976.

The Vega continued its slow shuffle around Detroit. Gardner's psychologist, who collected specialty and prototype cars, rescued it from the hop-up artist. John Muir, the next owner, attempted to inch the machine down the long road back. "The engine was missing so I had one put together and I started reassembling the body to the frame." When it became clear he'd probably never get Humpty back together again, Muir offered the remains to dream car collector Joe Bortz. After several years of low-level negotiation, terms were finally agreed upon and Bortz hauled the fallen star to Chicago. When his friend Fran Roxas - the country's foremost V16 Cadillac restorer - spotted what was left of the Vega, it was love at first sight.

After a painstaking and expensive three-year disassembly and reconstruction in Roxas's Alsip, Illinois shop, the Ford Vega is back, more gorgeous than ever. Vince Gardner hoped to demonstrate that an American-made sports car could be just as tasteful and appealing as any import. Clearly, that mission has been accomplished and Gardner's legacy is secure.





Copyright © 1996, 1997, 1998 The Auto Channel.

Send questions, comments, and suggestions to
Editor-in-Chief@theautochannel.com