EXCLUSIVE TACH CHAT
A Conversation with Gerald Davis
Tuesday, June 11th, 9pm EST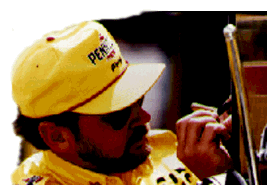 Read a transcript of the chat.


Gerald Davis, team manager
Gerald Davis didn't have far to travel when he took over as team manager of Hall Racing Inc. in Midland, Texas, in 1994. He already lived and worked in Midland. In fact, he had been associated in Midland with team owner Jim Hall even in the years when Hall was out~of Indy car racing. Davis was his tenant.

Previously, Davis was Hall's engine man in 1982, the last season of the Pennzoil Chaparral I in Indy car racing. When Hall left the sport at the end of that season, Davis leased the Hall I racing shop and began building engines for 1983 Indianapolis 500 pole sitter Teo Fabi.

For all his adult life and a good bit before, Davis has either been driving or building race years Born June 13, 1951, he was in junior high school when he began working on his. uncle's drag racers. Uncle Bill Dennis of Snyder, Texas, was a touring pro in the early 1960s.

At one time Davis held five AHRA world records set in a Chevolet Monza he built. Three I of those records were still on the books when AHRA closed its doors. So Davis is still the world record holder in D/Altered, D/Hot Rod and C/Altered.

He was a high school student when he built a '55 Chevrolet station wagon and took it racing Soon the Davis wagon found its way to a drag strip, where racing was legal.

His earliest association with Hall was in the era of the great Hall-Haas Can-Am and I Formula 5000 teams. During that heyday Davis built engines for Jackie Ickx, Patrick I Tambay, Alan Jones and Brian Redman among others. In 1981 Davis was the engine builder for Cooke-Woods Racing. Redman won the IKISA GT championship for Cooke-Woods in a Chevrolet-powered car start a new era for American sports car competition. No Amencan manufacturer had ~ver won the title before.