---
IRL: Sharp/Dismore Fined for Phoenix Infractions
27 March 1998
INDIANAPOLIS, IN: The American Red Cross earned a cool $20,000 today. The worthwhile non profit organization is the official charity of the Indy Racing League. They benefit when fines are imposed on the IRL racing teams. They may be preparing a thank you letter to Scott Sharp and Mark Dismore this afternoon.
Scott Sharp, winner of the Dura-Lube 200 in Phoenix last weekend was fined $15,000 after his car failed to meet the fuel tank capacity requirement. His car failed two inspections, one in Phoenix and one at the Kelley Racing Shop in Indianapolis. The car held more fuel than is allowed by the IRL rules. Sharp was also docked seven points for the infraction.
Executive Director, Leo Mehl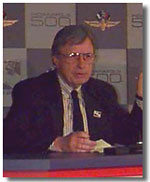 Another Kelley Racing driver, Mark Dismore, was slapped with a $5,000 fine. According the IRL officials, Dismore failed to "close up the field" on a late race restart. Dismore was second in the running order but several laps down. His teammate, Sharp, was the leader of the race coming back to the green flag. The slowdown by Dismore kept second place runner, Tony Stewart, from having a chance to make a run at the leader. Dismore was in between Sharp and Stewart on the track which hampered Stewart's efforts to get to the front. The League sited unsportsmanlike conduct as the reason for the fine.
Executive director of the IRL, Leo Mehl was quoted as saying, "These were serious safety and competition rules violations but did not affect the outcome of the race. As a fan's letter said to me after the race, `We were deprived of a great racing opportunity."
The American Red Cross benefitted last season in another IRL fine situation. Driver Arie Luyendyk and owner A.J. Foyt clashed in a victory lane celebration at the Texas Motor Speedway. Both were fined as a result.
Editors Note: The images displayed in this article (plus many more) can be viewed in The Racing Image Galleries.