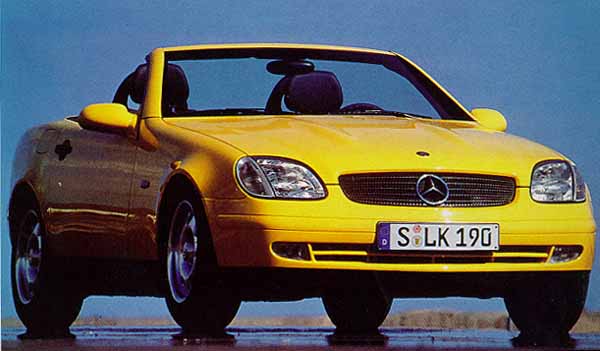 MERCEDES-BENZ SLK



The Mercedes-Benz SLK pre-production car is inspired by over 40 years of Mercedes SL design. The two
seater roadster has a distinctive wedge shape faith short
front and rear overhangs, along with hallmarks of the Mercedes Benz identity on the front grille, and twin
power domes on the hood.

The SLK pre production car features a unique fully automatic retractable hardtop that transforms the car
from a coupe into a genuine convertible in about 25
seconds. The driver pushes a button which lifts the trunk lid rearward. The roof is then raised, folds and is
lowered into the trunk, and the trunk lid then closes
forward.

The Mercedes-Benz SLK production model that will be offered for sale in Furope beginning in fall 1996,
and during January/February of 1997 in the United States,
will be equipped with an innovative safety recognition system for child seats. This system can detect the
presence of a child seat placed in the passenger seat and
automatically turn off the passenger-side airbag. This is a particularly important safety feature for
two-seater convertible.