Now that the 4Runner is in its 4th edition, it's easy to see why it continues to be popular. No soft urban yuppie-mobile this, no no. This is one tough little cookie. And this cookie has good looks and legendary durability. The 2003 version sports fully boxed side rails for increased torsional rigidity. Its got a new 4.0-liter V6, and an optional 4.7-liter V8 has been added.
An expanded wheelbase and increased width result in more interior room in nearly every dimension. And of course that means more room for cargo - 75.1 cubic feet- complete with two-tiered loading.
We liked the overlapping dash instrumentation.
We're not sure about the climate controls - they could be fine after you figure them out.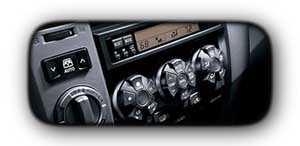 The 4Runner is a mid-sized winner for the mid-sized family - particularly if your town and your lifestyle include rough outdoor edges and basset hounds.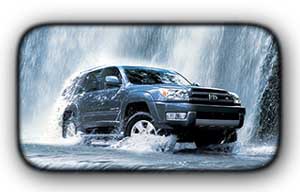 - Editor

Compar-a-graph--See how it stacks up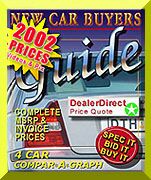 Wow! The Web's Biggest and
Best New Vehicle Guide!
Please go to the

for necessary media tools.