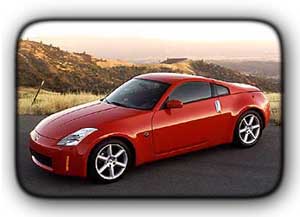 The 2003 350Z from Nissan excels in the two most important elements of a superior sports car: looks, and performance. Like the best in its breed, its look is distinctive. If you like to go places unnoticed, this is not your car. Its liquid curves and streaking lamps will turn heads. And like all great sports cars, even when it's just standing there, it looks like it's moving. .
The 6-speed shifter has a delicious short throw - which you would think would be almost mandatory for a sports car. The front-engine, rear-drive Z growls with a 3.5-liter V6 equipped with variable valve timing and an electronically controlled throttle. Its 287 hp and 274 lb-ft of torque provide lots of grins in those mid rpm ranges and cause the driver to deliberately seek out pavement of the non-straight variety.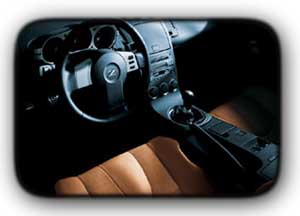 Your first impression behind the wheel will be the how well the sculpted seat wraps you up. Then you'll notice the three gauge pods - shades of the original 240Z and how all of the instrumentation is geared and aligned for the driver. Hovering behind you is the rear suspension brace silently contributing to body rigidity.
On the road, the Z is a fun-runner. Cornering, in particular, is a kick. The steering has a very comfortable firmness with good feedback when needed and good stability for cruising. The ride is medium rare: beyond firm but before harsh. All in all, the Z has the looks, performance and the price to become a must-drive on your sportscar testdrive list.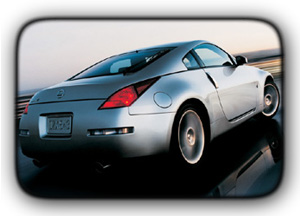 - Editor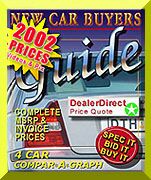 Wow! The Web's Biggest and
Best New Vehicle Guide!
Please go to the

for necessary media tools.