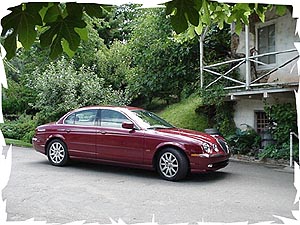 2000 Jaguar S-Type -- Introduced May of 1999 to the US market, the 2000 S-Type has continued to turn heads from coast to coast since landing on this continent.
With its exterior styling based on the original "baby Jag" (the Mark II 3.4 of the 1960's), and a chassis based on today's family sedan, the S-type adds a much needed shot of uniqueness to the Jaguar lineup. The S-Type is available with two engine choices: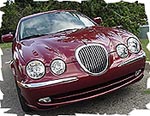 A hearty 281-horsepower 4.0L DOHC 32 valve V-8 and the base 3.0L DOHC V-6 engine that pumps out 240 horsepower at a 6,800 rpm. The potent 4.0-liter V-8 is the same engine that powers both the XK8 sports coupe and XJ8 sedans.