New Motorcycle/Review
Hayabusa vs. Blackbird 2000
by Annabelle Frankl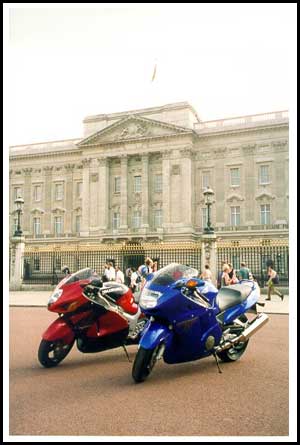 When co-ordinating this years motorcycle schedule, there was one comparison that always stood out and I knew would re-write my idea of motorcycle testing. Take the leading two bikes from two leading manufactures at the pinnacle of technology and test them again each other. A Suzuki and a Honda, with a combined top speed of 380+mph, 330+bhp and just under £16,000 for the pair. Ladies and Gentlemen I introduce you to the Suzuki Hayabusa and the Honda Blackbird. Two extraordinary machines one built to beat the other, both built with one thing in mind; to push the limits of motorcycling that one step closer to and beyond 200mph. But at the expense of what and how good are these bikes to an everyday rider and are they both worth risking life and limb over?
Two years ago Honda reviled its CBR 1100XX Super Blackbird and it took the world by storm. Not only did it look like it a spyplane but also like the US Air Force airplane, was the fastest in its class. With an estimated top speed of 190 mph and 150 bhp, the Blackbird was, by all accounts, the most complete motorcycle ever constructed. It stole the Kawasaki ZZR1100's crown as fastest production bike. Now improved with PGM fuel injection, taken from Honda's RVF/RC45 Superbike racer and two lowered inlet Direct Air Intake System ducts the Blackbird hosts many new and improved performance features. Including; rearranged exhausts, speeding up the exit of spent gasses boosting low-rev torque, and a new refined gearbox. The Blackbird at the same time is a beautiful machine, sleek and modern to the most visible extreme; it's handsome and elegantly subtle at the same time, unlike it's new rival the Suzuki GSX1300R Hayabusa.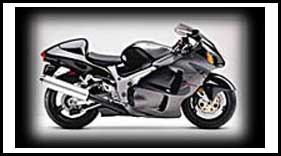 The Hayabusa, some could say has been purposefully built to, not only beat the Blackbird in a straight line, but also it's looks have been designed to assist the bike and rider through wind-tunnel designed aerodynamics. It's aggressive and ostentatious in one breath; it sounds as fast as it goes and like its nemesis is unbelievably easy to ride. With a top speed of 200+ mph, coming from 170 bhp, the Hayabusa is the first motorcycle I have ever ridden that should come with seatbelts fitted. The 99ft-lb@6750rpm of torque is outstanding, even at the lowest of revs the Hayabusa wants to take off at the slightest hint of acceleration powering from under you, but due to a slightly longer wheelbase and a smooth power curve it is no wheelie monster. But it's the Hayabusa's weight distribution that scores top marks. Although the bike does feel a little heavy at first, as soon as you get moving it's the easiest and most stable bike out there. Riding around town, the Hayabusa is comfortable, stable and very easy to get in and out of tricky, potential risky situations.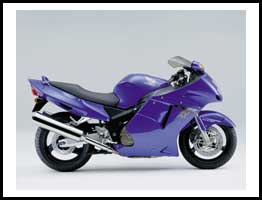 Where the Hayabusa is aggressive the Blackbird's hidden power remains discretely hidden under it's carefully, yet almost traditionally designed bodywork, rightly so, for the Honda's ride is far more pleasant than the Hayabusa's. Aerodynamically though, there is little in it. Both are extremely comfortable on the motorway with well-designed fairing keeping the wind well away from the body. In fact riding both machines, one can very easily find oneself riding far faster than usual, due to the very good overall wind deflection. 100mph on either the Blackbird or Hayabusa feels like 60mph on most other bikes. Then there's the hum of both engines, quiet and hypnotic, begging the rider to go those extra miles. Both bikes are equally comfortable, although I personally prefer the Suzuki's two seats and easy access to the under seat compartment. The Blackbird has one molded seat, that may offer a pillion a slightly more reassuring ride but again there's very little in it. Underneath, both bikes provide adequate storage space, although the Hayabusa can take that little bit more.
Both motorcycles employ the piggyback headlights; the Hayabusa's new "laserbeam" full beam is very good. Riding at night is quite amusing as the laserbeam headlight looks like a lightsaber battling the darkness. Both bikes have their front indicators incorporated into their aerodynamic design. The Blackbird's are fitted inside the rearview mirrors, and apparently contain 15 electronic parts; you wouldn't want to have to replace them too often. The Hayabusa's are next to the RAM air ducts, fixed into the front fairing. I often found myself wondering whether other riders and drivers could see in which direction I was indicating. Which brings up one fault I did find on the Blackbird. For some reason I found myself leaving the indicators on sometimes after completing a turn, something I never do, but I put it down to an unusually sloppy display by Honda's standards. All seems very badly thought out, and unlike the new CBR 600 it's clumsy and badly positioned. The Suzuki on the other hand, has developed the thinnest display ever, that once again is all part of an integrated design. When you turn the key, the system does and engine check, with both the revs and speedometer going 360 degrees and back, it's quite something. However unlike the Honda Blackbird the speedometer is a little hard to read at high speeds, as its numbers are a little too close together.
All acetic issues, that don't really help to make up ones mind, so how do they ride? Well "yes" the Hayabusa is faster, not only at top speed but in acceleration too. It blasts away, leaving anything and everything in it's wake or perhaps jet-wash. However on twisty roads they are very equal. The Honda feels lighter and a little more nimble where as the Suzuki always feels sturdy and stable. The Honda is a little more fun, although Honda must change the Dual Combined Braking System. I found the brakes to be dangerous; sometimes one needs to stop quickly and safely and it's in those times that I wish I were on the Hayabusa. The dual six piston caliper brakes offer quick and immediate intense stopping power, unlike the Honda's 3 Dual-CBS interconnected 3 piston calipers that progressively stop the bike. What is Honda thinking, the brakes are downright dangerous! Unlike the VFR's brakes, ours on the Blackbird were awful and I often found myself having to dodge around vehicles because even at low speeds the brakes couldn't stop the bike fast enough. Hummm! Both bikes have a large fuel tank, with no reserve aside from a 4-liter warning light. The actual fuel gauges are clear very precise on both bikes, and although the Honda has a slightly larger tank the Hayabusa's full load will go further due to it's better fuel economy.
The question remains, which is the better bike? Well both Nicholas Frankl and I enjoyed both bikes very much. Were it not for the Blackbird's dodgy brakes I would not be able to choose between the two. Then again there is a "slight" tyre issue with the Hayabusa. As I said above many times, "there's very little in it"! Both Honda and Suzuki have constructed beautiful, reliable and very fast bikes. Bikes I felt very safe riding and would strongly recommend to anyone. But to choose between the two is impossible, both have their strong points and their weaker issues that need to be addressed, for now I give them both 9 out of ten and can't wait to test them both again soon.
Have the manufactures created a new breed of rider, one who will go out and purposefully buy one of these two bikes just to see how fast they go? That remains to be seen and will Kawasaki be able to regain their crown with the eagerly anticipated ZX-1200R Ninja? And what will Honda do to regain the crown they have lost.......?

For more information on the Hayabusa contact Suzuki at: www.suzuki.co.uk
For more information on the Blackbird contact Honda at: www.honda-eu.com
SPECIFICATIONS
HONDA
CBR 1100XX Blackbird
SUZUKI
GSX1300R Hayabusa
Price
£7945
£7995
Engine Type
Liquid-cooled, 4-stroke, 16-valve DOHC inline 4
Liquid-cooled, 4-stroke, 16-valve DOHC inline 4
Bore x Stroke
79 x 58mm
81 x 63mm
Displacement
1.137cc
1,298cc
Compression Ratio
11:1
11:1
Carburetion
Electronic Fuel Injection
Electronic Fuel Injection
Ignition
Computer-controlled digital transistorized with electronic advance
Digital electronic
Starter
Electric
Electric
Transmission
6-Speed
6-Speed
Wheelbase
1.490mm
1,485mm
Seat Height
810mm
805mm
Ground Clearance
130mm
120mm
Fuel Capacity
24 liters
22 liters
Tyres Front
120/70
120/70
Tyres Rear
180/55
190/50
Brakes Front
310 x 5mm dual hydraulic disc with combined 2-piston caliper and sintered metal pads
6-piston calipers, 320mm dual discs
Brakes Rear
256 x 5mm single hydraulic disc with combined 2-piston caliper and sintered metal pads
Opposed 2-piston caliper, 240mm disc
Dry Weight
223kg
215kg
Claimed Power
164bhp
173bhp
Top Speed
185+mph
200+mph