It's All Under Two Roofs
The greatest aftermarket show in the world, the Automotive Aftermarket Industry Week, will be playing Nov. 2-5 in Las Vegas. Catch all the action: Live on The Auto Channel!



Retail Newsline
Hurricane Floyd may pinch profits at Discount Auto Parts


Jobber News
NASCAR Develops Educational Partnership with Technical Institute

Press Releases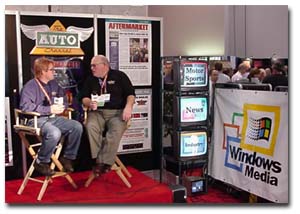 ---
| | | |
| --- | --- | --- |
| Sponsored by Windows Media | | Get the Player |
Hosted by Professor Harold Wolchok of Auto Lab, Tom Torbjornsen of The Car Show and Joe Moore of Raceline.
Field Reports by Lynne Huntting, known throughout the Internet as the "Press Snoop".

---

Joe Moore's segments sponsored by Mechanix Wear
Watch this weeks special Raceline program produced in Las Vegas
---

(all times Pacific Time)
Tuesday, November 2

9:30 AM
Rod CArnes, V.P. of Marketing - Prestone
Larry Silvey, Editorial Director - Aftermarket Business
Herb Johnson - B.F. Goodrich
Gary Christensen, President - CHEM-TEC
John Lypen, Editorial Director - Motor Information Systems
11:00 AM
Jordan Weine, Bay Diagnostic
Leonard P. Kovel, Auto Sound
Timothy K. Campbell, President and CEO - ARI
1:00 PM
Robert Bauer, Designer - Nissan Design International
Eddie Bello - Toyo Tire
Laura N. Peach, Senior Product Marketing Manager - OSRAM Sylvania Inc.
Sean M. McCloskey, President - NetVendor Systems Inc.
Joe Jordan - Toyo Tire
SmartTire USA
Peter Brock A. M., International Racing Legend
William L. Maxwell - Mobil Oil Corp.
2:30 PM
"G" Jerry Truglia, Director of Automotive Resources - Express Autoparts.com
Jim Magnuson - Magnuson Products
Brian Zonnefeld BSEE, Aftermarket Sales Manager - Bolder Tech
Speed Boat
Brook Lang, Founder and Chairman - InfoMove
LLumar
Gregg Kahnke, Sales Manager - Un-Du/Doumar Products Inc.
Ray Martel, Martel Brothers Performance
Mathew Aaron, Brand Manager - B.F. Goodrich
4:00 PM
Martin Biniasz
Linda Garde Baron - Budge Indursties
Jim Brown, Sr. Product Manager - AlliedSignal
Wynn's
David Jocoby - J.B. Chemical Co., Inc.
Wednesday, November 3

Wake up with John Force

9:30 AM
Larry Silvey, Editorial Director - Aftermarket Business
Robert Pache - Mobil One
Rodney L. Carnes, V.P. of Marketing - AlliedSignal
Merrick Browne - Forever Black
Bret Hazelett, MEMA
11:00 AM
Donald B. Midgley, President - Car Care Council
Jason Kopras, Vice President - RotoZip
Enzo Conciatori - Volvo
Magnetic Sweeper
Larry Witt, V.P. of Sales and Market Development - OXO
1:00 PM
John W. Carney, Director Government Relations - MEMA
Ramiro Moreno - DWD2
David Mussett, LLumar Window Film
Amy Wright, Product Manager - Case Logic
Sam Cracraft, President - Sacramento TBA
Bill Miller - Auto Xray
Chris Myer, Owner - Cyberspace Automotive Performance
2:30 PM
Chris Kuechenmeister, Public Relations Manager - Michelin
Spare Tank
Deborah M. Andreozzi, Director of Marketing - Bendix
ACDelco
Jim Brown, Senior Product Manager - AlliedSignal
Dan Kruger - ICP
Chris Fuhrmann, Marketing Consumer Division - Statpower
4:00 PM
G. Lawrence Northup, Executive Director - Council For Automotive Reliability
Rusty Wallace - Unbreakable Auto Lock
Paul F. Dickison Marketing Manager Synpower Chemicals - The Valvoline Company
Bobby Likis - X-1R
SR (Steve) Kouzes, Specialty Chemicals Division Regional Sales Manager National Accounts - Wynn Oil Company
Thursday, November 4

9:30 AM
Larry Silvey, Editorial Director - Aftermarket Business
Steve Kenney - Zeus Ultimate Theft Prevention
Mark K. Goldstein, Ph.D., President - Quantum Group Inc.
T.J. Cochran - Mosler Racing
Christopher M. Bates - MEMA
11:00 AM
Michael P. Simon, National Account Sales Manager - Associated Equipment Corp.
Rick Porras - Bilstein R-2000
Jim Moriarty, President - Data Track 2000
Joe Moore walks the convention floor
Patrick Casey, Director of Marketing - MotorVac Thechnologies, Inc.
Paul Plebanek - Top Line
Neil Zipser, Marketing Communications Manager - Visteon
Bernardo Davila, C.E.O. - Cra-z Soap
David N. Kaliser, Business Director GILA Products Devision - CPFilms Inc
1:00 PM
Edward "Buck" Parker, President - Sun Coast Chemicals of Daytona, Inc.
Marshall Lance - Geneva
Martin E. Kashnowski, Director Product Management Consumer Products - Bosch
-
2:30 PM

William R. Davis, President - Environmental Recycling Systems, Inc.
Richard Casale - Saver Automotive Products
Larry Naston, National Accounts/Distribution - Mechanix Wear
John Omundson, President - Constant Velocity
Robert A. Vito, President - Lawman Armor Corp.
4:00 PM
Jason Best - Spectra Premium Industries
Airlift
David Krattiger - Hoppy
SEMA Awards Banquet


Friday, November 5

9:30 AM
John Battle, Editor-In-Chief - Aftermarket Business
MVP
Rosemarie Kitchin - MEMA
Weiss Industries
11:00 AM
Jamie R. Eriksen, Director Trade Shows - SEMA
Constant Velocity - SR-71 Bullet, Dodge Dakota/Viper Hybrid
Alison C. Bates, Market Manager Nonwoven Fabrics - Kimberly-Clark
GloveBoy/PL8MATE
Larry Mitchell, President - Greased Lightning
Clay Magic
John V. Recto, Regional Manager - TradeOut.com, Inc.