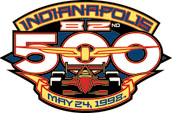 Indy 500 Pre-Race Coverage
7am-12pm EDT, Sunday May 24, 1998
The Auto Channel will present special live pre-race coverage of the 1998 Indy 500 from 7:00am to 12:00pm, EDT, on May 24, 1998. The race day morning show will give fans a behind-the-scenes look at what's happening at the Indianapolis Motor Speedway as teams make their final preparations for the race. Join us for all the late breaking news and a comprehensive recap of this year's Indy 500 action.
The show offers race fans from all over the world a rare look at "The Greatest Spectacle in Racing" from a local perspective.
See WRTV's Pre-Race Coverage. The entire 5 hour show is archived for your viewing pleasure.
Select your bandwidth: 28.8 or 56k.
Editor's Note: You must use the new NetShow 3.0 Beta Player to watch the presentation. NetShow 2.0 won't work. You can download the player for free by following the link below.
This presentation is powered by Concentric Network

Special 1998 Indy 500 Coverage

Want more information? Search the web!
Search The Auto Channel!