2015 Car Review: Hyundai Sonata Windy City Drive Time Review
By Larry Nutson
Senior Editor, Chicago Bureau Chief
The Auto Channel
My first drive in the all-new 2015 Hyundai Sonata was back in July at the launch in Montgomery, Alabama. Why there you ask? Well, in addition to Montgomery being Alabama's capital, it's the location of Hyundai Motor Manufacturing Alabama (HMMA) and the home of the Sonata, as well as the Hyundai Elantra.
I drove the all-new 2015 Sonata right off the assembly line and out the plant door into the Alabama countryside. The weather was quite warm back then and now in the coolness of late Fall and in the environs of Chicago I am again getting some seat time in the Sonata.
My driver-for-a-week was the Limited model that is priced to start at $26,525. Options on the car included a $3,500 Tech Package and a $1,550 Ultimate Package bringing the total MSRP to $32,385 including the $810 shipping charge.
Pricing for the all-new 2015 Sonata begins at $21,150. The model range includes SE, Sport, Limited, Sport 2.0T, as well as a new Eco model. Most folks will choose the Sport ($23,175) or the Limited ($26,525) with the Sport 2.0T ($28,575) for the performance-minded and the SE and Eco ($23,275) for the efficiency-minded. (See links to all trim level specs below my review.)
Hyundai offers three powertrain choices in the Sonata that covers all the bases very well.
2015 Sonata SE, Sport and Limited models are powered by a revised 2.4-liter four-cylinder engine rated at 185 horsepower and 178 lb. ft. of torque. New for 2015 is an Electronic Intake Continuously Variable Valve Timing (E-CVVT) system that improves performance in low temperatures and reduces emissions.
A revised 2.0-liter Theta II turbocharged GDI, also featuring E-CVVT, powers Sonata Sport 2.0T models. The 2.0-liter turbocharged engine is optimized for lower-RPM drivability and it produces 245 horsepower and 260 lb. ft. of torque. The SE, Sport and Limited all feature a six-speed automatic transmission.
The 2015 Sonata Eco is powered by a 1.6-liter turbocharged Gamma four-cylinder engine producing an estimated 177 horsepower and 195 lb. ft. of torque. Sonata Eco is the first Hyundai product to utilize a new seven-speed dual-clutch transmission, which no other mid-size sedan offers. This innovative powertrain helps Sonata Eco deliver an estimated 28 mpg city and 38 mpg highway. The estimated 32 mpg combined rating is more than a 10 percent improvement over a 2015 Sonata SE powered by the 2.4-liter Theta II engine.
Although we currently have gasoline prices lower than they have been for a long time, they will rise again. Winter will end and summer-blend gasoline will return and that is always about 50-cents more per gallon. The 2.4-L is EPA test rated at 28 mpg combined (or 3.6 gallons per 100 miles), with 24 city mpg and 35 highway mpg. The 2.0 Turbo is rated at 27 mpg combined (or 3.8 gallons per 100 miles) and 23 city mpg and 32 highway mpg.
I drove both the 185HP 2.4-L as well as a Sport 2.0T with its 245HP when I was in Alabama. My Chicago-tester with the 185HP engine proved to be smooth and refined, providing good acceleration and response. Highway merging and overtaking are accomplished without any signs of strain. In-city stop-and-go driving is quite nice and engine idle quality…and there is lots of idle time in city traffic, is smooth and quiet.
The Sonata delivers lots of driver confidence that was proven out not only in my Alabama test drive but again in Chicago. A high quality ride, excellent steering response and on-center feel, and low NVH due to improved road noise isolation were very apparent. In-city maneuvering and parking are very easy with good outward visibility and a sense of comfort and control behind the wheel.
To help make life on the road safer, the Sonata is equipped with class-above technology including forward collision warning, smart cruise control, lane departure warning, blind spot detection, and parking sensors. A rearview backup camera is also available that makes for very easy ding-free parking.
Many mid-size cars offer a V6 engine option, which takes up more room under the hood. Hyundai was very smart by not doing so which allowed them to move the Sonata cowl forward to make more room for passengers. The Sonata is the only midsized car classified by EPA interior volume as large car.
The Sonata interior has received a major redesign with straightforward controls, high quality materials and a maximization of driver focus. The driver-oriented cockpit is enhanced with a slight pitch of the center stack toward driver. The instrument cluster and audio screen are located on the same plane to minimize eye movement and thus distraction from the road. There is attention to detail with stitching on the instrument cluster cover and door panel inserts.
Front seats are both heated and cooled and one of my winter favorites is the available heated steering wheel.
On the outside, the overall design of the new Sonata is a modern and sophisticated. Hyundai calls it Fluidic Sculpture 2.0 that is aimed to project inner strength and confidence. The purpose is to also differentiate and make a mark. The mid-size segment is packed with choices and the Sonata does well to distinguish itself from the rest of the pack.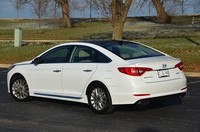 All 2015 Sonatas come standard with iPod/USB and auxiliary input jacks, SiriusXM satellite radio and Bluetooth phone connectivity with phonebook transfer and voice-recognition. Available upgrades include an 8.0-inch navigation system with downloadable apps, HD radio, Dimension or 400-watt Infinity premium audio systems with next-generation Blue Link telematics. All 2015 Sonatas equipped with navigation will also support Pandora and SoundHound applications as well as "Eyes Free" Siri integration, which allows drivers to perform a variety of functions without taking their eyes off the road. Apple CarPlay will take iPhone integration to the next level on the 2015 Sonata later this year.
It is worthy to mention again as I did in my previous review that HMMA, where the Sonata is built, has been in operation since 2005, employees about 3000 people and produced 398,000 Hyundai's last year running on three shifts, five days a week. This plant is new, state-of-the-art, fully air conditioned and spotlessly clean. Why this is important to anyone considering a Sonata, or Elantra for that matter, is that employees are extremely happy, work in a comfortable environment, and care about their jobs. Thus they work diligently and perform well to assemble high quality cars. This is evidenced in Hyundai's fourth place ranking in the 2014 J.D.Power Initial Quality Study (IQS) and it being the number one non-premium brand.
Every production car is driven on a 2.3 mile test track at the plant before it is shipped off to customers.
If you are interested to compare the 2015 Hyundai Sonata to other midsize sedans you can do that right here on TheAutoChannel.com, using the Hyundai Buyers Guide. There's a lot more information and detailed specifications on the 2015 Hyundai Sonata just a mouse click away at www.hyundaiusa.com.
The all-new 2015 Hyundai Sonata has been on sale since mid-summer and there are many year-end price incentives now available in the marketplace. Also take note that since my last drive the 2015 Sonata has received a Top Safety Pick rating from the Insurance Institute for Highway Safety (IIHS).
Dave Zuchowski, President and CEO of Hyundai Motor America, describes Hyundai as a challenger brand; a brand that needs third party endorsement. In this day and age of brand promiscuity by many (many) car buyers, the time is ripe for Hyundai to gain more and more followers. The Hyundai customer base has changed in the last five years and the 900 dealers in North America have changed in response to that. Hyundai buyers are younger, more educated, higher earners and more diverse. This has paid off with Hyundai being ranked number one in brand loyalty for each of the last five years.
© 2014 Larry Nutson, the Chicago Car Guy